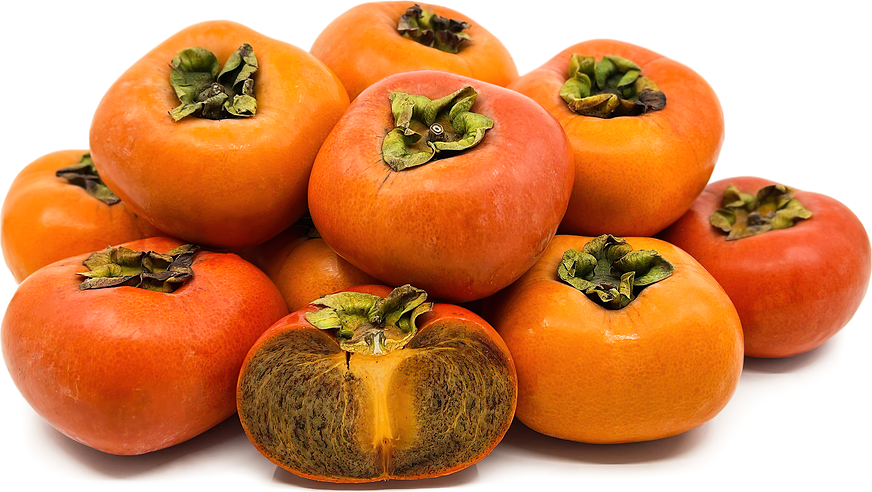 Kinokawa Persimmons
Inventory, lb : 0
Description/Taste

Kinokawa persimmons are a medium to large varietal and have an oblate to square shape with distinct angular faces and a flattened nature. The squat fruits are capped with olive green-brown leaves surrounding the stem, and the surface is curved, smooth, and taut with a faint sheen. The persimmon's skin is also semi-thick, ripening to a dark orange-red, saturated hue. Kinokawa persimmons are typically darker in coloring than other persimmon varieties, as they are allowed to ripen on the tree. The process of removing astringency also contributes to their coloring. Underneath the surface, the pale yellow-orange flesh is speckled with dark brown, sometimes appearing entirely dark brown. The brown spots are a sign of sweetness within the flesh and are considered a positive trait. The flesh is also seedless and has a crisp, firm, and aqueous texture. Kinokawa persimmons are edible raw after the astringency has been naturally removed. The persimmons have a high sugar content, ranging from 16 to 18 degrees Brix, creating an intense, sugary sweetness. Some consumers also note they have a flavor similar to the taste of brown sugar.


Seasons/Availability

Kinokawa persimmons are harvested in the late fall through mid-winter in Japan.


Current Facts

Kinokawa persimmons are a category of persimmons within the Ebenaceae family that are cultivated in a specific way to remove astringency. The name Kinokawa refers to several seedless and astringent persimmon varieties, including flat-cored types such as Hirakinamugaki or Tonegaki persimmons. Kinokawa persimmons are unique from other persimmons as they are left on the tree to ripen before they are picked. During cultivation, green Kinokawa persimmons are individually bagged by hand on the trees, and the bag is filled with alcohol. The bags are enclosed over the fruits for 20 to 22 hours, and after, they are cut open to allow the persimmons to ripen. Kinokawa persimmons are left on the tree for up to an additional month after bagging to ripen. This process removes astringency from the varieties and develops a sugary-sweet, concentrated flavoring. In the modern day, Kinokawa persimmons are a premium variety sold at high prices due to their labor-intensive cultivation. They are also only produced in limited quantities by a small number of growers. The persimmons are known for their very sweet taste and firm flesh and are seasonally offered in retail markets as a delicacy. Kinokawa persimmons are typically consumed fresh and are savored for their crunchy texture and appearance, developing a rich, speckled brown flesh and a red-orange skin coloring.


Nutritional Value

Kinokawa persimmons vary in nutritional value, depending on their specific variety and growing conditions. In general, persimmons are a source of vitamin C to boost the immune system, fiber to regulate the digestive tract, iron to develop the protein hemoglobin for oxygen transport through the bloodstream, potassium to balance fluid levels within the body, and vitamin E to guard the cells against free radical damage. Persimmons also provide calcium to build strong bones and teeth, carotenoids to assist in maintaining overall health and protecting against disease, B vitamins to support the nervous system, vitamin A to protect organ functioning, other nutrients, including manganese, copper, phosphorus, and folate.


Applications

Kinokawa persimmons have a sweet, sugary taste suited for fresh and cooked preparations. The variety is popularly consumed out of hand in Japan and is a premium fresh-eating variety for its firm flesh, sweet nature, and saturated coloring. Kinokawa persimmons do not have any astringency and can be eaten with the peel intact. Slices of the flesh can also be wrapped in prosciutto and topped with cream cheese, chopped for salads, layered into fruit sandwiches with cream, or served on charcuterie boards. Try mixing Kinokawa persimmons into fruit medleys, layering them into parfaits, topping them over porridge, serving on crostini, or using them as a fresh topping over desserts and ice cream. Kinokawa persimmons can also be incorporated into jams, compotes, and puddings or baked into cakes, bread, muffins, and tarts. In Japan, some recipes add Kinokawa persimmons into savory dishes to develop a sweet taste. The persimmons are also processed into Kinokawa persimmon vinegar, a specialty product of the Wakayama region. Kinokawa persimmons pair well with beets, citrus, avocado, meats such as pork, ham, or poultry, mascarpone, feta, and blue cheese. Whole, unwashed Kinokawa persimmons will keep for several days, depending on the degree of ripeness, when stored at room temperature. Once ripe, the fruits can be placed in the refrigerator for a few days in a plastic bag.


Ethnic/Cultural Info

Kinokawa persimmons are celebrated during the annual persimmon festival held in Kinokawa city. The festival occurs at the beginning of the persimmon harvest, and growers from the region showcase their best persimmons. During the festival, friendly persimmon-centric competitions are held, and various types of persimmons varieties are sold through the growers, including Kinokawa persimmons, attracting visitors from across Japan. The festival also features a persimmon mascot known as "Kakion-chan," which is unique to the Wakayama Prefecture. Kinokawa persimmons are one of the most popular types showcased at the festival, and each year, Kinokawa persimmons are likened to "fruit jewels" as their dark coloring and distinct square shape distinguish them from other varieties grown in the region. Kinokawa persimmons represent treasured traditions of Wakayama, and the process of removing astringency from the fruits has mostly stayed the same over the years. Kinokawa residents also believe the climate, soil, and growing environment are unique to Kinokawa, producing persimmons that cannot be replicated elsewhere.


Geography/History

Kinokawa persimmons are native to Japan and are exclusively grown in the Kinokawa Basin in the Wakayama Prefecture. The process of removing astringency and creating Kinokawa-type persimmons was developed through the Wakayama Prefecture Hirakinu Non-Astringent Research Council in 1969. The council discovered that placing a bag over the fruits on the tree would help to remove astringency to produce non-astringent, seedless, and sweet persimmons. Since this discovery, Kinokawa persimmons have become a specialty product of the Wakayama Prefecture, and the seasonal fruits are famous throughout Japan for their firm, smooth texture, and sugary, non-astringent flavor. Today, Kinokawa persimmons are only grown in Katsuragi town and Kinokawa city in the Wakayama Prefecture. When ripe, the fruits are harvested, carefully packaged, and shipped to retailers across Japan.