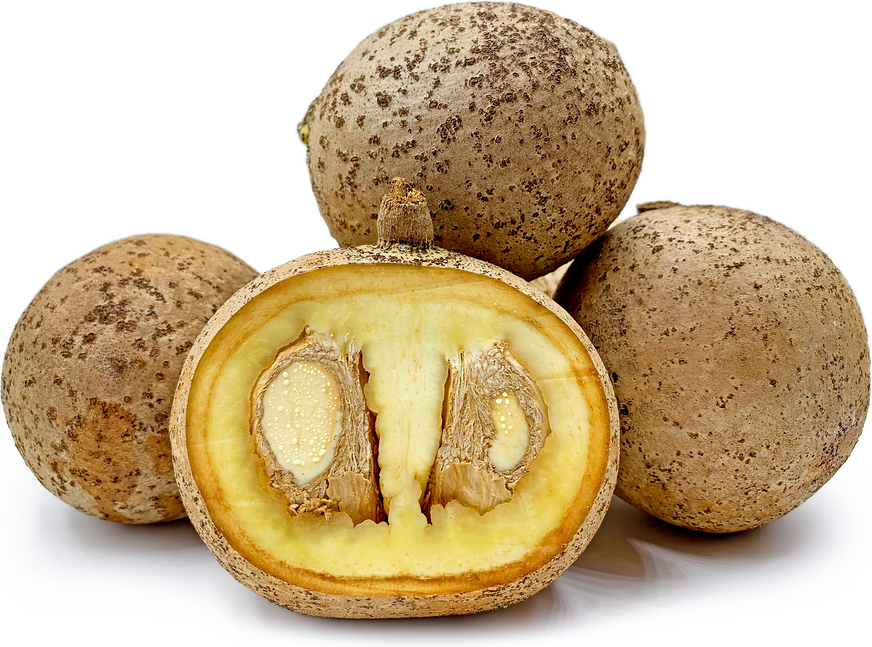 Mamey Apple
Inventory, lb : 0
Description/Taste
Mamey apples have an unusual appearance for a tropical fruit. The round or nearly round fruit can grow to the size of a small cantaloupe, measuring anywhere from 10 to 20 centimeters in diameter. The light brownish-gray skin has a texture and firmness similar to a mango. Peeling away the thick skin reveals an astringent, whitish pith (called a "rag"), that is typically discarded. The aromatic flesh is a golden yellow or orange color with a smooth consistency. It can either be firm and crisp or more tender and juicy depending on level of ripeness. The taste of a Mamey apple is somewhat like passionfruit and apricot with a hint of berry flavor and a little tang. Within the center of the fruit lies a seed much like a peach pit; smaller fruits will have one seed and larger fruits may have up to four. The portion of the flesh nearest to the seeds may be slightly bitter.
Seasons/Availability
Mamey apples are available in the summer and fall months.
Current Facts
Mamey (pronounced mah-may) apples are tropical fruits, botanically classified as Mammea americana and related to the mangosteen. Though they are sometimes referred to as Mamey sapote or Mamey Sapote Americana, they are not related to the red-fleshed, mamey sapote. They are abundant throughout Central America and the Caribbean. In Latin American countries, the fruit is called Yellow Mamey or Mamey Amarillo to distinguish it from the unrelated Pouteria sapote. Mamey apples are also known as Santo Domingo apricot, Tropical apricot or Mammee. Unlike other stone fruits that are considered to be drupes, Mamey apples are botanically identified as berries.
Nutritional Value
Mamey apples are nutrient-rich fruits. They contain vitamins A, C and folate, as well as important amino acids like lysine. Mamey apples are a good source of fiber and minerals like phosphorus, calcium, iron, and potassium. For some, consuming large quantities of Mamey apple could cause digestive discomfort.
Applications
Mamay apples are often eaten fresh. To peel the Mamey apple, remove the stem and opposite end, score the fruit every few centimeters and peel off each section from the exposed flesh. Depending on the level of ripeness, the flesh is either cut away from the seed or seeds, or the fruit is cut in half and the seeds removed. Use Mamey apple pulp to make sauces or purees for desserts or baked goods. Use diced fruit in a crisp along with berries. Mamey apples contain pectin, which makes them ideal for making jams and preserves. In Jamaica, the fruit is cooked with wine and sugar and served either warm or cold as a dessert. The tropical fruits can be cut and left out, maintaining the bright orange color of the flesh. Mamey apples do not have a very long shelf-life once they have ripened and should be consumed within a few days.
Ethnic/Cultural Info
In Haiti and the Dominican Republic, both the tree and the fruit of the Mamey apple are revered. It is protected throughout much of the Caribbean. The seeds of the fruit have been used medicinally for centuries as an antibiotic and insecticide. Throughout the French West Indies, the flowers of the Mamey apple tree are used to make a liqueur called Eau de Creole or Crème de Creole and is used as a tonic or digestive. In Trinidad and Tobago, they are a big part of the local diet.
Geography/History
Mamey apples are native to the West Indies (the Caribbean islands) as well as Central America and northern South America. The tree is said to have a look similar to that of a magnolia tree, with a large, pyramid-shaped canopy. Mamey apples were first recorded in Panama in 1514 and first written about in 1529 by Gonzalo Fernandez de Oviedo y Valdes in his "Review of Fruits of the New World". It was later introduced to areas outside of the New World, primarily in Western Africa. A tree was brought to Hawaii by Capitan Alexander Adams in 1816, and to this day it still grows on the Big Island. Mamey apples are not common outside of their native region, though they are grown in Southern Florida.
Recipe Ideas
Recipes that include Mamey Apple. One

is easiest, three is harder.