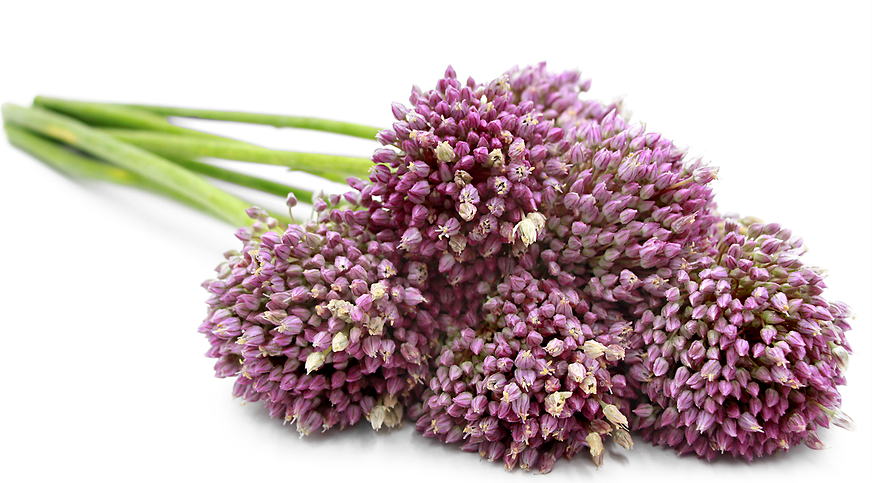 Garlic Flowers
Inventory, bunch : 0
Description/Taste
Garlic flowers are medium-sized, measuring between 4 to 6 centimeters in diameter. The flowers bloom at the end of long, hollow green stems known as scapes. The blossoms emerge in a round pom-pom shape comprised of many tiny flowers called bulbils. These bulbils can be the size of a grain of rice or as large as a centimeter and contain six thin petals surrounding a center with long anthers. The blossoms are commonly lavender to purple but can also be found in white and magenta. Garlic flowers have a sweet, pungent garlicky aroma and mild garlic flavor.
Seasons/Availability
Garlic flowers are available through the summer.
Current Facts
Garlic flowers appear at the end of the long hollow stems of a garlic plant known as scapes. The scapes extend from the center of hardneck garlic varieties, botanically classified as Allium sativum var. ophioscorodon. Garlic is related to onions, shallots, chives, and leeks. The umbel flowers of hardneck garlic plants are known as bulbils. These can be harvested and planted to grow more garlic, but it can take two to three years before the plant is large enough to harvest. It is more common to cultivate garlic by splitting garlic bulbs and replanting. Once the garlic sends up scapes, it diverts energy from the underground bulbs to the flower resulting in smaller and less flavorful bulbs. In commercial farming, the scapes are removed before they have a chance to bloom to get the best-tasting bulbs. However, there is a growing desire for garlic scapes and blossoms in restaurants focused on seasonal menus and plant by-products. Hardneck garlic varieties grow best in colder climates and require cold winter weather to help the bulbs go dormant. There are dozens of hardneck garlic varieties, but the best varieties for harvesting flowers are Bai Pai Suan, Brown Rose, Chimyan, Darcheli, Duganskij, Krasnodar White, Mexican Red, Rosewood, Shvelisi, Tien Shan, and Red Czar. Garlic flowers can also be planted as ornamentals for their showy blossoms and alluring aroma.
Nutritional Value
Garlic flowers are a significant source of manganese, a trace mineral that helps the body form connective tissue and hormones. The flowers also contain significant amounts of vitamin B6 for brain development, vitamin C for collagen production, and selenium for DNA production. Garlic flowers have strong anti-microbial and antioxidant properties to support a healthy immune system. Garlic has been used for centuries to treat various ailments and infections.
Applications
Garlic flowers have a delicate onion-garlic taste that works well in various savory culinary applications. The clustered blooms can be displayed in their full pompom form as a beautiful garnish on cheese and charcuterie boards, platters, or large family-style dishes. The tiny florets can also be separated and sprinkled over fresh green salads and potato and grain dishes like mashed, scalloped potatoes, rice, farro, and couscous. The blossoms can be floated atop warm or chilled soups, folded into pasta dishes, or spread across poultry, pork, or lamb dishes. Incorporate the flowers into butter, Greek yogurt, or soft cheeses to make an attractive spread for bread and crackers. The flowers can be added to the dough of savory bread, such as focaccia, tortillas, and parathas, or they can top frittatas, quiche, and scallops. The delicate blooms can be pressed into cheeses, rolled into spring rolls, frozen in ice cubes for cocktails, or used on pizzas and flatbreads. Garlic flowers shine when infused with different oils and vinegar. They pair well with various fruits, including peaches, pears, grapes, sauces utilizing vinegar and lemon juice, and fresh leafy greens and vegetables like cucumber, tomatoes, carrots, onions, and peppers. Garlic flowers have the best flavor right after they open and should be kept attached to the garlic scape until they're ready to be used. The flowers can be stored in an airtight container in the refrigerator for up to three days.
Ethnic/Cultural Info
During the 19th century, in Victorian society, flowers often conveyed a secret language. Beautiful blooms were used by women to pass messages between lovers, friends, and enemies. This language of flowers, known as floriography, was used to hide communications from guards and male servants. The arrival of a bouquet of flowers could deliver a myriad of messages ranging from subtle and heartwarming to blunt and malicious. By 1810, French publishers began putting together flower dictionaries that helped detail floral codes collected in society. Garlic and other allium flowers represented good fortune and prosperity. The showy pompoms were given to wish good luck for any endeavor. The flowers are slow to bloom and were therefore also used as a symbol of patience, and because they bloom from a single bulb, the flowers became a symbol of unity. The color of the flowers could deepen the meaning, with lavender symbolizing youth, elegance, and grace, and white symbolizing purity and innocence. While the language of flowers isn't used as regularly in modern society, garlic flowers can be a showy addition to summer bouquets with the added benefit of being a culinary accent.
Geography/History
Hardneck garlic is a descendant of a wild form of garlic believed to be native to the mountainous regions of central Asia, including Kyrgyzstan, Tajikistan, Turkmenistan, and Uzbekistan. Garlic was spread along trade routes into Asia and reached Europe during the 11th century. The plant was introduced to North and South America by colonists as they arrived from Europe. Today, softneck and hardneck varieties of garlic are staple ingredients in most cuisines worldwide and can be found growing on every continent. Garlic flowers are a specialty item rarely found in commercial markets but can be found at farmer's markets and specialty shops during the summer season.
Recipe Ideas
Recipes that include Garlic Flowers. One

is easiest, three is harder.