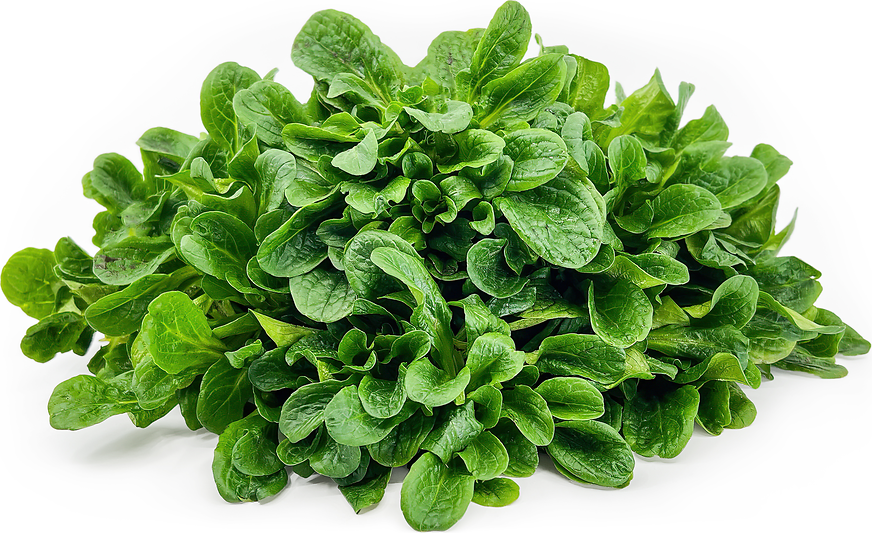 Lamb's Lettuce
Inventory, lb : 0
Description/Taste

Lamb's lettuce is a small, low-growing plant that forms clustered rosettes reaching 10 to 30 centimeters in height. The rosettes are comprised of multiple loose layers of 6 to 8 elongated, rounded leaves, and depending on the variety, the leaves can appear more spoon-shaped or be broad and slightly pointed. Lamb's lettuce leaves average 8 to 10 centimeters in length and are bright to dark green with a thin, pliable, and delicate nature. The leaf's surface will vary from smooth to textured with prominent veining, depending on the variety, and the edges of the leaves are even to semi-toothed. The stems are green, razor-thin, and tender. Raw Lamb's lettuce has a soft, springy, succulent, tender, crisp, and velvety texture. The leaves release a mild, herbal, and nutty flavor with refreshing, tangy nuances.


Seasons/Availability

Lamb's lettuce can be grown year-round, with a peak season in the fall through mid-spring.


Current Facts

Lamb's lettuce, botanically classified as Valerianella locusta, is an herbaceous annual belonging to the Caprifoliaceae family. The species produces fast-growing plants that remain low to the ground in delicate rosettes, and the leaves are harvested for culinary use as a specialty green. Lamb's lettuce is an ancient species known by regional names worldwide, with the most common descriptors being Mache, Vit, Corn Salad, Field Lettuce, Vineyard Lettuce, and Field Salad in English, Feldsalat, Nüsschen, and Nüsslisalat in German, Pomache, Blanchette, Boursette, Rampon, and Mâche in French, Soncino and Valeriana in Italian, and Canónigos Dulceta, Hierba de Los Canónigos, and Alfaces in Spanish. Lamb's lettuce received its sheep-like moniker from the leaf's resemblance to the shape of a lamb's tongue. Historians also believe lamb was chosen as a descriptor as the plants appear in the spring around the same time as the birth of lambs in Europe. In the modern day, many varieties of autumn and winter Lamb's lettuce are grown worldwide with varying appearances, flavors, and growth characteristics. The species is favored for its cold hardiness and ability to grow during the winter. Unlike other winter greens, Lamb's lettuce remains tender, relatively mild, crisp, and succulent throughout its season. Lamb's lettuce must be harvested by hand to retain its shape and prevent the leaves from being crushed. The greens are sold as a gourmet culinary ingredient, especially in Europe, and are traditionally served in fresh and lightly cooked preparations.


Nutritional Value

Lamb's lettuce is a source of vitamin C to strengthen the immune system while reducing inflammation, potassium to balance fluid levels within the body, and iron to develop the protein hemoglobin for oxygen transport through the bloodstream. The greens also provide vitamin A to maintain healthy organ functioning, vitamin E to protect the cells against the damage caused by free radicals, calcium to build strong bones and teeth, and other nutrients, including vitamin B6, copper, folate, magnesium, and phosphorus. Lamb's lettuce was once used as a natural remedy to prevent scurvy. European sailors would consume the leaves to absorb the plant's high vitamin C content.


Applications

Lamb's lettuce has a mild, nutty, and tangy taste suited for raw preparations as its tender nature cannot withstand high heat applications. The greens must be thoroughly washed before consumption as they can hold particles of dirt and sand, similar to spinach. Once cleaned, Lamb's lettuce can be tossed into salads and is favored for its ability to hold dressings and oils on the leaf's surface, distributing flavor throughout the dish. The leaves can also be served fresh as a bed or garnish for cooked meats and vegetable dishes or added to egg-based recipes, pasta dishes, or rice. Though the leaves are not typically cooked, they can be used in light heating to enhance dishes. Lamb's lettuce can be braised in sauces, served in soups, sauteed in fat, or blended into pastes and flavor enhancements. Lamb's lettuce pairs well with nuts such as walnuts, almonds, and pecans, fruits including stone fruit, grapefruit, avocados, berries, and blood oranges, anchovies, grilled fish, hardboiled eggs, bacon, poultry, mushrooms, and springtime ingredients such as asparagus, ramps, new potatoes, fennel fronds, spring onions, and green garlic. Lamb's lettuce should be immediately used for the best quality and flavor. The greens will keep for 2 to 3 days when stored in a sealed container in the refrigerator's crisper drawer.


Ethnic/Cultural Info

In Germany, Lamb's lettuce was the inspiration behind the famous fairy tale Rapunzel. The story of Rapunzel dates back to when tales were shared via oral tradition throughout Europe, but the first published version of the story was in 1790 by Friedrich Schultz in his book "Kleine Romane." The most famous version of Rapunzel was recorded in Wilhelm and Jacob Grimm's "Children's and Household Tales," a collection published in 1812. The collection holds over 200 fairy tales, and Rapunzel is one of the more well-known fables shared throughout Germany. The story begins with a couple living beside an enchantress. The couple was expecting a child, and one day, the pregnant wife gazes out her window and notices a beautiful patch of low-growing greens called Rapunzel growing in her neighbor's garden. The wife became obsessed with the greens and eventually told her husband she would die if she could not eat some of the leaves. The husband climbed over the fence, stole Rapunzel from the garden, and gave the leaves to his wife. The wife consumed the greens, but instead of feeling satisfied, she became even more obsessed with the plant, asking her husband to steal more. When the husband went to the garden for a second time, the enchantress suddenly appeared before him, furious that he was stealing from her garden. The husband explained the situation of his pregnant wife having insatiable cravings, and the enchantress made a deal with the couple that they could eat from her garden if they would give her the child when it was born. The enticing garden greens were too irresistible to the couple, who agreed to give the enchantress their baby. When the baby was born, she was named Rapunzel after the garden greens, and the well-known story continues of the young girl with trailing golden locks that cascaded from a tower window. Throughout Germany, Lamb's lettuce was known as Rapunzel in ancient times. In the modern day, the greens are often referred to as Feldsalat, translating to "field salad."


Geography/History

Lamb's lettuce is native to temperate regions of Europe, North Africa, and Western Asia and has been growing wild since ancient times. Within Europe, the species is thought to have first grown in the Mediterranean region and Caucasia, an area between the Caspian and Black seas. Evidence of seeds was found in dwellings that date back to the Bronze and Neolithic Ages near Lake Zurich and Lake Constance, and experts hypothesize that the species was foraged as a wild food source in these periods. During the rise of Ancient Greece from 1,200 BCE to 323 BCE, Lamb's lettuce was connected to Persephone, the goddess of the underworld. Persephone was also deeply linked to the spring season, and it was believed that her return from the underworld ushered the Earth from winter into spring. Lamb's lettuce was one of the first plants that would appear in Greece in the spring, tying the species to the arrival of Persephone. Over time, Lamb's lettuce remained a wild plant and eventually developed a reputation of being a hardy weed that grew in agricultural fields. The first written record of Lamb's lettuce occurred in 1597 in John Gerard's book "The Herball Or Generall Historie of Plantes." Gerard was an English herbal doctor who documented his astonishment at seeing French and Dutch settlers planting Lamb's lettuce in their gardens in Great Britain. Before this record, Lamb's lettuce was regarded as a wild field weed, but the 16th century marked a revolution in plant cultivation, transforming Lamb's lettuce from a weed into a specialty green. In the early 16th century, Lamb's lettuce was also featured in Leonardo Da Vinci's painting "Leda and the Swan," where a young girl poses with a small bunch of Lamb's lettuce. Lamb's lettuce was extensively cultivated beginning in the 17th century in France under the name Mache, and the Nantes region became a central production area. Lamb's lettuce was later introduced from France to the American commercial market, and Thomas Jefferson also grew Lamb's lettuce in his Monticello Estate garden in the early 19th century. Lamb's lettuce eventually escaped cultivation in North America and became a naturalized species. Today Lamb's lettuce grows wild along rivers or lakes and in fields, orchards, and vineyards. The species is foraged from wild plants, grown in home gardens, and commercially produced outdoors or in greenhouses for sale as a gourmet green in Europe, Asia, Africa, and North America.