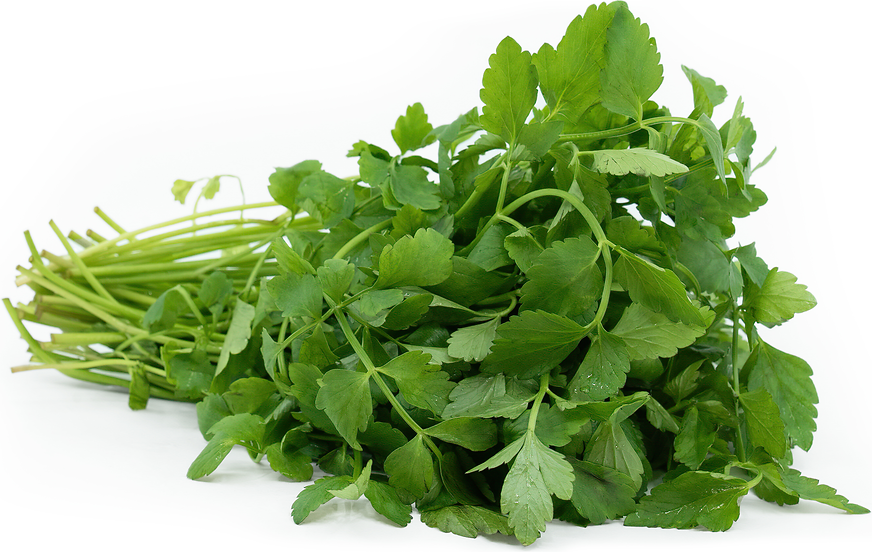 Water Dropwort
Inventory, bunch : 0
Description/Taste
Water Dropwort is comprised of long and trailing, leafy stems that attach to the ground at nodes to establish roots and new plants. The stems are thin, hollow, and smooth, ranging in length from 50 to 100 centimeters, and the young stems provide a crunchy and succulent consistency. The leaves grow in an alternate pattern along the stems and are small with an oval to lanceolate shape, tapering slightly towards the tip. The bright green leaves have lightly serrated edges and prominent veining, giving the leaf a textured appearance. Water Dropwort leaves have a crisp, delicate, and tender nature and a distinct, refreshing aroma. In addition to the leaves and stems, Water Dropwort plants produce fragrant white flowers and fibrous roots. All parts of the plant, including the roots, stem, leaves, and flowers, are edible and contain a green, grassy, and herbal flavor with subtle peppery and bitter undertones reminiscent of celery, parsley, or carrot tops.
Seasons/Availability
Water Dropwort is available in the fall through early spring. The plants are also grown hydroponically, allowing for year-round production.
Current Facts
Water Dropwort, botanically classified as Oenanthe javanica, is a fast-growing perennial belonging to the Apiaceae family. The aquatic plant is native to Asia and has been growing wild alongside bodies of fresh water for thousands of years. Water Dropwort is edible but has many poisonous lookalikes, one of the only plants of the Oenanthe genus that is not toxic. Extreme caution should be taken when foraging for Water Dropwort as it is often mistaken with hemlock water dropwort, a plant that can be fatal if ingested. In the modern-day, Water Dropwort is also commercially cultivated, providing local markets throughout Asia with a supply of safe, easy to identify plants. Cultivated Water Dropwort is mainly grown hydroponically, and all parts of the plant, including the young shoots, leaves, and roots, are edible. Water Dropwort is known as Minari in Korea, Daun Selom in Malaysia, Tespon in Indonesia, Komprek in India, and may be referred to as Korean watercress, Japanese parsley, and even Chinese celery, although these names are also associated with entirely different plants. The young stems and leaves are highly prized as a flavoring and vegetable and are commonly mixed into savory, raw and cooked preparations.
Nutritional Value
Water Dropwort is a rich source of calcium to protect bones and teeth, iron to develop the protein hemoglobin for oxygen transport through the bloodstream, potassium to balance fluid levels within the body, and fiber to regulate the digestive tract. The greens also provide levels of folic acid, beta-carotene, magnesium, and vitamin E, and the leaves contain eugenol, a compound that gives the plant its distinct aroma, similar to the scent of bay leaves or cloves. Eugenol has antibacterial and antimicrobial properties to calm the irritation in the body. Water Dropwort is also used in traditional medicines. In a 17th century Japanese text, Water Dropwort is listed as an herb that helps with reducing body heat. In Korea, it is considered to be good for the liver. In Papua New Guinea, Water Dropwort is chewed with wild ginger and ash salt as an antidote to poison.
Applications
Water Dropwort has a fresh, vegetal, and slightly grassy flavor well suited for fresh and cooked preparations. The young leaves and tender stems can be washed, chopped, and tossed into salads, used as an edible garnish over grain bowls, or combined with other greens and nestled under seafood. In addition to raw dishes, Water Dropwort contributes fresh flavors to soups and stews. The greens are traditionally added at the end of the cooking process to prevent the leaves from becoming mushy and are a favored ingredient in hot pot. In Japan, Water Dropwort is a common ingredient in sukiyaki, a soup-like dish cooked tableside in a broth of mirin, soy sauce, and sugar. Water Dropwort can also be boiled as a green side dish, mixed into noodle and rice dishes, or cooked into crispy pancakes. In Korea, the greens are commonly used as a flavoring for kimchi, as a vegetable in the hot-stone dish bibimbap, and fish soup. Water Dropwort can also be incorporated into casseroles and quiches, layered into sandwiches, or used in recipes as added texture. Water Dropwort pairs well with tofu, seafood, meats including pork, beef, or poultry, cauliflower, mushrooms, taro root, flavorings such as miso, soy, and mustard, spinach, chrysanthemum leaves, and cabbage. Whole, unwashed Water Dropwort will keep for a couple of days when wrapped in paper towels and stored in a plastic bag in the refrigerator. It is important to note that the greens are prone to wilting once harvested. If the plant is sold with the roots intact, place them in a jar filled with water and store them in the refrigerator. Water Dropwort can also be blanched, shocked in an ice bath, and frozen for extended use.
Ethnic/Cultural Info
Water Dropwort is known as Seri in Japan and is famously a part of haru no nanakusa, or "the seven herbs of spring." These seven wild herbs are annually consumed at the beginning of the new year and are believed to bring good luck, health, and longevity when eaten specifically on January 7th. Water Dropwort is typically consumed in a hot soup known as nanakusa gayu, or seven herb rice congee, dating back to the 6th and 7th centuries. Soups composed of spring herbs were mentioned in the Jingchu Suishiji, an ancient text describing essential holidays in China, and this practice was later adopted in Japan to promote health and ward off evil. In addition to Water Dropwort, nanakusa gayu also contains the other herbs of spring, including chickweed, shepherd's purse, nipplewort, turnips, radishes, cudweed. On the morning of January 7th, a sacred date according to the Chinese calendar, the herbs are placed on a cutting board in the direction of good luck, and a chant is spoken over the herbs. Each chant will vary from region to region, and this blessing is believed to bring good luck and health for the year to come.
Geography/History
Water Dropwort is native to Asia and has been growing wild since ancient times. The greens were traditionally used in China in medicinal practices and culinary preparations since 700 BCE, and in Japan, Water Dropwort has been cultivated since 750 CE. Since its introduction as a cultivated crop, Water Dropwort became a highly revered nutritious springtime green, mentioned in Japanese poems dating back to the 7th and 8th centuries. The semi-aquatic plants grow wild along streams, rice paddies, ponds, and marshes in lowland regions. Water Dropwort has also been planted in shady areas with moist soil in home gardens and is grown hydroponically for commercial use. Today Water Dropwort is cultivated and foraged throughout Japan, specifically in the Miyagi and Ibaraki Prefectures, and in China, Korea, India, Taiwan, Vietnam, Thailand, Indonesia, and Malaysia. It also grows in parts of Europe such as Italy, tropical regions of Australia, and the highlands of Papua New Guinea. Asian immigrants likely brought the plant to North America, and it has been found naturalized as far north as British Columbia. In Asia, Water Dropwort can be found through local markets, distributors, and grocers. Outside of Asia, the greens are mainly found through specialty growers at farmer's markets and in Asian supermarkets.
Recipe Ideas
Recipes that include Water Dropwort. One

is easiest, three is harder.