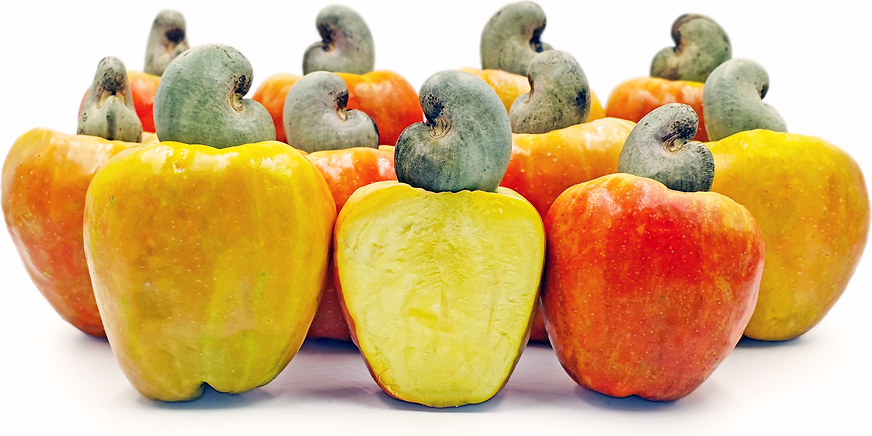 Cashew Apples
Inventory, lb : 0
Description/Taste

Cashew apples are small to medium in size, averaging 5 to 11 centimeters in length, and have a bulbous oval, conical, to blocky, pyriform shape. The receptacle's skin is thin, smooth, taut, and waxy, showcasing golden yellow, red, to variegated blends of red and yellow hues when mature. Underneath the surface, the yellow flesh is dense, aqueous, fleshy, spongy, and soft containing many chewy, stringy fibers. Cashew apples release a distinct aroma comprised of a blend of fruity, sweet, and pungent nuances, and the flesh has a sweet, tropical, and vegetal taste mixed with astringency. Many liken the flavor of Cashew apples to a blend of bell peppers, mangoes, cucumbers, and strawberries with an initially sweet, nutty taste followed by astringency. Attached to the apples is a double-hulled shell encasing a kidney-shaped seed, which is the raw form of the well-known cashew "nut." The exterior surface is smooth and thin, ripening from olive green to pale brown. In between the outer shell and interior shell is a red-brown, oily resin encased in honeycomb-like cells. This viscous resin is harmful if touched and can cause blisters, rashes, and intense skin irritations, similar to poison ivy. The interior shell is hard and must be cracked to find the seed inside.


Seasons/Availability

Cashew apples are available year-round in tropical climates.


Current Facts

Cashew apples, botanically classified as Anacardium occidentale, are a tropical species belonging to the Anacardiaceae family. The fleshy receptacles grow on evergreen trees reaching 6 to 14 meters in height, depending on the rootstock, and hang from slender stems attached to the branches, falling off the tree when ripe. Cashew apples are known as an "accessory" or "false" fruit, meaning they are not botanically a true fruit as they do not encase the seeds of the plant. The "true" fruit is the shell that contains the cashew seed attached to the end of the fleshy receptacle. One unusual characteristic of the species is that the seed develops before the apple. When the seed becomes fully grown, the apple later forms, swelling into its plump, fleshy shape. It generally takes 2.5 to 3 months for the apples to develop after flowering. Cashew apples are also sometimes referred to as Cashew fruits and are known by regional names, including Marañón in Central America, Anacardier or Acajou in France, Jambu Monyet or Jambu Monet in Indonesia and Malaysia, Merey in Venezuela, Caju, Pomme de Cajou, or Cajueiro in Portugal, Maranon or Cajuil in Puerto Rico, and Mamuang or Himmalphan in Thailand. Cashew apples are often overshadowed in cultivation by the famous seed, mistakenly called a nut in commercial markets. The apples are considered a secondary crop to the seed and are often detached and discarded onto the ground below the trees, left as food for livestock. In some production regions, Cashew apples are gathered and sold as a specialty fruit in local markets. The apples are localized to their growing regions due to their short shelf life, being touch-sensitive and easily bruised, and only lasting for about a day after harvest. Despite their fleeting and delicate nature, Cashew apples have remained a small-scale, favored ingredient throughout tropical regions worldwide and have become a secondary source of revenue by processing them into juice, liquors, and preserves.


Nutritional Value

Cashew apples are a source of vitamin C to strengthen the immune system, fiber to regulate and cleanse the digestive tract, and potassium to balance fluid levels within the body. The receptacles also provide some iron to develop the protein hemoglobin for oxygen transport through the bloodstream, copper to build connective tissues, and other nutrients, including magnesium, calcium, phosphorus, riboflavin, and thiamine. In addition to vitamins and minerals, Cashew apples contain tannins that give the receptacles their bitter and astringent taste. Tannins are thought to help fight against inflammation and are used to reduce symptoms associated with sore throats.


Applications

Cashew apples have a distinctly fruity, vegetal, and nutty taste suited for lightly cooked preparations. The apples can be consumed straight out of hand, but the tannic nature of the flesh is often considered too astringent and unpalatable. In Cambodia, the apples are sometimes sprinkled with salt and are eaten fresh. Cashew apples are also finely sliced into pieces to reduce their fibrous texture and sprinkled with salt in other parts of Asia and Africa. In addition to fresh preparations, Cashew apples can be blended and strained into juice, mixed with honey, other sweeteners, and fruits to create a flavorful beverage. It is important to note that the juice may stain clothing and various fabrics, so care should be taken when preparing the drinks. Cashew apples can also be fermented in vinegar as a condiment, preserved in syrup for extended use, or steamed or boiled in salted water for a few minutes to reduce their fibrous quality and bitter taste. Cashew apples can be used in sweet or savory dishes, and the apples can be cooked directly into preserves, jams, and other fruit-inspired variations. The apples can also be tossed into soups, curries, stews, and stir-fries, made into chutney, or used as filling in empanadas. In Panama, Cashew apples are simmered with water and sugar to create a brown paste-like dessert called dulce de Marañón. Cashew apples pair well with fruits such as mangoes, coconut, limes, strawberries, and blueberries, spinach, kale, condensed milk, chocolate, vanilla, and spices, including cinnamon, nutmeg, and cloves. Whole, unwashed Cashew apples should be immediately consumed after harvest for the best quality and flavor. The apples will only keep 1 to 2 days after harvest and begin to spoil once they have fallen from the tree.


Ethnic/Cultural Info

Cashew apples are most famously fermented and distilled into an alcohol called Feni in Goa, India. The liquor was developed by Portuguese monks residing in Goa in the 18th century and is made from Cashew apples that were discarded during seed production. During this time, cashew seed growers only harvested the small kidney-shaped seeds attached to the apples and would toss the fleshy receptacles onto the ground, leaving them for livestock. Local workers and the monks eventually saw the opportunity to utilize the discarded fruits and collected the Cashew apples. Once gathered, the Cashew apples were crushed by foot and were pressed using boulders, machinery, and heavy pots to extract the juice. The juice was then left to ferment, also being distilled three times until the desired flavor and alcohol content was achieved. The name Feni is derived from the Sanskrit word "phena," meaning "froth." This airy descriptor was said to have been given to the drink for the bubbles that form when the liquor is poured into a glass. Feni was also used as a natural remedy for colds, coughs, and flu-like symptoms in Goa. In the modern day, Feni is still made using traditional methods, and the pungent, fruity spirit is enjoyed as a specialty beverage in Goa. The liquor was considered so unique that it was even given a Global Geographical Indication or GI in 2006, meaning only liquor made in Goa could be labeled as Feni.


Geography/History

Cashew apples are native to Northeastern Brazil and have been growing wild since ancient times. The trees were found between the Atlantic coastline and the Amazon in Brazil and are typically seen in semi-dry forests and savannah woodland-like regions. Over time, Cashew trees expanded into Venezuela and were taken by Portuguese traders in the 16th century to India, most likely Goa, and Mozambique. The trees were initially planted as a form of erosion control, but they eventually escaped cultivation and began growing wild throughout hot tropical lowland areas with a dry season. Cashew trees traveled throughout the rest of Asia into Southeast Asia and northern Australia and spread into other regions of coastal Africa. It was also thought that Spanish explorers introduced the species into Central America and the Caribbean. In the early 20th century, the species was carried from India and planted in Southern Florida. In the United States, Cashew trees are not commercially produced but are grown in botanical collections and home gardens in Florida and Hawaii. Today Cashew trees are primarily found in pan-tropical regions worldwide and grow wild and commercially. The trees are present in communities throughout Asia, Australia, Africa, and North, Central, and South America. In its growing regions, Cashew apples are found in the wild and are sold as a delicacy in select local markets. Some stores may also carry the pulp in frozen, dried, sweetened, or juiced form.