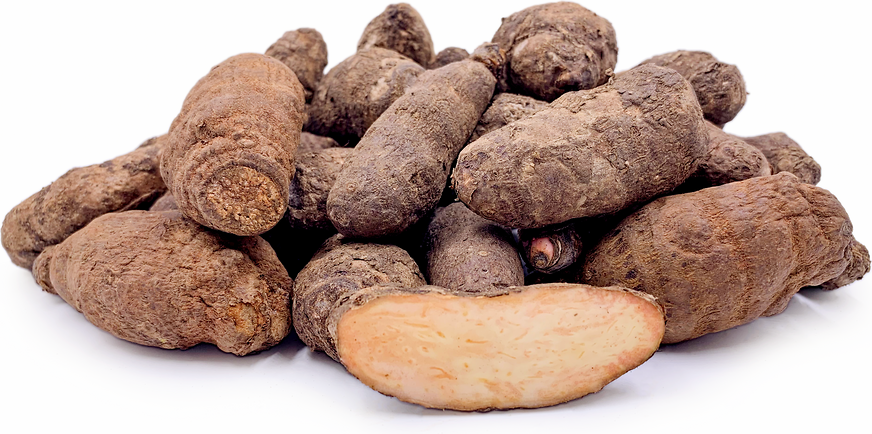 Short Yams
Inventory, lb : 0
Description/Taste

Short yams are generally small, oblong tubers with blunt, rounded ends. The size and appearance of Short yams widely vary, depending on the soil and environment the tuber is cultivated in. The skin is rough, scaly, and fibrous with bumps and irregularities across the surface, making it difficult to peel, and ranges in color from light to dark brown. Underneath the thick skin, the flesh ranges in color from white to yellow and is firm, dense, and starchy. When cooked, Short yams have a dry, flaky consistency with a subtly sweet, nutty, and earthy flavor.


Seasons/Availability

Short yams are available year-round in Asia.


Current Facts

Short yams, botanically a member of the genus Dioscorea, are small, hardy tubers grown in tropical and temperate climates, that are cultivated for their versatility. Yams are widely respected and praised in India for their resilience, nutritional value, and extended storage capabilities. The tubers are sold at inexpensive prices throughout local markets and are also commonly grown in home gardens. When cultivated in backyards, many families even choose to store the tubers in the ground until they are needed. Short yams are used in a variety of cooked applications and are often utilized as a substitute for meat in curries, stews, and rice.


Nutritional Value

Short yams are an excellent source of fiber, which can help cleanse the digestive system and are a good source of vitamin B6, vitamin C, potassium, phosphorus, magnesium, and manganese. In Ayurveda, the ancient medicinal practice based in India, yams are believed to have anti-inflammatory properties and are used to help enhance cognitive functions.


Applications

Short yams must be cooked as the tubers contain calcium oxalate crystals, which can irritate the mouth and throat if eaten raw. The small tubers are popularly boiled, deep-fried, roasted, grilled, and baked, and the neutral flavor of the flesh will easily absorb seasonings, spices, and brines. In India, Short yams are thinly sliced and fried as a crispy side dish, sauteed with sauces and vegetables for a quick meal, or are added to curries, soups, and stews. The tubers are also skewered and roasted as vegetarian kabobs, boiled and mashed with spices, cooked and deep-fried to create a crunchy exterior, or stirred into flavored rice dishes. Beyond cooked applications, Short yams can be pickled in brine with ginger and spices and used as a condiment. Short yams pair well with tomatoes, aromatics such as onions, garlic, ginger, mustard powder, turmeric, and coriander, chile peppers, rice, meats such as poultry, pork, and beef, cucumber, and yogurt. The tubers will keep up to two weeks when stored in a cool, dry, and dark place.


Ethnic/Cultural Info

In India, Short yams are used in traditional meals during the festival of Diwali, also known as the festival of lights. The five-day event is one of the most popular festivals celebrated annually in India and is meant to honor Lakshmi, the goddess of wealth and prosperity in Hindu mythology. Diwali is also a celebration of the triumph of good over evil, and the nature of good is exemplified in the lighting of oil lamps known as divas. These lamps are also believed to light the way for Lakshmi, guiding her to homes and businesses to bless the spaces for the year to come. During the festival, families gather together and cook elaborate feasts, especially consuming yams, as the tubers are believed to be a symbol of increasing and everlasting wealth. Some Hindus also believe that yams may embody the spirit of Lakshmi, exemplified through their resiliency and ability to prosper in the harshest of soils. Yams are typically cooked in tariwale suran during Diwali, which is a rich, stew-like gravy, served with poori, or deep-fried dough puffs. The most commonly used yam in these traditional dishes is the elephant foot yam, but Short yams can also be used as a substitute.


Geography/History

Short yams are believed to be descendants of ancient yam varieties native to tropical and temperate regions of Asia, Africa, and the Caribbean. Yams have been growing wild for thousands of years and were spread across the world via immigration, slave trade, and expeditions. Today Short yams are primarily localized to regions across Southeast Asia and Asia and are widely found in India. The tubers are grown in home gardens and are cultivated on a small scale for sale at fresh local markets.