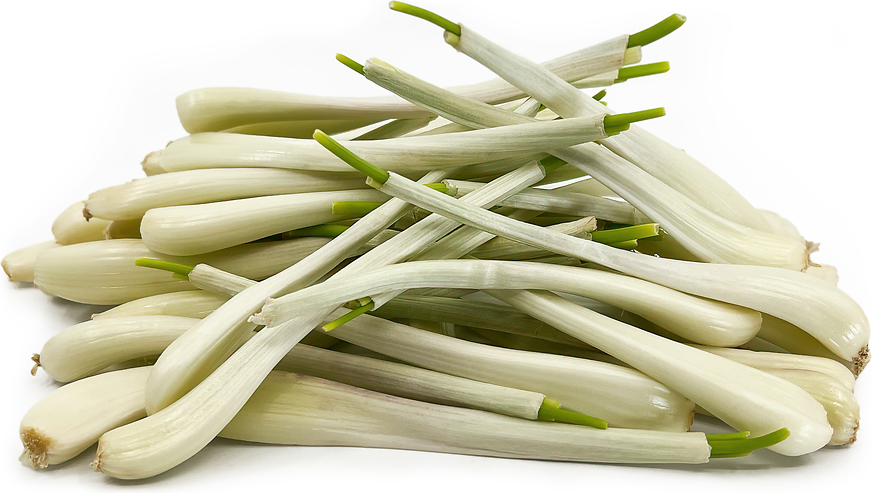 Rakkyo Negi
Inventory, lb : 0
Description/Taste
Rakkyo Negi is comprised of elongated, narrow bulbs averaging 1 to 2 centimeters in diameter and slender, upright shoots extending 20 to 60 centimeters in length. The bulbs have an ovoid to oblong appearance and are cream-colored to ivory with a smooth, shiny, and taut surface. The skin is thin, sometimes covered in a papery coating, and underneath the surface, the flesh is firm, crisp, and succulent with a white to pale yellow hue. The bulb is also solid, consisting of layers of crunchy flesh. The thin pale green shoots are crisp and pliable. Choose plump, white, and unblemished bulbs for the best quality and flavor. Rakkyo Negi releases an aromatic scent similar to garlic when sliced and has a grassy, bright, and vegetal flavor with spicy, pungent nuances reminiscent of garlic, onion, and cabbage.
Seasons/Availability
Rakkyo Negi is available in the summer, with a peak season in June and July.
Current Facts
Rakkyo Negi, botanically classified as Allium chinense, is the young bulb of a perennial plant belonging to the Amaryllidaceae family. The crisp bulbs grow in dense, upright clumps and are native to Asia, where they have been utilized as medicinal and culinary ingredients for centuries. Rakkyo Negi is also known as Chinese onion, Chinese scallion, Japanese scallion, and Vietnamese scallion and is a pungent ingredient primarily utilized in regional cuisines in Asia. Rakkyo Negi is the Japanese moniker for the scallions, and while there are many varieties grown throughout Japan, the four most commercially produced are Rakuda, Hachibo, Kuzuryu, and Tama-Rakkyo. In the modern day, Rakkyo Negi is a common ingredient in Asia, but outside of the continent, it is rare and not well known.
Nutritional Value
Rakkyo Negi is a source of potassium to balance fluid levels within the body, fiber to regulate the digestive tract, calcium to build strong bones and teeth, and other nutrients, including phosphorus and magnesium. The scallions also provide allicin, an active compound thought to increase blood circulation and fight against fatigue. In ancient times, scallions were incorporated into natural medicines to increase appetite, reduce chest pains, and increase immunity.
Applications
Rakkyo Negi has a pungent flavor suited for fresh and cooked preparations. The bulbs should be washed, and only the shiny, taut portions of the white bulbs are generally used in culinary dishes. The bulbs can be finely sliced and used as a topping over miso soup, tossed into salads, or combined with flavorings such as mayonnaise, miso, and soy sauce as a fresh side dish. Rakkyo Negi is also often served with sushi to balance the salty flavors, and the scallions are grilled or fried into tempura as a stand-alone dish. In addition to fresh and cooked preparations, Rakkyo Negi is popularly pickled as a tangy, crunchy condiment. The scallions are soaked in soy sauce or a sweet vinegar, and the pickled bulbs are served as a condiment to add to main dishes, salads, and as a garnish. In Japan, pickled Rakkyo Negi is traditionally served with curry rice. Rakkyo Negi, also known as Cu Kieu in Vietnam, is customarily pickled and served with dried shrimp in a dish prepared during New Year festivities. Rakkyo Negi pairs well with aromatics such as lemongrass, chile peppers, garlic, and onions, herbs including basil, cilantro, parsley, and mint, meats such as beef, pork, and poultry, and seafood including shrimp, white fish, and scallops. Whole, unwashed Rakkyo Negi has a short shelf life and should be immediately consumed for the best quality and flavor. It is recommended to wrap the scallions in a newspaper in a plastic bag and keep them in the refrigerator for 1 to 2 days.
Ethnic/Cultural Info
Rakkyo Negi is considered one of the five pungent vegetables, also known as the five harsh vegetables, discouraged from consumption among devout Zen Buddhists. Zen was a sector of Mahayana Buddhism created in China during the Tang Dynasty 618 to 907 CE, and over time, it spread to other areas of Asia, including Japan, where it became known as Japanese Zen. Some Zen Buddhists in Japan believe pungent vegetables such as Rakkyo Negi adversely affect the body, creating excess hormones when cooked and irritable qualities if eaten raw. It was also believed that pungent vegetables created gas, causing students in meditation to become distracted. Historically, the five harsh vegetables included onions, leeks, green onions, chives, and garlic, and in the early ages, Rakkyo Negi was often banned from Zen temples. In the modern day, some of these vegetables have become accepted into the diets of select Buddhists, but the five are mostly abstained from if possible. Ingredients such as lemongrass, ginger, chile peppers, and other spices are used in dishes to add flavor, and Buddhist monks seek to create layers of flavor by capturing an umami-like experience by combining specific fruits, vegetables, and nuts.
Geography/History
Rakkyo Negi is native to China, specifically to the Himalayan region, and has been growing wild since ancient times. The scallions have been utilized as a Traditional Chinese Medicine ingredient for over 2,000 years and were thought to have been cultivated as early as the 3rd century BCE. In the 9th century, Rakkyo Negi was introduced to Japan from China. Rakkyo Negi was initially used as a medicinal ingredient in Japan, but during the Edo Period from 1603 to 1867, its use expanded and was incorporated as a culinary aromatic. Throughout history, Rakkyo Negi was known by several names in Japan, including Hajime, Honzo Kazumyo, Shinsenji Kagami, and Hajiro, and many varieties were created over time for improved commercial production. Today Rakkyo Negi is cultivated in the provinces of Jiangxi, Yunnan, Hubei, and Zhejiang in China, in the Kagoshima, Miyazaki, and Tottori Prefectures in Japan, and in Korea, Vietnam, and other parts of Southeast Asia. When in season, the scallions are sold through fresh markets, direct from growers, and select grocers.
Recipe Ideas
Recipes that include Rakkyo Negi. One

is easiest, three is harder.