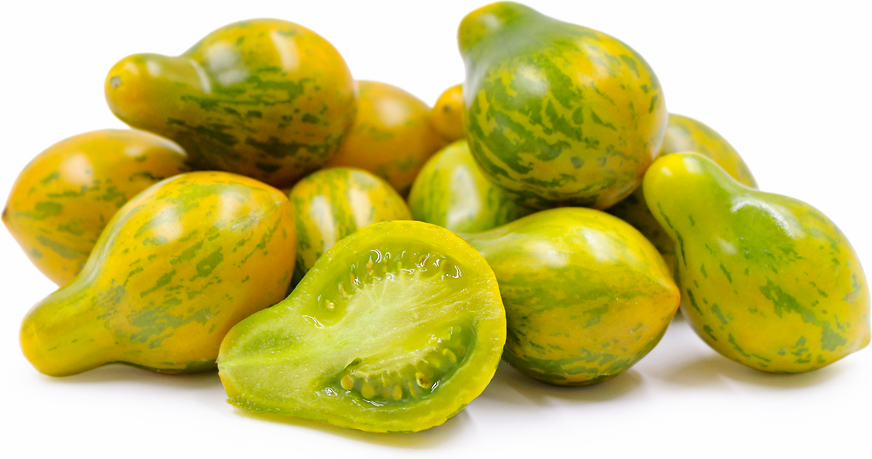 Mint Julep Cherry Tomatoes
Inventory, lb : 0
Description/Taste
The Mint Julep is a small plum or pear-shaped tomato, averaging one or two ounces in size. It has a slightly pronounced neck at the stem-end and a round bottom that comes to a tiny point. The smooth thin yellow skin is covered with olive and minty green specks, similar to a green zebra tomato, and the interior is a bright lime color with solid fleshy walls. It has moderate seeds with a juicy texture and considerably sweeter and less tart flavor than other green tomato varieties. The Mint Julep cherry tomato plant is an indeterminate, or vining, variety, yielding clusters of ten to twenty fruits along vines that reach four to eight feet, and it is often recommended for caging or trellising.
Seasons/Availability
Mint Julep cherry tomatoes are available in the summer and fall.
Current Facts
The Mint Julep is a variety of cherry tomato that is botanically classified as Solanum lycopersicum, formerly Lycopersicon esculentum. It was originally named the Michael Pollan tomato, after the great food writer, journalist and teacher, but has since been renamed, presumably for its stunning minty-green coloration. The Mint Julep cherry tomato is open-pollinated, like all heirlooms, meaning that saved seed of this cultivar will grow true to the parent.
Nutritional Value
Tomatoes are a rich source of vitamin A, which supports healthy eyes, skin, bones, and teeth. The fiber, potassium, vitamin C, and choline content in tomatoes all support heart health. Tomatoes also contain a wide array of beneficial nutrients and antioxidants, including lycopene, which has been linked to prevention of certain types of cancer in several studies.
Applications
Mint Julep cherry tomatoes have a sweet and fruity flavor with just a hint of tartness, which makes them perfect for eating fresh as is or in salads. Tomatoes are delicious with just a touch of salt, but they also pair well with soft cheeses and can be enhanced by herbs and spices. Try pairing tomatoes with basil, cilantro, chives, dill, garlic, mint, paprika, pepper, rosemary, oregano, parsley, and thyme. Store tomatoes at room temperature away from direct sunlight until ripe, after which refrigeration can prevent further ripening and slow the process of decay.
Ethnic/Cultural Info
The Mint Julep is one of several noteworthy heirloom tomatoes in the Wild Boar series. Brad Gates, owner of Wild Boar Farms, is an organic farmer and passionate tomato breeder out of northern California in the United States. Using heirloom genetics and mutations as a foundation, Gates has selected and experimented with new varieties, and cultivated an array of open-pollinated tomatoes with amazing colors, shapes, sizes, and taste. The main focus at Wild Boar Farms is on bi-color and striped varieties, like the Mint Julep, with unbeatable flavor.
Geography/History
The Mint Julep cherry tomato is thought to have developed from a natural mutation of its larger cousin, the Green Zebra. It was selected and bred by Brad Gates of Wild Boar Farms. Tomatoes are warm-season plants and should be planted only after the danger of frost has passed.
Podcast