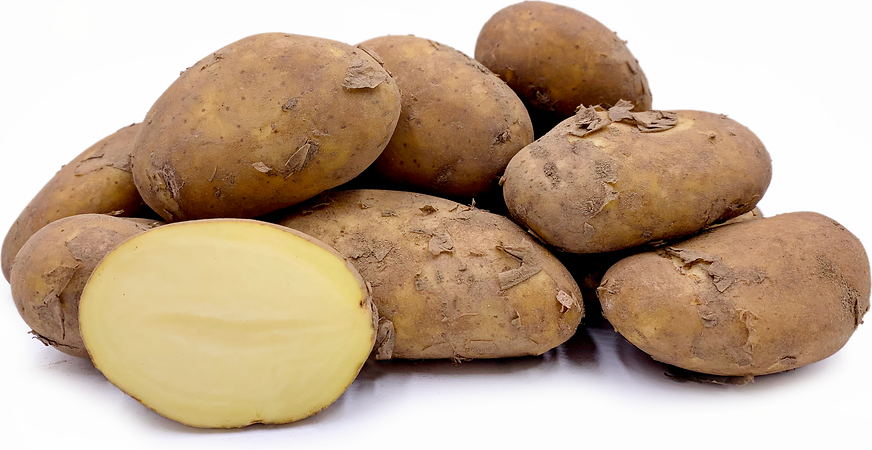 Jersey Royal Potatoes
Inventory, lb : 0
Description/Taste

Jersey Royal potatoes are small, uniform tubers that have a long, oval to kidney shape with smooth, rounded ends. The skin is pale yellow with light brown speckling and is very thin and delicate, sometimes giving the surface a flaky appearance. Underneath the skin, the cream-colored flesh is dense, firm, and waxy with low starch and high moisture content. Jersey Royal potatoes, once cooked, retain a sturdy but tender texture and have a very sweet, earthy, and subtly nutty flavor.


Seasons/Availability

Jersey Royal potatoes are available in the spring through early summer.


Current Facts

Jersey Royal potatoes, botanically classified as Solanum tuberosum, are a rare, new potato variety belonging to the Solanaceae or nightshade family. The small, kidney-shaped tuber was first discovered growing as a natural mutation on the island of Jersey and was selected for cultivation, creating an exclusive partnership with Great Britain. In the height of the variety's commercial success in the 20th century, Jersey Royal potatoes were the earliest variety to appear in British markets and were favored for their unique flavor, which was solely created by the delicate microclimate of Jersey. This specialized climate led the variety to obtain an EU Protected Designation of Origin, and the tubers were nicknamed "the champagne of potatoes" in reference to the fierce protection surrounding the standards and quality associated with the variety, similar to the way champagne is protected in France. In the modern-day, Jersey Royal potato production has declined due to the loss of viable agricultural land on the island and through increased competition of earlier potato varieties being imported from other countries into British markets.


Nutritional Value

Jersey Royal potatoes are an excellent source of vitamin C, which is an antioxidant found in the tuber's skin that can help strengthen the immune system and reduce inflammation in the body. The potatoes are also a good source of fiber to stimulate the digestive tract and contain some vitamin B, which supports energy production.


Applications

Jersey Royal potatoes are best suited for cooked applications such as boiling, roasting, sautéing, and baking. On the island of Jersey, the tubers are traditionally boiled in saltwater and served with fresh mint and butter. Beyond simple preparations, the potatoes can be boiled and tossed into green salads, baked whole and coated in spices as a side dish, smashed for a crispy exterior, or simmered into curries, stews, and soups. Jersey Royal potatoes can also be sliced and incorporated into gratins and casseroles, used as a topping on pizza, halved and roasted, or mixed into shepherd's pie. Jersey Royal potatoes pair well with spices such as garam masala, cumin, and turmeric, eggs, meats such as chorizo, lamb, poultry, and beef, seafood, arugula, peas, asparagus, green olives, herbs such as tarragon, rosemary, coriander, mint, and thyme, aromatics such as garlic and chives, and cheeses such as brie, cheddar, halloumi, and camembert. Whole Jersey Royal potatoes should be used immediately for the best flavor, but the tubers will keep 2 to 3 weeks when stored in a cool, dry, and dark place.


Ethnic/Cultural Info

Jersey Royal potatoes are only grown on the island of Jersey and have received an EU Protected Designation of Origin for their unique cultivation habits. Over half of the island's land was once used for agriculture, and the tubers have been cultivated for 140 years, primarily grown on sloped fields known as cotils. These steep fields are situated along the coast, providing ample amounts of sunshine, salty breezes, and a mild climate to produce the sweet, earthy tubers. Jersey growers also use a local seaweed known as vraic to fertilize the fields, an ingredient that many farmers attribute to the potato's unique flavor. When Jersey Royals are ready for harvest, they are often gathered by hand to protect the potato's thin, delicate skin. The island farms can produce up to 1,500 tonnes of potatoes per season, and once picked, the tubers can be packed and exported to British markets in less than 24 hours.


Geography/History

Jersey Royal potatoes were discovered growing as a natural mutation in the late 19th century on the island of Jersey, officially known as the Bailiwick of Jersey, located in the English Channel off of the coast of France. The variety was created from two large potatoes purchased at a local store by farmer Hugh de la Haye. The two potatoes had over fifteen sprouting eyes, and Hayes separated the eyes, planting each one in a cotil or sloped field for cultivation. When Haye later harvested the potatoes, one of the eyes sprouted a distinctly different tuber from the other plants, producing small, kidney-shaped potatoes. The potatoes were selected for cultivation in 1878 and were introduced to British markets in the late 1880s, heavily marketed as a spring variety. Despite their past popularity, Jersey Royal potatoes are somewhat challenging to find in present-day markets and are only sold for a short season on the island of Jersey and in Great Britain.