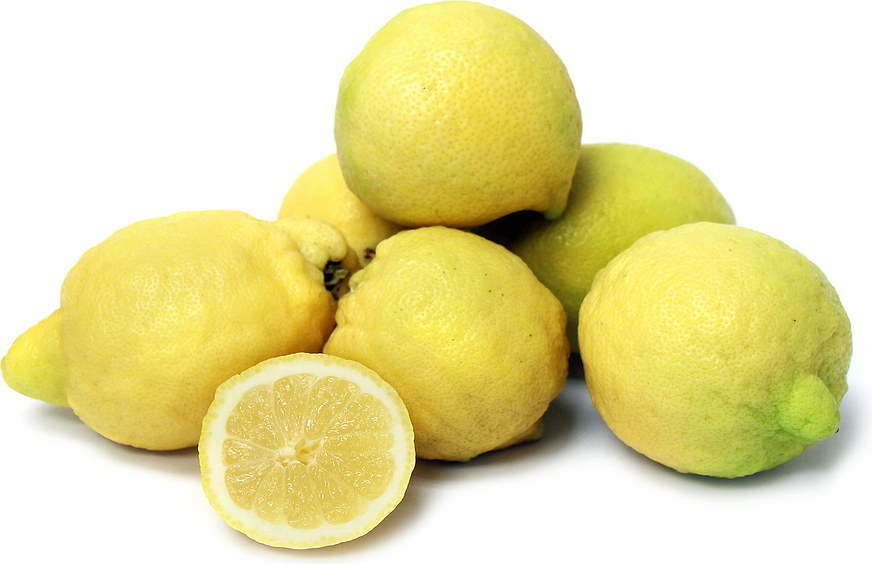 Monachello Lemons
Inventory, lb : 0
Description/Taste

Monachello lemons are a medium to large varietal with an elongated, elliptical, to oval shape. The lemons have a bulbous center, tapering towards both ends, one end bearing a flat appearance while the other end showcases a pointed protrusion known as a mammilla. The fruit's surface matures from green to bright yellow and is smooth and thin, covered in large sunken oil glands giving the peel a textured, dimpled feel. Underneath the surface, there is a spongy, white pith that can be semi-thin to thick, depending on cultivation habits, clinging tightly to the pale-yellow flesh. The fleshy pulp is divided into 10 to 12 segments by thin membranes and has an aqueous, soft, and tender consistency. The flesh amount is generally small compared to other Italian lemons and is either found seedless or contains cream-colored seeds. Monachello lemons are highly fragrant and release aromatic essential oils from the surface glands, emitting a bright, floral, and sweet scent. The flesh contains low acidity, creating a balanced, sweet-tart flavor.


Seasons/Availability

Monachello lemons are available in the late winter through summer.


Current Facts

Monachello lemons, botanically classified as Citrus limon, are an Italian variety belonging to the Rutaceae family. The aromatic lemons grow on compact, evergreen trees and are native to the island of Sicily, where they are cultivated around the base of Mount Etna, an active volcano. Monachello lemons are one of the three main varieties grown on Sicily, along with interdonato and femminello lemons, and are a lemon-citron hybrid favored for their balanced, sweet-tart taste. The cultivar is less acidic than the popular femminello variety and is well-known for its resistance to the disease mal secco, a common problem among Italian citrus groves. This disease resistance has led the variety to be planted across Sicily, but due to the tree's slow-growing nature and irregular yields, Monachello lemons are viewed more as a specialty cultivar than a commercially profitable lemon.


Nutritional Value

Monachello lemons are an excellent source of vitamin C to strengthen the immune system while reducing inflammation, potassium to balance fluid levels within the body, and fiber to regulate the digestive tract. The fruits also provide calcium and phosphorus to protect bones and teeth and other nutrients, including zinc, copper, magnesium, B vitamins, iron, niacin, and folate. In addition to vitamins and minerals, Monachello lemons contain limonene in the fruit's peel, a compound that gives the lemon its aromatic nature and contributes antioxidant and anti-inflammatory properties.


Applications

Monachello lemons have a balanced, sweet-tart flavor well suited for fresh and cooked preparations. All parts of the lemon can be used for various applications, including the rind, zest, juice, and flesh. Monachello lemons are primarily used for their juice, squeezed and mixed into dressings, vinegar, and oils. The juice is also used as a marinade for seafood and poultry, whipped into mayonnaise and layered onto sandwiches, sprinkled over rice-based dishes as a pop of flavor, or added to sauces for a tangy twist. In Sicily, Monachello lemon juice is sometimes incorporated into salmoriglio sauce, a mixture of olive oil, lemon juice, oregano, garlic, and salt. This sauce is typically poured over grilled swordfish as a refreshing main dish. Monachello lemon juice and zest are also used to flavor desserts such as cakes, cannoli, lemon ricotta cheesecake, or pudding. Try simmering Monachello lemons into a jam mixed with candied lemon pieces and spreading over toast, scones, or muffins. Beyond culinary preparations, Monachello lemons can be pressed into lemonade, mixed into sparkling beverages, infused into cocktails, or made into limoncello. The juice can also be frozen into cubes and dropped into drinks or stirred into hot water as a sore throat remedy. Monachello lemons pair well with cheeses such as chevre, cheddar, and gruyere, fruits including strawberries, blueberries, mangoes, raspberries, and pears, herbs such as basil, mint, tarragon, and thyme, and spices such as ginger, nutmeg, cardamom, and coriander. Whole, unwashed Monachello lemons will keep up to one week at room temperature and 1 to 2 weeks when stored in the refrigerator.


Ethnic/Cultural Info

Lemons are a traditional symbol of Sicily. The fragrant citrus has been cultivated on the island since the 9th century, first introduced by invading Arabs. Since its introduction, citrus varieties have been extensively developed and bred for improved flavor. Sicily quickly became nicknamed the "Lemon Riviera," and in the modern-day, the island produces the majority of the commercial lemons sold throughout Italy. Lemons are depicted in local Sicilian fabrics, pottery, handmade jewelry, and artwork and have also been interwoven into the culinary scene as an everyday staple. One of Sicily's more unique lemon-infused dishes is known as the "Great Sicilian Breakfast," which is granita served with warm bread. Sweet-tart lemon varieties, including Monachello lemons, are incorporated into granita, a mixture of fresh lemon juice, sugar, and blended ice. Granitas were inspired by the Arabs, who initially harvested snow from Mount Etna and stored it in the caverns and crevices of the mountain. The Arabs would mix the snow with seasonal fruits and create a slush-like beverage, typically consumed on hot days. Sicilians continued this practice after the Arabs left and began making granitas in restaurants as a staple beverage. In the modern-day, granitas can be made with a wide array of flavors, including citrus, strawberry, chocolate, coffee, or pistachio, and lemon granitas are a favored breakfast item served with warm Sicilian brioche. The bun-like bread is dipped into the granita, creating a blend of hot and cold, sweet and savory flavors.


Geography/History

Monachello lemons are native to the island of Sicily, located in the Mediterranean Sea south of the Italian Peninsula. Citrus was first brought to Sicily around the 9th century when the island was seized and held under Arab rule. Citrus flourished in Sicily's warm, Mediterranean climate, and many of the groves were planted around Mount Etna as the volcanic rock provided a porous, nutritious soil. Sicilian citrus growers often attribute their fruit's sweet-tart flavor to the distinct soil the citrus is grown in. Over time, many citrus groves were planted throughout the island, and growers began breeding improved commercial varieties of lemons and oranges, including Monachello lemons. Today Monachello lemons are mainly grown in the regions surrounding the cities of Messina and Catania on Sicily. The lemons are cultivated through family-owned citrus groves and are also grown in home gardens. When in season, Monachello lemons are sold through local markets and exported on a small scale to mainland Italy.