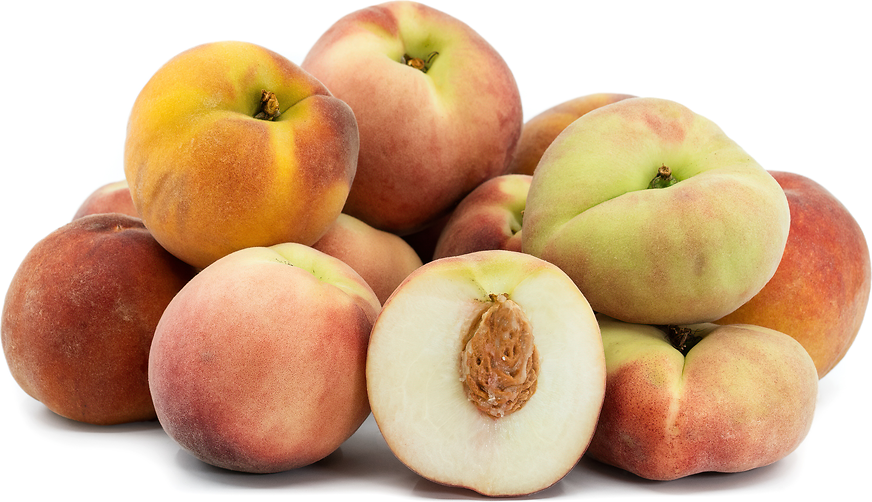 Peaches
Inventory, 18 lbs : 0
This item was last sold on : 10/28/23
Description/Taste
Peaches are round fruits that range in size from 5 to 9 centimeters in diameter. They are distinguished by a downy fuzz covering their thin skins. The fruits mature from green to yellow and then orange with deep red blushing on the side facing the sun. The deep orange flesh is aromatic and juicy and may or may not cling to the hard, almond-shaped central stone. Peaches offer a sweet flavor, balancing sugar and acid for a well-rounded flavor.
Seasons/Availability
Peaches are available year-round, with a peak season during the summer months.
Current Facts
Peaches are botanically classified as Prunus persica and are considered "stone fruits," and are closely related to apricots, plums, cherries and almonds. There are hundreds of varieties of peaches, including heirloom varieties and hybrid crosses. Peaches come in two different types, yellow-fleshed or white-fleshed and are identified as either freestone or clingstone, signaling to whether the fruit's pit hugs its flesh or is easily removed. There are hundreds of named Peach cultivars including Autumn Flame, O'Henry, and trademarked, boutique varieties like the Donut™ peach.
Nutritional Value
Peaches are an excellent source of vitamin A, B-complex vitamins thiamin, riboflavin and niacin, potassium, iron and phosphorus. They are also a good source of fiber, calcium, vitamins C, E, and K and a small amount of protein and sodium. Wild Peach varieties are found to be more nutrient-dense than cultivated ones.
Applications
Peaches are ideal for eating raw and are used in a variety of cooked applications, from savory to sweet. Freestone varieties are most often used for fresh eating and are most common in markets. Clingstone varieties are typically used for processing but are also becoming more popular at farmer's markets. Wash Peaches thoroughly before using. They are sliced for fruit salads or tossed green salads or used for canapes or hors d'oeurves. They are blended into smoothies or milkshakes, or juiced for beverages, cocktails, vinaigrettes or dressings. Peaches are ideal for baking, grilling and processing into jams, syrups, ice creams or preserved in syrup. Their most common use is for baking into desserts like cakes, pies, tarts and galettes. Sliced Peaches can be frozen or canned. Store them in the refrigerator for up to a week.
Ethnic/Cultural Info
Though not native to Virginia in the United States, Peach trees grow there in abundance. At the beginning of the 18th century, early American botanists even believed Peaches to be native to the area. Peaches had been cultivated by Native American tribes in the southeast and as far north as Pennsylvania. Before the 17th century, few types of Peaches were known. During the late 18th century, Thomas Jefferson planted over 38 different varieties in the orchard near his home at Mount Vernon, helping boost the popularity of the sweet stone fruit.
Geography/History
Peaches are native to China, where the earliest evidence of peach domestication is traced to the Zhejiang Province in the southeastern are of the country. Fossilized Peach stones were Peaches were carried via the Silk Road to the Mediterranean region, also known as the Fertile Crescent, where they flourished in the warm climate. Peaches were introduced to the Americas by either the Spanish or the French, both of whom arrived in what is now Florida during the mid-1500s. Today, China is the leading producer of Peaches followed by Spain and Italy. In the United States, Peaches are available year-round with help from growers in Chile. Most varieties prefer temperate climates where winters are wet, and summers are hot and dry, and require adequate summer watering, pruning and fruit thinning. Peaches are available in most temperate regions where it doesn't get too hot or too cold. They can be spotted in grocery stores and markets worldwide.
Recipe Ideas
Recipes that include Peaches. One

is easiest, three is harder.
the other 122...
| | | |
| --- | --- | --- |
| The Roasted Root | | Roasted Beet and Peach Salad |
| James Beard Foundation | | Roast Chicken with Peaches, Honey, and Lavender |
| Blue Kitchen | | Pork Chops with Peaches and Wilted Frisée |
| CD Kitchen | | Brown Sugar Peach Ice Cream |
| Well Plated | | Peach Shortcake |
| Eat Good 4 LIfe | | Peaches and Cream Overnight Oats |
| James Beard Foundation | | Peach Tamalses |
| Food For My Family | | Peach Raspberry Paletas |
| Giraffes Can Bake | | Caramelised Peach Milkshakes with Southern Comfort |
| I Am A Food Blog | | Peach Melon Basil and Burrata Salad |
| Cosmopolitan Cornbread | | Spiced Peach Jam |
| Food Network | | Opal Basil Macerated Peaches |
| Emily Kyle Nutrition | | Raspberry Peach Summer Glow Smoothie |
| Gonna Want Seconds | | Grilled Peach and Mint Pistachio Pesto Summer Salad |
| Delicious | | White Chocolate and Peach Trifle |
| Of Batter & Dough | | Peach Preserves |
| Baker by Nature | | Easy Blueberry Peach Tart with Vanilla Glaze |
| 3 Yummy Tummies | | Georgia Peach Martini |
| Domestically Blissful | | Baked Granola Peaches |
| Favorite Family Recipes | | Peaches and Cream Cinnamon Rolls |
| Delicious | | Chargrilled Peaches with Green Beans and Almonds |
| Soup Addict | | Caramel Crumble Peach Pie |
| Show Me The Yummy | | Blueberry Peach Mojito |
| With A Glass | | Peach Peel Butter |
| In Jennie's Kitchen | | Easy Peach Preserves |
| Sweet Life | | Sweet Peach Ancho Chile Sauce |
| Baker by Nature | | Fresh Peach Margaritas |
| Marisa Moore Nutrition | | Fresh Peach & Pecan Baked Oatmeal |
| Gonna Want Seconds | | Luscious Peaches and Cream Pie with Streusel Topping |
| Cadry's Kitchen | | Peaches and Black Been Salsa |
| Paleo Leap | | Peach and White Fish Salad |
| Whole and Heavenly Oven | | Summer Mini Peach Hand Pies |
| Jessica in the Kitchen | | Quinoa Stone Fruit Salad |
| Seasonal Cravings | | Watermelon Peach Smoothie |
| Recipes, Food & Cooking | | Peach Jalapeno Jam |
| Turmeric & Saffron | | Khoresh-e Holu - Persian Peach Stew with Chicken |
| CD Kitchen | | Peach Gelato |
| Tatyana's Everyday Food | | Peach Zefir Torte |
| James Beard Foundation | | Baked Ricotta with Stone Fruit and Honey |
| House of Yumm | | Peach Cobbler Oatmeal |
| Spinach Tiger | | Grilled Peach Salad with Blue Cheese, Toasted Almonds, Peach Vinaigrette |
| Nourished Simply | | Homemade Peach Green Tea |
| Delicious | | Peach and Raspberry Pavlova |
| Gonna Want Seconds | | Peach Pound Cake |
| Eats Well with Others | | Stone Fruit Panzanella |
| O&O Eats | | Brown Butter Peach Ice Cream Cake |
| Our Best Bites | | Peach-Prosciutto Pizza |
| An Italian in My Kitchen | | Peach Filled Italian Crostata Bars |
| Call Me PMC | | Two Step Fresh Peach Pound Cake |
| Manila Spoon | | Quick and Easy Peach Melba |
| Eat Good 4 LIfe | | Blueberry Peach Crumble |
| Tarladalal | | Chilled Tomato Peach Soup |
| The Global Girl | | Gluten Free Raw Vegan Peach Tart |
| Flower Mag | | Summer Peach, Fig, and Proscuitto Salad |
| Scattered Thoughts of a Crafty Mom | | Easy Two Ingredient Peach Sherbert |
| The New Baguette | | Sweet Coconut Grits with Grilled Peaches |
| Fitness Food Diva | | Healthy Peach Frozen Yogurt |
| i am baker | | Peach Bread |
| Spoonful of Flavor | | Peach Pie Smoothie Bowl |
| The Chunky Chef | | Homemade Raspberry Peach Lemonade |
| Sprinkles and Sprouts | | Gouda and Peach Skewers with Fresh Thyme |
| Just a Little Bit of Bacon | | Balsamic Grilled Peaches With Burrata And Prosciutto |
| Cook Eat Paleo | | Fresh Peach Muffins |
| She Wears Many Hats | | Peach and Goat Cheese Bruschetta |
| Marisa Moore Nutrition | | Honey Peach Simple Syrup |
| How Sweet Eats | | Caramelized Peach and Lavender Scones |
| Butter Your Biscuit | | Grilled Peach Pound Cake Parfait |
| Pumpkin N Spice | | Grilled Peaches with Cinnamon and Brown Sugar |
| Baker by Nature | | Raspberry Peach Iced Tea Lemonade |
| The Mama's Girls | | Homemade Peach Rings |
| Life in the Lofthouse | | The Best Peach Cobbler |
| Bake or Break | | Peach Drop Cookies |
| She Wears Many Hats | | Peach Slab Pie |
| Taste of Home | | Zucchini Peach Jelly |
| Julia's Album | | Peach Cream Cheese Cake |
| Green Kitchen Stories | | Porttobello Peach Burger |
| Sugar Dish | | Peach Pie Biscuit Bombs |
| Tarladalal | | Grilled Pork Tenderloin with Black Plum Sauce and Peach Relish |
| Cooking with Curls | | Peach Bourbon Barbecue Sauce |
| Delicious Days | | Homemade Peach Ketchup |
| Family Style Food | | Prosecco Peach Cream Tart |
| Just a Taste | | 5-Ingredient Peach Tart |
| Gonna Want Seconds | | Roasted Peach Halves with Crumb Topping |
| Reluctant Entertainer | | Peach Avocado Salad |
| Mama Plus One | | Peach Walnut Salad |
| Just a Little Bit of Bacon | | Fresh Peach Buckle Cake |
| Mel's Kitchen | | Fresh Peach Pie |
| Waitrose | | Peach and Hazelnut Frangipane Tart |
| A Healthy Life For Me | | Peach Bourbon Thyme Smash |
| Making Thyme for Health | | Fresh Peach Sorbet |
| Lemon Tree Dwelling | | Peaches & Cream Kabobs |
| Recipe Runner | | Grilled Peaches with Cinnamon Honey Ricotta |
| Wife Mama Foodie | | Stone Fruit Almond Tart |
| Art From My Table | | Grilled Brie with Peaches |
| Cadry's Kitchen | | Peach Rooibos Tea |
| Life in the Lofthouse | | Chunky Peach Salsa |
| The Foodie Physician | | Peaches and Cream Baked Oatmeal |
| Call Me Cupcake | | Peach Bundt Cake with Lemon Glaze and Lavender |
| The View from Great Island | | Peach Butter |
| Family Style Food | | Peaches Poached in Prosecco with Homemade Amaretti |
| Kate Moving Forward | | Rustic Dairy-Free Peach Blueberry Tart |
| Weelicious | | Peach & Cherimoya Puree |
| eCurry | | Peach, Lime and Coconut Pops |
| The FeedFeed | | White Nectarine, Peach And Apricot Galette |
| Cupcakes & Kale Chips | | Gluten-Free N0-Bake Peach Cheesecake Bars |
| Pizzazzerie | | Peach Mojito Cupcakes |
| Don't Go Bacon My Heart | | Easy Pan Fried Pork Chops With Peach Salsa |
| Of The Dirt | | Peach Grilled Cheese |
| Just a Little Bit of Bacon | | Raspberry Peach Clafoutis |
| Cilantro & Citronella | | Sweet and Sour Tofu |
| Delicious | | Peach Melba Cake |
| Love & Olive Oil | | Fresh Peach & Lemon Verbena Soda |
| Drizzle & Dip | | French Toast Sandwich with Cream Cheese, Peaches & Honey |
| Dessert for Two | | Peach Wine Slushies |
| La Tavola Marche | | Fennel and Peach Salad |
| Lisa's Kitchen | | Peach Lime Lassi |
| She Wears Many Hats | | Peach Wontons |
| Cheeky Kitchen | | Summer Stuffed Avocados |
| Horse and Heels | | Frozen Peach Blender Lemonade |
| Destination Delish | | Grilled Pork Tenderloin With Peach BBQ Sauce |
| The Chic Life | | Peach Blueberry Breakfast Crisp |
| Onion Rings and Things | | Grilled Peaches and Cream |