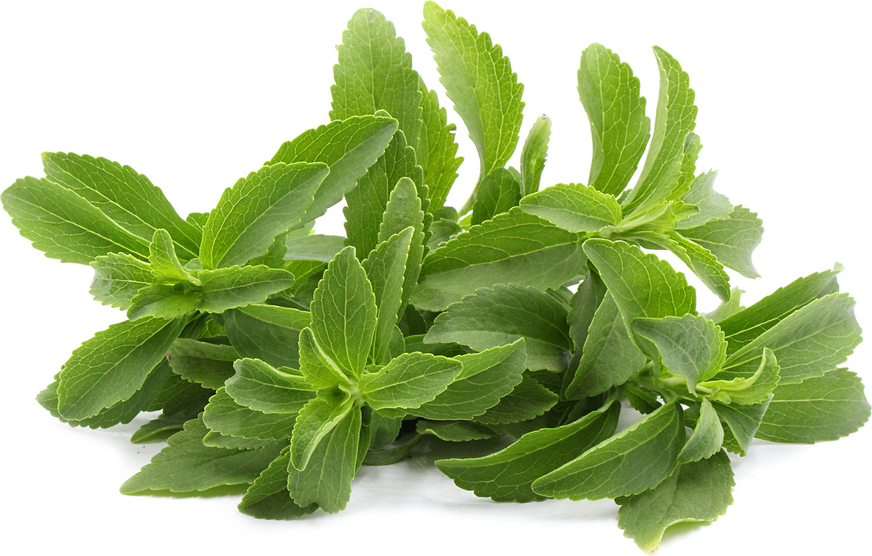 Stevia
Inventory, bunch : 0
Description/Taste
Stevia is a small, leafy herb comprised of elongated, oval leaves averaging 2 to 7 centimeters in length attached to slender stems. The green leaves have serrated edges, a prominent midrib, and are generally smooth with a lightly textured surface. The leaves are also pliable, growing from the sides of pale green stems that are thin and delicate in nature. In the late summer, the plant produces tiny, tubular flowers that are white and unscented. These white flowers are often removed before they open to prevent the leaves from developing a bitter taste. Stevia leaves can be consumed fresh and have an initially sweet taste that lingers on the palate. Eventually, the sweetness fades and gives way to a subtle licorice aftertaste.
Seasons/Availability
Stevia is available year-round in warm climates and in the summer through early fall in cooler regions. Dried Stevia is also available year-round.
Current Facts
Stevia, botanically classified as Stevia rebaudiana, is a perennial herb known for its sweetness, belonging to the Asteraceae family. The tender leaves grow on upright plants that can reach 30 to 60 centimeters in height and are native to South America, where the leaves have been used since ancient times as a medicinal and culinary ingredient. Stevia is also known as Sweet Leaf, Candy Leaf, and Sugar Leaf and is considered one of the sweetest natural plants found in nature. There are over 240 varieties within the Stevia genus, but only Stevia rebaudiana offers the sweetest flavor. Experts believe Stevia to be 200 to 300 times sweeter than sugar, and the body does not metabolize the compounds within the leaves, preventing blood sugar spikes, leading Stevia to become a popular sugar alternative. In the modern-day, compounds from Stevia leaves are extracted and commercially produced worldwide as a sweetener, and the sugar substitute accounts for approximately 40% of the alternative sugar market.
Nutritional Value
Stevia leaves contain antioxidants and natural compounds called steviol glycosides that are responsible for the plant's natural sweetness. These compounds include stevioside and rebaudioside A, C, B, D, E, and dulcoside A. The powdered Stevia available in stores is made from an extraction of stevioside and rebaudioside A and is used as a sugar alternative. Stevia cannot be metabolized in the body, preventing blood sugar levels from increasing and spiking, which is beneficial to people with diabetes and those who maintain a sugar-free or low sugar diet. It is important to note that processed Stevia powder does not contain the same health benefits and properties as the raw leaf.
Applications
Stevia leaves have a sweet, subtly bitter licorice flavor well suited for fresh preparations. The leaves are not typically consumed raw, but when grown in home gardens and harvested from wild plants in South America, the leaves are chewed as a snack to curb sugar cravings. Fresh Stevia leaves are also commonly steeped into teas, infused into water, stirred into lemonade, cooked into a syrup, or used to sweeten fruit custards and other desserts. Beyond fresh leaves, Stevia is primarily dried and ground into a powder or boiled to extract the sweet compounds. About 1/8 of a teaspoon of dried, crushed Stevia leaves is equivalent to one teaspoon of cane sugar. It is important to note that dried Stevia leaves are sweeter than fresh leaves, and though it can be used to sweeten baked goods, it does not have the same properties as cane sugar and will not caramelize or feed yeast for bread. With Stevia, a little goes a long way, and too much of the extract can create a bitter or medicinal taste. In Japan, Stevia is frequently used as a sweetener in coffee, yogurt, ice cream, and candies. Stevia pairs well with green tea, citrus, strawberries, apples, pears, vanilla, and chocolate. Ground Stevia can also be sprinkled over granola and cereal, mixed into acai bowls, or incorporated into sauces. Fresh, unwashed Stevia leaves will keep for 1 to 3 days when wrapped in plastic and stored in the refrigerator. Dried Stevia leaves and powder will keep 1 to 2 years when stored in a sealed container away from direct sunlight.
Ethnic/Cultural Info
Stevia is deeply intertwined in the medicinal, cultural, and culinary practices of the Guaraní, an indigenous group mainly residing in Paraguay but also found in Brazil, Argentina, and Bolivia. The Guaraní historically foraged for their food and medicine from their natural surroundings, residing in grasslands near subtropical forests. Along these forest edges, Stevia once grew abundantly and was viewed by the Guaraní as a plant given to humanity by the gods. Stevia is known as Ka'a he'e, translating to mean "sweet herb," and is a central ceremonial component of ushering young Guaraní boys and girls into adulthood. Young women would bathe in Stevia water and would also drink infused water as a method to purify their bodies. Young men would traditionally coat their arms and hands in a Stevia infusion as a blessing that the future crops they sow will be plentiful. Stevia was also used as a digestive aid and was incorporated into natural treatments as an antiseptic. Beyond medicinal and cultural uses, Stevia leaves were steeped into yerba mate teas to develop a sweeter flavor.
Geography/History
Stevia is native to the semi-humid, subtropical highlands in Brazil and Paraguay and has been growing wild since ancient times. The plants were once abundant in the wild and have been protected by indigenous peoples for centuries, harvested for medicinal and culinary uses. In 1889, Swiss botanist Moses S. Bertoni first recorded and classified Stevia, and in 1931, French chemists isolated steviol glycosides in the leaves, which is what gives the plant its sweetness. With this discovery, Stevia became a globally desired plant for its use as a natural sweetener, but despite its newfound popularity, Stevia is a difficult plant to grow from seed. In the 1970s, over 500,000 wild Stevia plants were taken by Japanese scientists from Brazil and Paraguay and were sent to Japan for commercial cultivation and research. This extraction caused Stevia to become critically endangered in its native growing region, and the remaining plants are being protected and propagated by the Guaraní people. Stevia was a popular sweetener in the late 20th century and has continued to be a sugar alternative in the early 21st century. China is the largest producer of Stevia, followed by countries such as Japan, India, Nepal, and the United States. The plants are also grown on a smaller scale in home gardens and personal greenhouses worldwide. Fresh Stevia leaves are challenging to find outside of South America. The leaves can be found through local markets and specialty distributors near regions where the plant is grown.
Recipe Ideas
Recipes that include Stevia. One

is easiest, three is harder.