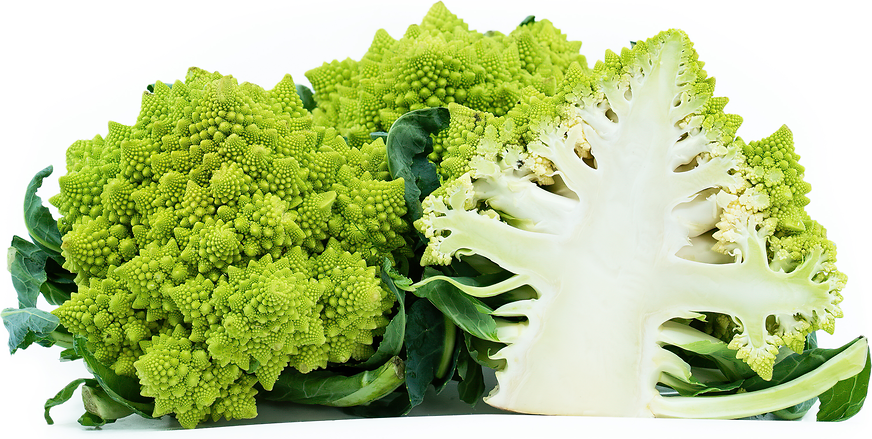 Broccoli Romanesco
Inventory, 16 ct : 5.31
This item was last sold on : 12/04/23
Description/Taste
Romanesco is comprised of a small to medium-sized head, averaging 7 to 13 centimeters in diameter, and has a pointed, cone-like appearance made up of several smaller pointed florets. The heads are enveloped by long, fibrous, and succulent dark green leaves attached to a thick, fleshy, pale green stem, and the heads can sometimes weigh up to five pounds. Romanesco florets grow in a distinct, logarithmic spiral not found in other Brassica oleracea species. The heads are made up of branching meristems that grow into a spiral-like shape, producing tiny flower buds in a naturally repeated form. The flower buds never open and remain undeveloped, causing the plant to grow new flower buds on top of the others, repeating this cycle to form distinct peaks on the florets. A defining feature of Romanesco is that each flower bud on the floret is seen as it develops its recognizable conical shape and is not covered like the buds become on broccoli and cauliflower. The florets are lime to bright green, often described as chartreuse, and have a textured surface. When the florets are cut in half, the flesh is pale green, solid, dense, and firm with a crisp, snap-like consistency. Romanesco should feel heavy for its size, and the head should be brightly colored, while the leaves and stem should look fresh and not wilted. The heads can be consumed raw and have a nutty, vegetal, and earthy taste with subtly sweet nuances. When cooked, the texture softens, and the flavor mellows into a mild and sweet flavor.
Seasons/Availability
Romanesco is available in the fall through winter.
Current Facts
Romanesco, botanically classified as Brassica oleracea, is an heirloom plant belonging to the Brassicaceae family. The unusual-looking cruciferous vegetable is related to broccoli and cauliflower, a part of the same botanical family, but Romanesco is a distinct plant, producing upright heads of edible, undeveloped flower buds. Romanesco is native to Italy and matures in approximately 75 to 100 days. Several varieties exist, often generally labeled as Romanesco in markets, and one of the most popular types for home gardens is Veronica, a cultivar valued for its large heads. Romanesco is a specialty vegetable selectively bred to showcase its distinct fractural pattern. The heads can be prepared similarly to broccoli and cauliflower, served raw or lightly cooked, and are favored for their dense but tender, crisp consistency and mild, nutty, and earthy taste. Romanesco is known by many regional names, including Chou Romanesco in France, Cavolo Broccolo Romanesco in Italy, Pyramidenblumenkohl in Germany, and Broccoli Romanesco, Romanesco Cabbage, Romanesco Cauliflower, and Fractal Broccoli in the United States, Canada, and the United Kingdom. In the modern day, Romanesco has been bred in Europe to showcase other hues besides green and can be found in shades of orange, yellow, and purple.
Nutritional Value
Romanesco is a source of vitamin C to strengthen the immune system, vitamin K to assist in faster wound healing, and vitamin A to maintain healthy organ functioning. The florets also provide fiber to regulate the digestive tract, potassium to balance fluid levels in the body, and other nutrients, including phosphorus, iron, and magnesium. In Italy, Romanesco was historically utilized for its juice, extracted and consumed as a natural antihistamine, diuretic, and way to purify and heal the body.
Applications
Romanesco has a nutty, earthy, and subtly sweet taste suited for raw and lightly cooked preparations. The entire heads can be cooked whole, or the florets can be separated and cooked in smaller pieces. Romanesco can be utilized in any preparation calling for broccoli or cauliflower, but it is important that the florets are not overcooked, as they can become flavorless and mushy. Try blanching the florets and shocking them in an ice bath to retain their coloring and crispness. The blanched florets can be tossed into salads, mixed into pasta, or coated in creamy cheese or tomato-based sauces. The florets can also be served on vegetable platters and used as a vessel for spreads and dips or blanched and fried in a skillet to develop a crisp surface. In addition to blanching, Romanesco can be boiled until tender and pureed into sauces with rich ingredients such as garlic, shallots, fresh herbs, cream, or salty cheeses. The florets can also be tossed into soups and curries, baked into quiches and casseroles, or sauteed in a skillet and added to rice bowls, zoodles, and vegetable medleys. In Rome, Italy, Romanesco is traditionally incorporated into a fish soup known as minestra di broccoli e arzilla. The dish is famous throughout the Lazio region and is made from sting rays, Romanesco, and vegetables in a broth. Beyond boiling, Romanesco can be roasted whole and drizzled in savory and tangy condiments such as chimichurri, curry, buffalo, yogurt dips, and a sesame-soy sauce. The florets can also be roasted and sliced, layered into sandwiches, chopped over pizza, or served as a simple side dish. Romanesco stems are edible and can be sliced and fried into tempura. The florets can also be pickled with garlic for extended use. Romanesco pairs well with herbs such as mint, oregano, parsley, and basil, cheeses including feta, parmesan, and acidic elements such as lemon juice, red wine vinegar, or balsamic vinegar, and nuts including pine, almonds, walnuts, or pecans. Romanesco will keep up to one week when wrapped in a damp paper towel and stored unwashed in a plastic bag with holes poked in for air circulation. It should be kept in the crisper drawer of the refrigerator. Use the florets within twenty-four hours of purchase for the best quality and flavor. Once cooked, Romanesco will keep up to three days in the fridge. Raw florets can be frozen for up to six months but will lose their crisp texture.
Ethnic/Cultural Info
Romanesco heads are one of several plants found in nature that illustrate the Fibonacci sequence, also known as the Golden ratio. This mathematical sequence was created by Italian mathematician Leonardo Fibonacci in 1202, and in simplified terms, it is comprised of numbers that are the sum of the two numbers preceding it. This numbered trend corresponds to a specific ratio that can be expressed through a repeated pattern that takes the shape of a logarithmic spiral in nature. Each Romanesco floret is considered an approximate fractal, as it has a termination point in the center of the spiral, and the number of spiraling florets on the head of Romanesco will always be a Fibonacci number. Other plants exhibiting Fibonacci sequences include pinecones, pineapples, sunflowers, and shells.
Geography/History
Romanesco is native to Italy and is believed by experts to have been selectively bred since at least the 15th century. Brassica oleracea species were thought to have originated in Northeast Africa and were spread through the Arabian Peninsula into Asia Minor in the early ages. The various plants within the species were domesticated and bred over time to develop plants with improved traits for cultivation, and Romanesco was developed in the Italian countryside. Romanesco was created by farmers using traditional cross-breeding techniques in the Lazio region of Italy. Experts believe farmers purposely selected plants genetically predisposed to developing naturally spiraled heads, eventually reinforcing the trait over centuries of breeding. Romanesco is named after Rome, the capital of Lazio, and the name was also a descriptor of an ancient dialect spoken within Rome. In the 16th and 17th centuries, Romanesco was recorded in farmhouse booklets, documenting how much the farmers received for growing the plant. In 1834, it was referenced in poet Giuseppe Gioacchino Belli's sonnet "Er Testamento Der Pasqualino," a story about a farmer named Torzetto who grew and sold Romanesco. Romanesco was introduced to the United States in the 20th century and has remained a specialty crop. Today the spiraled heads are grown in temperate climates and sold through farmer's markets, select grocers, and distributors worldwide, especially in Europe and the United States.
Featured Restaurants
Restaurants currently purchasing this product as an ingredient for their menu.
the other 21...
| | | |
| --- | --- | --- |
| Orfila Vineyards & Winery | Oceanside CA | 760-738-6500 |
| Park Hyatt Aviara | Carlsbad CA | 760-448-1234 |
| Valley View Casino & Hotel (Black&Blue) | Valley Center CA | 760-291-5500 |
| Huntress | San Diego CA | 619-955-5750 |
| Jeune Et Jolie | Carlsbad CA | 858-231-0862 |
| Vineyard Gourmet Catering | Temecula CA | 951-858-1585 |
| Boujiemana | San Diego CA | 925-980-9316 |
| Campo Gourmet | | 619-719-6924 |
| Elvira | San Diego CA | 619-560-3800 |
| Herb & Wood | San Diego CA | 520-205-1288 |
| Kingfisher | San Diego CA | 619-861-8074 |
| PFC Fitness Camp | Carlsbad CA | 888-488-8936 |
| The Guild Bar- Banquet | San Diego CA | 619-573-0289 |
| Bica | San Diego CA | 619-669-5725 |
| Jake's Del Mar | Del Mar CA | 858-755-2002 |
| Edgewater Grill | San Diego CA | 619-232-7581 |
| The Lion Share | San Diego CA | 619-564-6924 |
| Pamplemousse Grill | Solana Beach CA | 858-792-9090 |
| Wormwood | San Diego CA | 619-573-0289 |
| BFD-Big Front Door | San Diego CA | 619-723-8183 |
| Poseidon on the Beach | Del Mar CA | 858-755-9345 |
Recipe Ideas
Recipes that include Broccoli Romanesco. One

is easiest, three is harder.
the other 14...