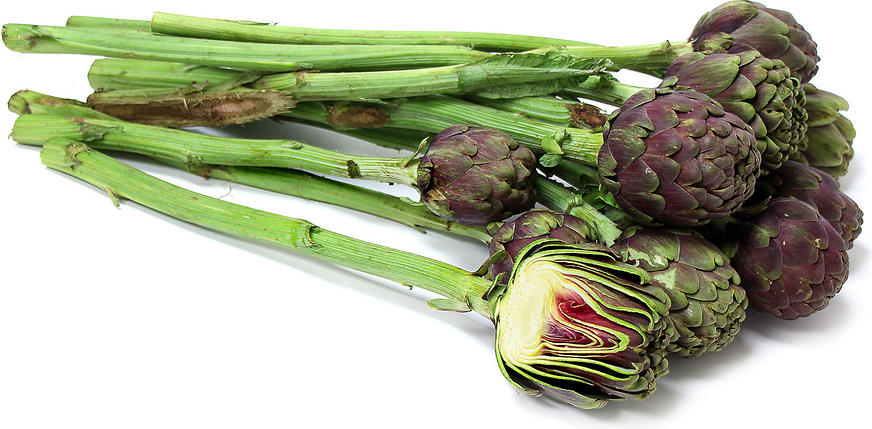 Long Stem Purple Artichokes
Inventory, ea : 0
Description/Taste
Long Stem artichokes are comprised of round to elongated heads, depending on the variety, that are still attached to their cylindrical, thick stems. Artichoke heads are the immature, unopened flower buds arising from the center of a thistle-like plant with a rosette of lobed and toothed, silver-green leaves. The heads form at the top of upright, straight stems, and from root to the top of the heads, an artichoke plant can reach over two meters in height. Artichoke heads average 8 to 15 centimeters in diameter and can be dense and tapered, filled with layers of tightly packed bracts, or they can have more of a flower appearance, appearing slightly open with looser but still compact layers. The heads can be solid green, purple, to variegated green-purple accents, depending on the variety, and each bract has a fleshy, edible base and a faintly curved nature, creating a shallow, spoon-like shape. Artichoke heads are primarily cooked and have a tender, soft, and succulent consistency. The long stems are also edible, and it is recommended to peel the stems to remove the tough, fibrous skin. Once peeled, the bright green stems contain an ivory to white central core that can be consumed raw or cooked. The core is solid, dense, crisp, and crunchy. Select Long Stem artichokes with a uniform stem coloring, a firm, springy feel, and a fresh appearance. When cooked, the fleshy bases of the leaves, the artichoke heart, and the central core of the stems are edible. Long Stem artichokes have a mild, nutty, earthy, and subtly sweet, vegetal taste.
Seasons/Availability
Long Stem artichokes are available year-round, with a peak season in the spring.
Current Facts
Long Stem artichokes, botanically classified as Cynara scolymus, represent a category of artichokes belonging to the Asteraceae family. In most commercial markets, artichoke heads are sold with only a few centimeters of their stems, but in select markets and specialty retailers, the heads are also sold with a longer portion of the stem attached. Artichoke stems are edible and have a fleshy, flavorful core, similar in taste and consistency to an artichoke heart. Purchasing Long Stem artichokes provides more of the delicate flesh artichokes are prized for, and the stems can be served as an accompaniment to the heads in culinary preparations or utilized on their own in dishes. Many varieties of artichokes are sold under the general descriptor of Long Stem artichokes, and both green and purple cultivars can be marketed with their stems attached. Each country and region will offer various varieties of Long Stem artichokes, and the heads and stems are traditionally consumed in lightly cooked preparations to showcase their nutty, vegetal flavor. Long Stem artichokes are commercially produced worldwide, but in comparison to artichoke heads being sold without their stems, they are a rare item that is only seasonally offered.
Nutritional Value
Historically, artichokes have been utilized in natural medicines in Europe as an antibacterial, anticarcinogenic, and antioxidative ingredient. Artichokes were also often consumed to aid in digestion and reduce symptoms associated with bloating, nausea, and constipation. Long Stem artichokes are a source of vitamin C to strengthen the immune system while reducing inflammation, vitamin A to assist in optimal organ functioning, and iron to develop the protein hemoglobin for oxygen transport through the bloodstream. The variety also provides calcium to build strong bones and teeth, vitamin K to assist in faster wound healing, fiber to regulate the digestive tract, and other nutrients, including potassium, manganese, folate, magnesium, and B vitamins.
Applications
Long Stem artichokes have a mild, sweet, nutty, and subtly grassy taste suited for raw and cooked preparations. The stems, fleshy bracts, and heart are the edible portions of the artichoke, and it is worth noting that the choke, if present, depending on the variety, should be discarded before consumption. The stems must be trimmed and peeled to remove any tough, fibrous portions, and once prepped, the stems can be sliced into thin medallions and tossed raw into salads. Artichoke stems can also be shredded into slaws, used as an edible garnish, or mixed with lemon juice and parmesan as a refreshing side dish. In Italy, artichoke stems and hearts are marinated in a brine with herbs and served as an accompaniment to sliced meats, cheeses, and crostini on antipasto platters and plates. In addition to fresh preparations, Long Stem artichokes are popularly boiled, steamed, roasted, or grilled. Boiled artichoke stems can be pureed into sauces for meat and pasta, blended into pesto, or sliced into larger pieces and added to salads, flatbreads, and grain bowls. Try boiling artichokes in white wine, water, and lemon juice for added flavor and then roasting or grilling the heads and stems for a charred and smoky taste. Artichoke heads can be used in any recipe calling for the heart and fleshy leaves, and the stems are popularly served as tender addition to appetizers, main dishes, and sides. The stems can be chopped and stuffed into poultry, stir-fried with other vegetables, incorporated into soups and stews, or battered and fried as a crispy snack. The heads and stems can also be halved, roasted, and topped with feta and sundried tomatoes for a Mediterranean-inspired dish. Long Stem artichokes pair well with nuts such as walnuts, pine, pistachios, cashews, and almonds, herbs including basil, parsley, chives, and Greek oregano, meats such as beef, pork, turkey, and poultry, and aromatics including onions, garlic, and shallots. Whole, unwashed Long Stem artichokes will keep up to one week when wrapped in a damp cloth and stored in a ventilated container in the refrigerator. The hearts and stems can also be preserved in oils and other marinades in jars for extended use.
Ethnic/Cultural Info
In the early 20th century, artichokes produced in California were under the control of the Artichoke King. Ciro Terranova, a Sicilian native who moved to New York in 1897, was a part of the Morello-Terranova crime family, one of the first large-scale mafia operations in the city. During this time, Italian immigrants had settled in central and northern California and were growing artichokes, as California had the ideal climate for the species. Unlike California, New York did not have a suitable climate, and the large Italian population within the metropolis began purchasing artichoke varieties shipped from California. Terranova got wind of this growing enterprise, and the Morello-Terranova family began controlling rail line entry points into New York, placing taxes on shipments. The mafia family eventually established an artichoke racket and sent mafia members to California, where they settled near the artichoke farms in 1914. By the 1920s, rumors began swirling, and allegations of California artichoke farmers being bullied and threatened were traced back to Terranova. It is said that fields in California were being chopped down in the middle of the night, the threat of using aerial gas forced growers to limit crop sizes and sell at low prices, and mafia members would intimidate the grower and their families into following orders. While most of these stories are likely embellished, the rumors of the events in California led to Terranova being nicknamed the "Artichoke King." Terranova was selling the artichokes with a 30 to 40% markup, and historians believe that Terranova may have earned the crime family over a million dollars each year. By 1935, the war over artichokes became so problematic that the Mayor of New York, Fiorello La Guardia, entered the Bronx Terminal Market with police force in the early morning and stood on the back of a vegetable truck declaring that there would be a ban on the possession, sale, or display of artichokes in New York City. The ban only lasted about a week, but the action taken by the mayor helped to stop the Artichoke King's reign over the artichoke industry.
Geography/History
Long Stem artichokes grow on herbaceous, perennial plants that are descendants of varieties native to the Mediterranean. Modern artichokes are believed by experts to have been created from a wild cardoon, a thistle-like plant consumed as a delicacy in the Ancient Greek and Roman Empires. Artichokes were mentioned in several Greek and Roman writings in the late BCE eras and the 1st century CE. Around 800 CE, artichokes were introduced into North Africa and Spain, where the plant became domesticated as a food source. Globe-type artichokes were commercially cultivated as early as the 12th century in Spain and Italy, and the plants were spread across Southern Europe into France, eventually making their way into England. Artichokes were also carried to the United States through French and Spanish immigrants in the 19th century and were planted throughout Louisiana and coastal California. The term Long Stem refers to any variety of artichoke that is harvested with a significant portion of the stem still attached. Growers worldwide sell artichokes with stems, and there are over 140 varieties of artichokes in existence, with approximately 40 that are commercially produced. Today most artichokes are grown in the Mediterranean, specifically France, Spain, and Italy, and in California, which produces almost all of the United States' domestic crop. Within California, Ocean Mist Farms, the largest grower of fresh artichokes in the United States, promoted and backed the rise of selling Long Stem artichokes. Artichokes have been sold with their stems for centuries, but it was only recently that they came back into style, favored for their tender, fleshy nature. Today Long Stem artichokes are offered directly through growers, farmer's markets, and select distributors worldwide.
Recipe Ideas
Recipes that include Long Stem Purple Artichokes. One

is easiest, three is harder.