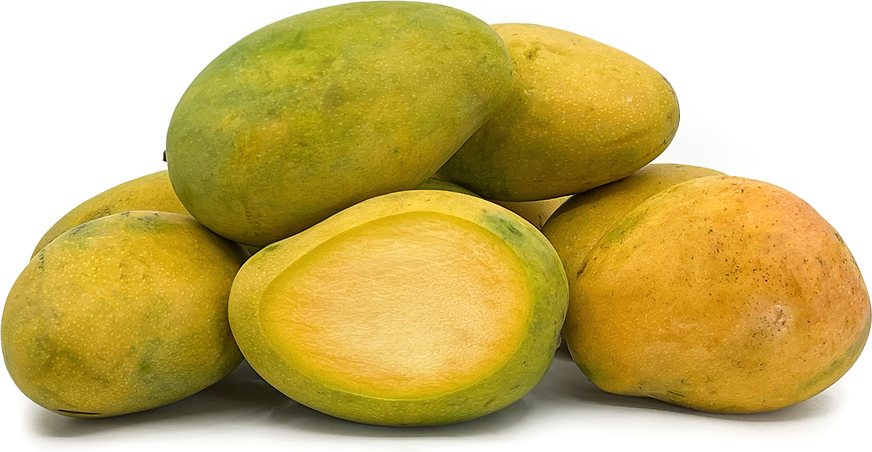 Banganapalli Mangoes
Inventory, lb : 0
Description/Taste

Banganapalli mangoes are a medium to large varietal, averaging 14 to 20 centimeters in length, and have a uniform, oval shape with one bulbous, curved end tapering to a smaller, short end, also known as the beak. The mangoes are typically harvested when they are 300 to 600 grams in weight but can sometimes grow to be 700 to 900 grams, depending on climate and cultivation conditions. The skin is thin, smooth, and taut, ripening from green to pale or golden yellow. In India, lighter-hued Banganapalli mangoes are preferred as tiny cream-colored to yellow spots can be seen on the skin, a trait distinct to the variety and considered visually appealing. Underneath the surface, the dark yellow flesh is firm, dense, aqueous, and tender, with a succulent melting consistency. The flesh contains only a few sparse soft fibers and has a thin, slender, oblong seed, allowing the variety to have a better flesh-to-seed ratio. Select Banganapalli mangoes with a fruity, musky aroma and feel heavy for their size. The variety can be consumed raw, discarding the skin, and has a rich, sweet, tropical, and fruity flavor with coconut-like undertones.


Seasons/Availability

Banganapalli mangoes are available in the summer through the beginning of the monsoon season. The variety is typically harvested in mid-May through mid-June.


Current Facts

Banganapalli mangoes, botanically classified as Mangifera indica, are an Indian variety belonging to the Anacardiaceae family. The mid to late-season mangoes are one of the most popular varieties in the state of Andhra Pradesh in India and account for over 70% of the total mango production in the state. Banganapalli mangoes were named after the variety's site of origin in India, and they are also known as Benishan, Chappatai, Banganapalle, Beneshan, Chapai, and Safeda mangoes. Banganapalli mangoes mature approximately 105 to 115 days after flowering and must be de-sapped before being sold in commercial markets. When Banganapalli mangoes are harvested, acidic sap leaches from the cut portion of the stem. This sap can scar and burn the surface of the fruits, so to protect the mango's appearance, the fruits are drained of their sap. It is customary for platforms with wooden slats to be constructed where the fruits can be gently placed upside down to drain the sap. Once drained, the fruits can be sold as a fresh eating, dessert variety, or used for canning purposes.


Nutritional Value

Banganapalli mangoes are a source of potassium to balance fluid levels within the body, vitamin A to maintain healthy organ functioning, and vitamin C to strengthen the immune system. The variety also provides fiber to regulate the digestive tract, iron to produce the protein hemoglobin for oxygen transport through the bloodstream, magnesium to control optimal nerve functioning, and other nutrients, including B vitamins, folate, calcium, zinc, copper, and manganese. In Ayurveda, the traditional medicine of India, mangoes are viewed as a way to increase digestion and cool the spirit. They are also thought to help reduce inflammation and clean the kidneys.


Applications

Banganapalli mangoes have a tropical and sweet taste suited for fresh and cooked preparations. The variety is popularly consumed straight out of hand as a dessert mango, and the seed and skin are discarded before consumption. Banganapalli mangoes can also be sliced and added to fruit medleys, used as an edible topping over sticky rice, parfaits, breakfast dishes, or desserts, or chopped into sauces and condiments. In Andhra Pradesh, Banganapalli mangoes can be blended into shakes, smoothies, and beverages such as a mango lassi or frozen into popsicles, ice cream, and sorbet. The variety is also commonly used in desserts such as phirni, a sweet pudding, mousses, and shrikhand, a yogurt-like dessert. In addition to fresh preparations, Banganapalli mangoes can be incorporated into sambar, a South Indian stew, simmered into chutney and jams, or cooked into dals, a bean, pea, or lentil-based dish. The variety may also be used younger and pickled as a tangy condiment. Banganapalli mangoes pair well with spices such as turmeric, fenugreek, curry leaves, cinnamon, and cardamom, aromatics including garlic, onions, chile peppers, and ginger, vanilla, maple syrup, condensed milk, yogurt, and sugar. Whole, unopened Banganapalli mangoes will keep for 10 to 12 days after harvest and should be consumed immediately when ripe for the best quality and flavor. In commercial cold storage, Banaganapalli mangoes can be kept for up to three months.


Ethnic/Cultural Info

Banganapalli mangoes are one of the few varieties in India to receive a Geographical Indication Tag, also known as GI tag. The cultivar has been grown in Andhra Pradesh for over 100 years and is favored for its taste, texture, and appearance. Banganapalli mangoes were submitted for a GI tag in 2011 and were granted the tag several years later in 2014. A Geographical Indication tag is a coveted label placed on products that identifies the item as a significant crop unique to a given region. This tag also protects the growing rights and name of the item, only allowing a select area with distinct terroir and climate to produce the crop. Since their awarded GI tag, Banganapalli mangoes are officially owned by the State Government of Andhra Pradesh and are heavily protected to maintain their quality with increased production. The variety can only be called Banganapalli if it is grown in the Kurnool District, specifically within Banganapalle, Khammam, Adilabad, and Mahabubnagar.


Geography/History

Banganapalli mangoes are native to India and were first discovered in the Nandyal District in Andhra Pradesh. The variety was grown by the Nawabs of Banganapalli, and it is said that the variety was derived from a mango carried from abroad. The mango seeds were planted in the Kurnool district of Banganapalli, and after the trees matured, the fruit became favored for their appearance, aroma, and taste. Experts believe Nawab Mir Ghulam Ali Khan, the ruler at the time of the mango's introduction, selected the variety and had it widely planted across Banganapalli. Another legend also states the mango variety was discovered naturally growing in the region. The Nawabs used to mark mango trees that they had sampled, and this tree was unmarked, notifying the Nawabs that it was a new type of mango. The Nawabs favored the fruit samples and selected them for commercial cultivation in Panyam, Banaganapalle, and Nandyal of the Kurnool district. After several years of cultivation within Banganapalli, the variety was spread throughout neighboring regions and became a popular commercial cultivar. Today, Banganapalli mangoes are grown in the Kurnool district and are also produced on a smaller scale in the states of Rayalaseema and Telangana. The variety is famous throughout Andhra Pradesh and Tamil Nadu in India and is sold domestically and exported to the United States, the United Kingdom, and Japan. Outside of India, Banganapalli mangoes are sometimes grown in Pakistan.