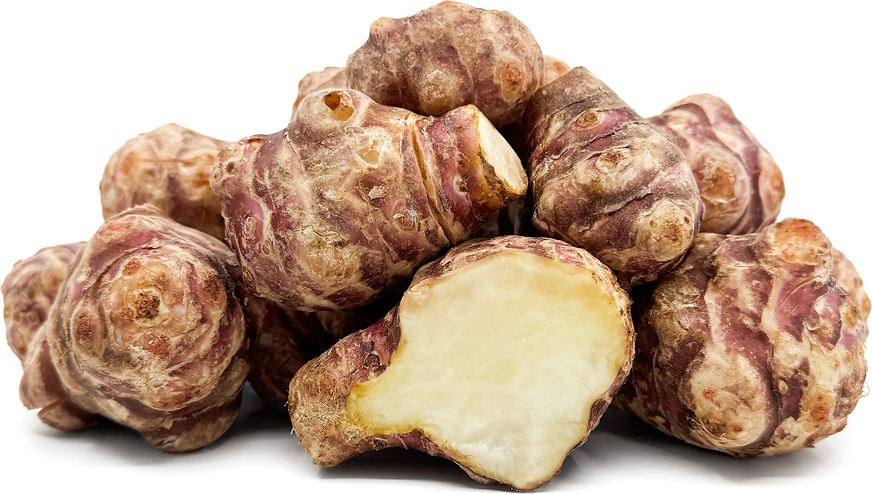 Red Sunchokes
Inventory, lb : 0
Description/Taste
Red Sunchokes are the root stem of a variety of sunflower that produces small, yellow flowers. The red cultivars of the Sunchoke may not be as common as the tan-skinned variety, which dates back to the times of European conquest of North America. Red Sunchokes are medium-sized, cylindrical tubers said to be less bumpy and knobby than their lighter beige-skinned relatives. Some tubers may be irregularly shaped, while others may take a more rounded, tear drop shape. The less bumpy shape makes Red Sunchokes a bit easier to peel with less waste. While the skin may be anywhere from red-tinged to a violet-red, the flesh of the Red Sunchoke is an ivory white. The flesh is crisp with a texture similar to a water chestnut or salsify. Sunchokes have a sweet, nutty flavor.
Seasons/Availability
Red Sunchokes are available year-round with a peak season in the fall through the winter.
Current Facts
Red Sunchokes are a variety of tuber, botanically known as Helianthus tuberosus. Red Sunchokes are a maroon cultivar of the 'sunroot' as it was known to Northeastern Native Americans in the 1600s. Sunchokes are one of the few vegetables to travel back to Europe with the explorers from North America to have a lasting effect on European cuisine. The red varieties tend to be of French origin. In France, the Sunchoke is referred to as Topinambour.
Nutritional Value
Sunchokes are rich in inulin, a starch-like carbohydrate that is diabetic-friendly. It is what gives the Sunchoke its underlying sweetness. Sunchokes are also high in fiber and iron, and have more potassium that most other vegetables.
Applications
Depending on the age and the variety of Red Sunchoke, it can be prepared with or without its skin. Scrub the skin under water to clean; some varieties have a thinner skin which can be rubbed off with one's thumb. Sunchokes can be roasted or baked, sliced or julienned. Slice raw Red Sunchokes and serve with crudité and creamy or oily dips. Use the red-hued tubers as a substitute for potatoes in most recipes; roast alongside carrots and celery with meats or chicken, or boil and served mashed or as a soup. Red Sunchokes can be kept in the refrigerator for up to a month when wrapped in plastic.
Ethnic/Cultural Info
In Baden-Württemberg, Germany, 90% of the Sunchokes crop is used to make a famous spirit called "Topinambur" or "Rossler," a 'Jerusalem artichoke brandy' that has been made since the 19th century. The name "Jerusalem artichoke" arose from a corruption of the name 'Girasole Articiocco', which is what the newly discovered vegetable was called in Italian when it was handed out from the garden of Cardinal Farnese in Rome who grew them in his garden in 1617, after receiving them from the Pope. It is said that all newly discovered plants from the New World were presented to the Pope, where he in turn would present them to friends and "favorites" to cultivate.
Geography/History
The name Sunchoke is derived from the Native American 'sunroot' which was the simple name for the sunflower that produced edible tubers. Discovered on an expedition to what is now the Northeastern United States and Canada, Samuel de Champlain sampled the root in Cape Cod in 1605 and is said to have described them much like artichokes. Sunchokes found popularity in Europe before potatoes pushed them out of favor. In Italy they were called Girasole articiocco and in France, Topinambour (which is also the name of a Brazilian tribe, though any connection is uncertain). The tubers were made popular again during war time during rationing, when easy to cultivate root vegetables were part of many meals. There are several maroon varieties of Sunchoke that lay claim to the 'Red Sunchoke' title, like 'Sakhalinski Rouge,' 'Red Fuseau,' 'Gerard,' and 'Violet de Rennes.' These red varieties are often available from seed companies and garden suppliers, though Red Sunchokes are being grown by more small farms and are finding popularity among chefs and in restaurants. Today, Sunchokes are mainly cultivated in the south of France and parts of temperate North America and they can be found at farmers markets and in specialty food stores.
Recipe Ideas
Recipes that include Red Sunchokes. One

is easiest, three is harder.