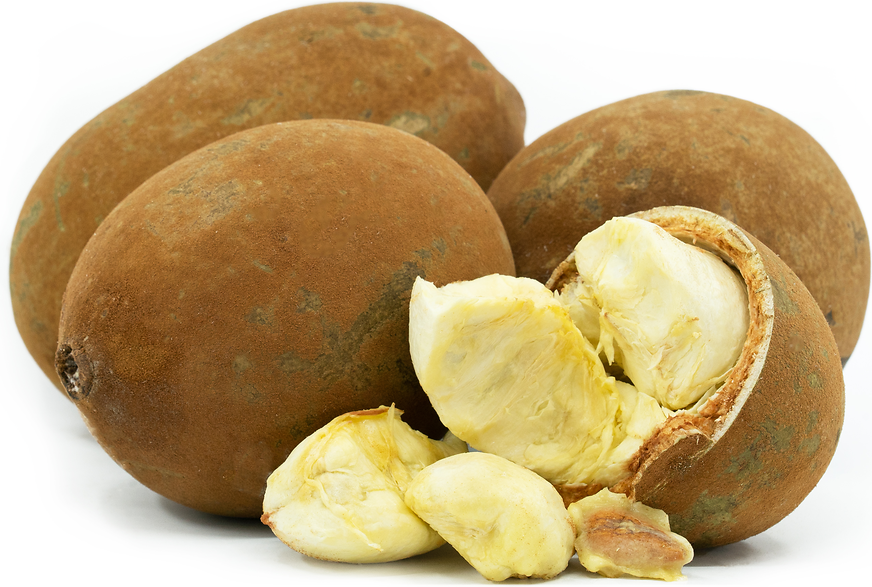 Copoazu Fruit
Inventory, lb : 0
This item was last sold on : 11/13/22
Description/Taste

Copoazú is a small to medium-sized fruit, averaging 10 to 12 centimeters in diameter and 1.5 kilograms in weight, and has an elongated, oval to oblong shape. The fruit's ends can be bluntly curved or slightly pointed, depending on the specific variety, and the skin bears a red-brown hue with a thick nature and semi-smooth texture. Underneath the surface, the white to ivory flesh is divided into small pieces encasing light brown seeds. Copoazú may contain anywhere from 25 to 62 seeds, and each seed is tightly adhered to the flesh, requiring farmers to remove it with scissors. The flesh is soft, pliable, and slightly sticky with a chewy consistency. When opened, Copoazú emits a sweet aroma reminiscent of pineapple mixed with chocolate. The fruits fall from the tree when they are ripe, and the flesh contains a subtly sweet, tangy, and slightly sour, acidic taste with tropical notes likened to melon, banana, passion fruit, citrus, or pear.


Seasons/Availability

Copoazú is available in tropical regions of South America, and the fruit is generally in season in late February through August.


Current Facts

Copoazú, botanically classified as Theobroma grandiflorum, is a tropical fruit in the Amazon rainforest belonging to the Malvaceae family. The fruits grow on evergreen trees that can reach anywhere from 5 to 20 meters in height, and the trees thrive in humid, warm, and moist environments throughout South America. Copoazú is related to cacao as they are both a part of the Theobroma genus, resulting in Copoazú, often known as White Cacao. The fruits are also known under several other names, including Cupuazú, Chocoazú, Copoacu, and Cacao Blanco. Copoazú fruits are a delicacy in the Amazon, but they are rarely found fresh outside of their native region, instead sold in frozen pulp or powder form. Despite their limited fresh availability, the trees are highly prolific, sometimes producing over fifty pods in one season. Copoazú is considered one of the most promising fruits of the Amazon, and many organizations are establishing Copoazú nurseries to create additional sources of income for rural families. The fruits are comprised of approximately 50% peel, 30% flesh, and 20% seed, and both the seed and flesh are utilized for fresh and processed culinary purposes. The shells are also used as organic fertilizer, and lotions, cosmetics, and shampoos are popularly infused with oils extracted from the seeds.


Nutritional Value

Copoazú is a good source of fiber to regulate the digestive tract, potassium to balance fluid levels within the body, and phosphorus to support bones and teeth. The fruits also provide vitamin C to strengthen the immune system, linoleic acid for heart health, antioxidants to protect the cells against free radical damage, and other nutrients including iron, calcium, vitamin B3, and pectin.


Applications

Copoazú has a subtly sweet and tangy flavor utilized in fresh and processed products. The flesh can be consumed straight, out of hand, but it is more commonly sprinkled with sugar for enhanced flavor. Copoazú can also be blended into smoothies, fruit juices, and liquors, incorporated into desserts such as ice cream, popsicles, pudding, mousse, bars, and yogurt, or lightly simmered into jellies, jams, and compotes. In Peru, Copoazú is popularly blended into refresco de Copoazú, a sweet, sour, thick, and refreshing beverage. The flesh is also processed into powders or frozen into pulp. Beyond the flesh, the seeds are edible and can be pressed into a butter known as manteca. Cupulate is a sweet similar to chocolate made with Copoazú seeds, and the mixture can be made into a hot drink or candy bar. Copoazú pairs well with vanilla, cream, milk, brown sugar, and fruits such as pineapple, coconut, strawberries, bananas, and oranges. Fresh Copoazú should be used immediately for the best quality and flavor. The pulp can also be frozen for extended use, and the seeds are dried and ground into a powder.


Ethnic/Cultural Info

Copoazú is the national fruit of Brazil and is locally known as Cupuacu. The fruits are grown in tropical, humid regions of the Amazon rainforest, and there is also a concentrated center of cultivation in Pará, a state in Northern Brazil. Pará produces approximately 500 tones of Cupuacu annually, and the fruits are sold fresh or processed into powders, frozen pulp, seed butter, and snack products. Cupuacu is an important source of income for communities throughout the Brazilian Amazon, and beyond solely cultivating the trees for fruit production, Cupuacu trees are planted to help with reforestation. Expansive areas of the Amazon have been destroyed due to commercialism, but communities are planting native trees, including Cupuacu, Brazil nut, and acai, to develop natural habitats with income-based vegetation. These types of trees do not require cutting to harvest the fruits, preventing the areas from being deforested in the future. Agroforestry, focusing on cultivating Cupuacu, has also expanded into Peru, where thousands of trees are being planted each year to promote a sustainable business for smaller communities. In addition to adding diversity, Cupuacu trees act as a natural erosion barrier, preventing regions from losing nutrient-rich soils.


Geography/History

Copoazú is native to tropical, humid forests and is prevalent throughout the Amazon rainforest in South America. The fruit's native range spans across Brazil, Colombia, Peru, Venezuela, Ecuador, and Bolivia and has been growing wild since ancient times. Copoazú is a significant source of nutrients among indigenous communities of the Amazon, but it is rarely found fresh outside of its native growing region. Today Copoazú still grows wild in South America and is primarily sold fresh through local markets. The fruits are also cultivated for commercial products, including frozen pulp, snack bars, powders, and candy. Some Copoazú products have been exported to markets worldwide and are increasing in popularity as consumers become aware of the fruit and seed's nutritional content.