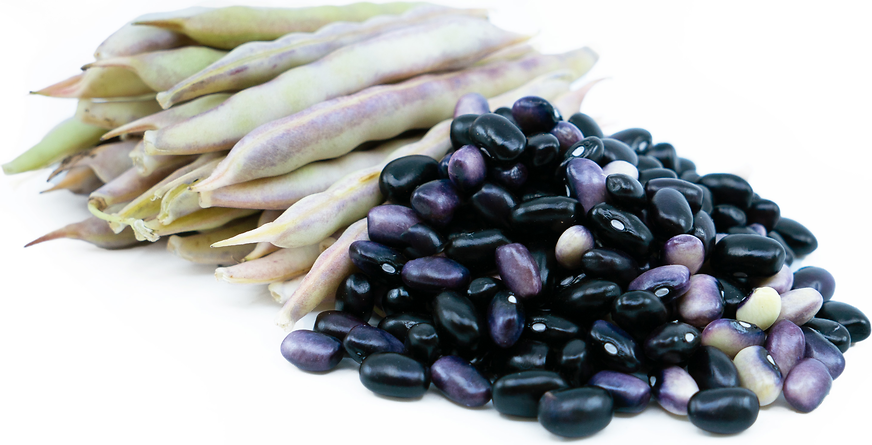 Black Shelling Beans
Inventory, lb : 0
This item was last sold on : 04/13/23
Description/Taste
Black shelling beans when mature are encased in roughly six-inch inedible, weathered green pods. Within the pods are plump, ovate seeds or beans that are slightly curved at the bean's belly, jet black, and glossy. As the beans dry, they harden and shrink, yet maintain a glossy finish. Cooked Black shelling beans have a dense, meaty texture and rich, savory flavor with sweet and nutty nuances. When very young, immature Black bean pods can be eaten as a whole bean, shell and all though this preparation method is no longer very common with this variety.
Seasons/Availability
Fresh Black shelling beans are available during the summer and early fall.
Current Facts
Black shelling beans, AKA Black Turtle shelling beans are members of the Phaseolus vulgaris genus, the most widely cultivated genre of beans in the world. Common cultivars today include condor, zorro, midnight, jet black, and domino with each cultivator offering varying growth habits and virus resistance as well as some slight variation in appearance and flavor. Though Black shelling bean cultivars are sold for fresh eating, they are most commonly harvested in dried form and sold as a legume or as a canned bean.
Nutritional Value
Black shelling beans are considered a substantial meat substitute because of their high protein content. They are also rich in carbohydrates, fiber, iron, B vitamins, folate, manganese, polyphenols, potassium, and antioxidants.
Applications
Black shelling beans are traditionally known as a soup bean and can be used as a fresh shelled bean or in their dried form. Cooking times will be far briefer with fresh shelled beans as no soaking is required. In addition to a slow simmer Black beans can be braised, roasted, sautéed and fried. Cooked beans can be added to salads, casseroles, tacos, burritos, salsas, and enchiladas. Black beans are popularly added to stews and soups and can be left whole or mashed and used as a thickener. Pureed Black beans can be used to make dips, sauces, and spreads. Beans can also be pureed and added to brownie batter to impart a creamy texture and increase the protein content of the sweet baked good. Complimentary pairings include corn, squash, grains such as rice and barley, chile peppers both mild and hot, onions, tomatoes, plantains, garlic, oregano, smoked paprika, cumin, chicken, pork, bacon, cilantro, melting and fresh cheeses, vinegar and olive oil. The reserved bean water of cooked Black shelling beans is known as pot liquor or caldo de frijol. It can be used to create a stock for soups or as a base for a sauce. Fresh Black shelling beans will keep best if refrigerated, for optimum flavor beans should be shelled and used within three to four days.
Ethnic/Cultural Info
Black shelling beans are a staple ingredient in Latin American cuisine, especially Mexican, Brazilian and Caribbean. In the Caribbean Black beans were an important food in the diet of slaves and were known in French-speaking areas as pois à nègres. In Mexico along the Gulf Coast, they were known as frijoles negro or frijoles de tampico. In Brazil, they are an important ingredient in feijoada a traditional stew of beans and pork. Additionally, in the United States they are still today a popular bean in the Cajun and Creole cuisines of Louisiana. It is believed their original name, Black Turtle bean, was a nod to their shape and hard, dark skin that is reminiscent of that of a turtle's shell.
Geography/History
Black shelling beans have been cultivated for over 7000 years. They are an heirloom shelling bean native to southern Mexico and Central America. Black beans were originally brought to Europe by Spanish explorers returning from the New World. Efforts were made to popularize the bean in European countries like Germany in the 1840s but failed for a handful of reasons. For one the growing season was too short in their cool climate, additionally consumers thought it was too small of a bean and did not care for the beans color and the way it turned anything it was cooked with dark and inky. In the United States, the bean experienced a similarly rough start commercially. Aside from places like Louisiana, Texas and other parts of the Gulf Coast that had contact with Mexico Black beans would not appear in most parts of the United States until after the war with Mexico (1846-1848) occurred. Even then at first the beans were not sold as a dried bean but rather as a fresh young green beans because dark-hued foods were not favored culinarily at that time. It was not until a recipe for Black Turtle bean soup was published in the Horticulturist in 1848 and later in Jennie June's American Cookery Book in 1874 that Black beans began to become popularized as a shelled bean in America. Fairly easy to grow Black beans are tolerant of a variety of soils and prefer temperatures between sixty and eighty degrees Fahrenheit. Black beans are typically ready for harvest within one hundred days of planting with the original variety growing in a bush like semi-runner fashion.
Recipe Ideas
Recipes that include Black Shelling Beans. One

is easiest, three is harder.