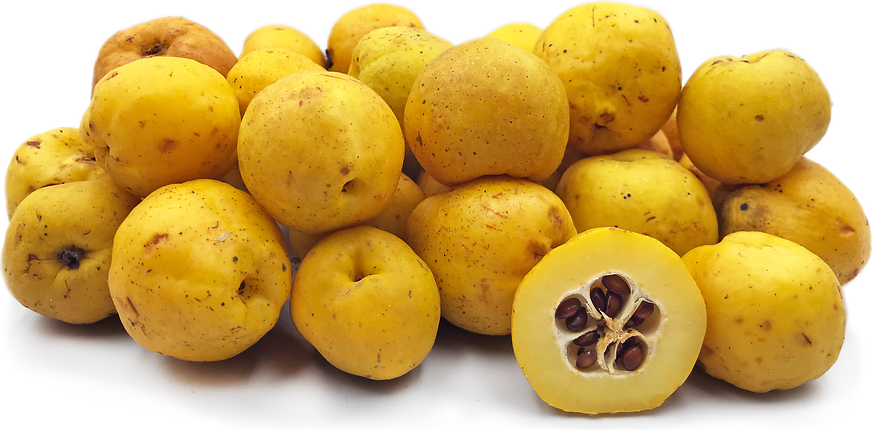 Wild Japanese Quince
Inventory, lb : 0
Description/Taste
Japanese quinces are a small to medium-sized varietal, averaging 4 to 7 centimeters in diameter, and have an irregular, sometimes lopsided round to conical appearance. The quinces are much smaller than quince species seen in Europe, and the skin is semi-thin, transitioning from yellow-green to golden yellow when ripe. The skin may also showcase brown marks, spots, and faint red blush, depending on the variety, and at maturity, it will develop a sticky, waxy consistency. Underneath the surface, the golden yellow flesh is firm, dense, and fibrous, encasing a central cavity filled with red-brown seeds. One Japanese quince can contain up to eighty seeds. Japanese quinces have an aromatic scent reminiscent of pineapples, mangoes, lemon, and vanilla mixed with spices. The fragrance lingers in the air, indicating that the fruit is ripe. Japanese quinces are astringent and unpalatable when raw and must be cooked. Once heated, the flesh will soften into a tender consistency, and the flavor will mellow into a sharp, fruity, tangy, and floral taste.
Seasons/Availability
Japanese quinces are available in the fall through early winter.
Current Facts
Japanese quinces, botanically classified as Chaenomeles japonica, are the fruits of a flowering quince species native to Japan, belonging to the Rosaceae family. The small round fruits grow on deciduous shrubs that reach up to one meter in height, and the fruits are valued as a foraged crop, primarily utilized in home kitchens. Japanese quinces are also known as Japanese Flowering quince, Maule's quince, and Wild quince. This species has received international recognition for its showy, colorful blooms and the seasonal flowers appear in vibrant, variegated hues of orange, red, yellow, pink, and magenta. Historically, Japanese quince shrubs were taken from the wild and planted in home gardens as an ornamental landscape piece. The fruits were primarily ignored and discarded due to their hard, tart, and astringent flavor. Over time, foragers and home chefs began to recognize the fruit's ability to be used in cooked preparations. The fruits were favored as a natural source of pectin and provided tangy, subtly sweet flavors mixed with a soft, thick texture. In the modern-day, Japanese quinces are valued for their extended storage capabilities, tropical-sweet aroma, and bright, sour flavor, commonly cooked into sauces, preserves, desserts, and main dishes.
Nutritional Value
Japanese quinces are an excellent source of fiber to regulate the digestive tract and vitamin C to strengthen the immune system while reducing inflammation. The fruits also provide phosphorus to protect bones and teeth, iron to develop the protein hemoglobin for oxygen transport through the bloodstream, and other nutrients, including zinc, magnesium, and copper. In Asia, quinces are used in natural medicines such as teas, tinctures, and dried fruit snacks to stimulate digestion and act as a natural detoxifier. The fruits are also viewed as anti-inflammatory and contain antioxidants to guard the cells against the stress caused by external environmental damage.
Applications
Japanese quinces are not consumed raw and must be cooked to develop a palatable flavor. Cooked Japanese quinces develop a soft and tender texture, and when heated, the fruit's flavor mellows into a pleasantly tangy taste. Japanese quinces are often cooked with sugar to create a sweet-tart flavor and are simmered into jams, jellies, and preserves. The fruits are a natural source of pectin and can also be cooked for longer, creating a sweet, dense, and sticky paste. Quince paste is sliced and served with meats, cheeses, desserts, and spread on crackers. In addition to preserves, Japanese quinces can be infused into honey and syrups, drizzled over oatmeal, yogurt, or pancakes, or they can be poached and served with cakes and ice cream. The fruits can also be halved and stuffed with meats and spices, cooked with apples into a variation of apple pie, or sliced and candied into chewy, sugar treats. Ripe Japanese quinces can be used as a lemon juice substitute, and the quince juice provides an acidic, bright flavoring when incorporated into dressings, sauces, and roasted meat dishes. Beyond culinary preparations, Japanese quinces are popularly juiced and mixed into cocktails, fruit punches, lemonades, and juices. They are also dried for extended use and steeped into a tea. Japanese quince pairs well with spices such as ginger, cinnamon, cloves, cardamom, and star anise, other fruits including pears, apples, and citrus, dried fruits, maple syrup, honey, and cheeses such as manchego, sharp cheddar, parmigiano reggiano, and feta. Whole, unwashed Japanese Wild quinces will keep for several weeks when stored at room temperature away from direct sunlight.
Ethnic/Cultural Info
Japanese quinces are popularly infused into shochu to make a liqueur known as karinshu. This seasonal beverage is customarily enjoyed during the winter season, and the recipe was derived from the famous umeshu or plum liqueur. In Japan, fruit liqueurs are representative of seasonal eating and drinking. Food preservation has been practiced across the country for thousands of years and is a method to ensure survival during the bleak winter season. Japanese quinces are wild shrubs that provide aromatic fruits, and the fruits have been foraged and utilized in beverages and culinary preparations for their unique fragrance. Though the name karinshu is derived from karin quinces, a variety originally from China common in Japanese grocers in the fall and winter, Japanese quinces are often harvested from wild and home garden shrubs to make the liqueur. Karinshu is served with complimentary culinary dishes in the multi-course dinner kaiseki and is also offered as a refreshing aperitif or digestive. The liqueur is created by infusing slices of Japanese quince with sugar and a white liquor, mostly vodka or shochu. This fragrant beverage is featured in Nancy Singleton Hachisu's book Preserving the Japanese Way: Traditions of Salting, Fermenting, and Pickling for the Modern Kitchen, a traditional recipe made for centuries in Japan.
Geography/History
Japanese quinces are native to Southern and Central Japan and have been growing naturally since ancient times. The low-growing shrubs are traditionally found alongside lakes and riverbanks, on hillsides, and in coastal regions, generally staying in areas between 100 to 2100 meters in elevation. There are four main species in the Chaenomeles genus, and Chaenomeles japonica is the only species to have originated in Japan. The other three species, Chaenomeles speciosa, Chaenomeles cathayensis, and Chaenomeles thibetica, were discovered in regions of China, Myanmar, Bhutan, and Kora. It is important to note that Chaenomeles speciosa was introduced into Japan during the Heian Era, spanning 794 BCE to 1185 CE. The species was widely planted across the country, often mixed into gardens with Chaenomeles japonica. Japanese quinces were extensively cultivated in the Edo Period, creating bonsai versions and domestic varieties planted in home gardens. The species was also introduced to Europe in 1869 and later North America, where the shrubs were planted in ornamental landscapes, favored for their frost tolerance, hardiness, and showy blossoms. In the 1950s, Japanese quinces were established in plantations in Lithuania and Latvia to further research the species for commercial cultivation. Today Japanese quinces are still growing wild in Japan and are cultivated in several regions, specifically the Niigata Prefecture. Outside of Japan, varieties have been planted throughout Asia, Europe, mainly in Germany, the Baltic region, and the United Kingdom, and North America. Japanese quinces are not commercially cultivated and are primarily harvested from home gardens and specialty orchards.
Recipe Ideas
Recipes that include Wild Japanese Quince. One

is easiest, three is harder.