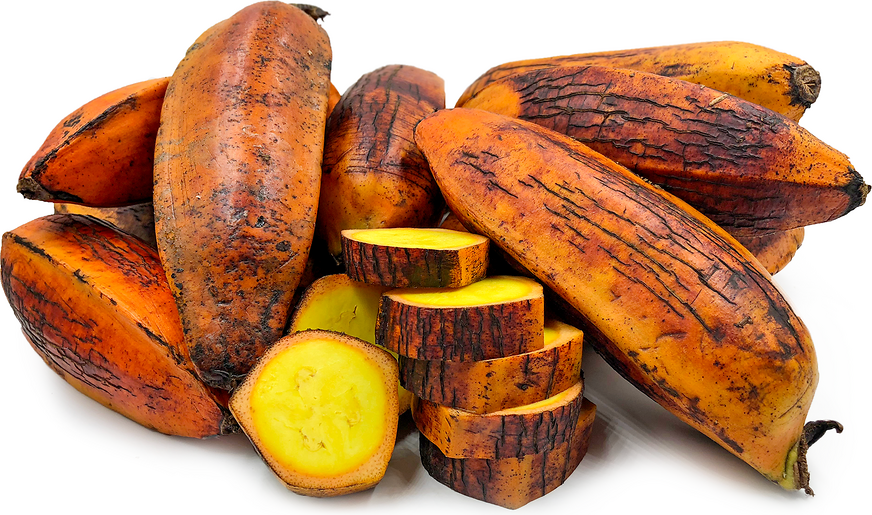 Fe'i Bananas
Inventory, lb : 0
Description/Taste
Fe'i bananas are a small to medium-sized varietal with a squat, thick, and bulbous appearance. The banana's peel is fibrous and tough, showcasing vibrant shades of bright orange, dark orange, red, and yellow. The peel also has a semi-smooth nature, covered in textured black markings and cracks, and there are several angular edges, giving the fruits a blocky, straight, square shape. Underneath the peel, the flesh is semi-firm, dense, and solid and varies in color from yellow to orange. Depending on the variety, the flesh may also be found seedless or contain black seeds. Fe'i bananas generally grow in upright bunches of six hands and are surrounded by shiny green bracts. When ripe, raw Fe'i bananas are edible but have an astringent and unpalatable flavor. They also contain more starches than sugars, giving them a plantain-like texture. Fe'i bananas are typically cooked to develop a softer but still starchy consistency, and the prepared fruits have a neutral, semi-sweet, and sometimes tangy flavor.
Seasons/Availability
Fe'i bananas are available year-round in tropical climates.
Current Facts
Fe'i bananas, botanically classified as Musa troglodytarum, are a category of rare banana varieties belonging to the Musaceae family. The brightly colored fruits grow in upright bunches toward the sky, a distinct characteristic of the plant, and all parts of the plant have been traditionally utilized in culinary preparations and cultural practices. The term Fe'i is somewhat confusing, as in some regions of the South Pacific, Fe'i is a specific variety of banana that exhibits bright peel colors and pigmented stem sap. Fe'i is also broadly used to describe several types of bananas that grow upright, a general descriptor used in markets for easier sales. Fe'i bananas are known as Fehi banana, Hueta, Tahitian Red Cooking banana, Mai'A He'I, Fe'i Shi Jiao, Aiuri Fe'I banana, and Mountain Plantain banana, and are widespread in Tahiti, where the bananas are viewed as a prized food source. Historically, Fe'i bananas were prevalent throughout Tahiti, but over time, the variety has grown increasingly rare due to insect infestation, lack of replanting after human consumption, and animal destruction, especially by wild hogs and cattle. Along with the fruits, Fe'i banana plants produce a violet-red sap used in fabric dyes and ink. The pseudostems are also cut, woven together, and used as a raft, the midribs can be stripped and used to make ropes or mats, and the leaves are used as a roofing material and as placemats.
Nutritional Value
Fe'i bananas are a source of potassium to balance fluid levels within the body, calcium to build strong bones and teeth, fiber to regulate the digestive tract, magnesium to control blood pressure, and vitamin E to protect the cells against the damage caused by free radicals. The bananas also provide beta-carotene, a red-orange pigment found within the fruits that are converted into vitamin A in the body to promote healthy organ functioning.
Applications
Fe'i bananas are subtly sweet and starchy suited for cooked preparations such as boiling, roasting, and baking. Though raw Fe'i bananas can be eaten, they have an astringent and mostly unpalatable flavor. Most consumers choose to cook the variety as it develops a sweeter taste. Fe'i bananas have a high starch content, allowing them to retain their shape after cooking. The bananas are typically boiled and served with poultry, pork, and beef dishes, sliced and cooked into curries, or cooked, mashed, and fried. In addition to savory preparations, Fe'i bananas are sometimes incorporated into puddings, mashed and mixed with coconut milk, or served in banana po'e, a recipe of chilled bananas cooked and served in a mixture of shredded coconut, vanilla, cinnamon, and sugar. In Tahiti, Fe'i bananas are traditionally roasted in an oven known as the ahima'a and rolled between the hands to soften the flesh. The cooked fruits are then dipped in salt water for added flavor and consumed as a filling side dish. The bananas are also a staple carbohydrate consumed in the Society Islands and are mashed and served as a neutral baby food. Fe'i bananas pair well with fresh coconut cream, aromatics such as garlic, onion, and shallots, red curry paste, sweet potatoes, Thai red chili peppers, cilantro, lime, and rice. Whole, unpeeled Fe'i bananas will keep up to four days when stored in a cool and dry place.
Ethnic/Cultural Info
In Samoa, legend has it that Fe'i bananas grow toward the sky as a symbol of victory. The ancient story tells the tale of a great battle between the Fe'i banana, also known as the mountain banana, and the lowland banana. The Fe'i banana eventually won the war, and in a sign of triumph, the bananas lifted their faces toward the sky, flushed after the victory. The lowland bananas, disappointed and humiliated in their defeat, dropped their faces and never raised them again, always facing the Earth. This legend explains why Fe'i bananas earned their colored peels and grew upwards, while the other varieties in the South Pacific grow in the opposite direction. This legend also reveals that Fe'i bananas have been a part of Samoan culture since ancient times and have been viewed as a symbol of power, strength, and prestige.
Geography/History
Fe'i bananas are thought to be native to New Guinea, and concentrations of seeded fruits are found on Bougainville Island, an autonomous region of Papua New Guinea, a possible site of origin for the species. Fe'i bananas were spread to other regions throughout the Pacific by human exploration and travel. Over time, Fe'i bananas were planted throughout French Polynesia, especially in the Society Islands and the Marquesas Islands, and are also found in Samoa, Tahiti, the Maluku Islands, and parts of Indonesia. Some research points to the bananas being transported to the Society Islands in 250 BCE and to Tahiti as early as 800 CE. Beyond expanding to nearby islands, Fe'i bananas remained mostly localized to the South Pacific. Fe'i bananas were recorded by Charles Darwin in 1835 and were described as being widespread throughout Tahiti. The variety was also documented by several other botanists and was noted as a treasured food that European sailors would barter and trade tools and other goods in exchange for the fruits in select ports. Fe'i bananas were later introduced to Hawaii in the early nineteenth century. Today Fe'i bananas are found growing in tropical lowland valleys, shorelines, and along mountain slopes in the South Pacific and Hawaii and are sold through fresh markets.
Recipe Ideas
Recipes that include Fe'i Bananas. One

is easiest, three is harder.
Podcast