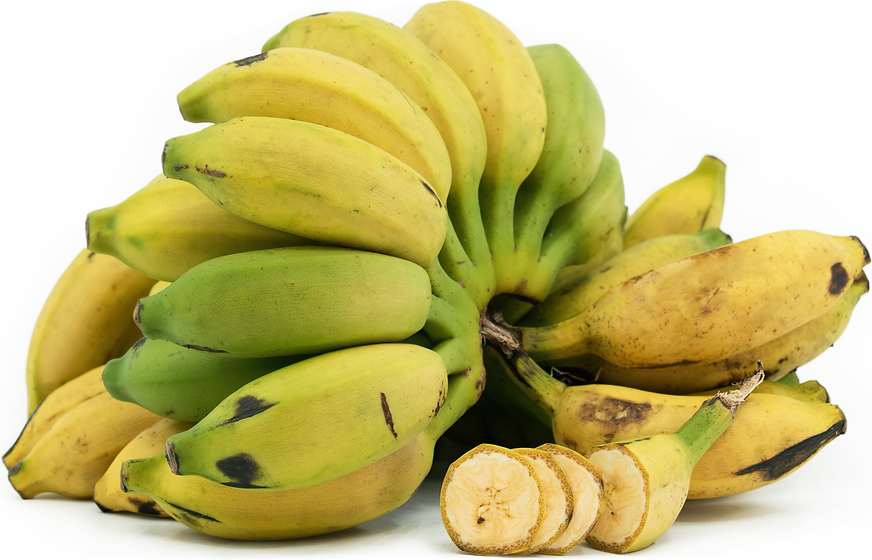 Mysore Bananas
Inventory, lb : 0
Description/Taste

Mysore bananas are a small varietal, averaging 10 to 12 centimeters in length, and have a short, plump, and cylindrical shape, tapering to a small, pointed tip on the non-stem end. The fruits form in tightly clustered bunches, and each banana has a thin, rubbery, smooth, and easy-to-peel surface. The peel is delicate and often bruised due to its thin nature, showcasing brown markings and spots from cultivation damage and handling. The peel also ripens from bright green to a vibrant golden yellow with maturity. Underneath the surface, the ivory to pale yellow flesh is solid, dense, semi-firm, and creamy with a silky but substantial, soft, and chewy texture. Mysore bananas are slightly starchier than other small dessert varieties, but they retain a pleasant consistency throughout the eating experience. When peeled, the bananas release a sweet and sour aroma, and the flesh has a sweet, subtly acidic, and tangy taste with candy, fruity, and berry-like nuances.


Seasons/Availability

Mysore bananas are available year-round in tropical regions.


Current Facts

Mysore bananas, botanically a part of the Musa genus, are a triploid AAB cultivar belonging to the Musaceae family. The small, thick fruits develop in dense, medium to large bunches on plants reaching 4 to 5 meters in height and are native to Southern India, where they are commercially cultivated as a fresh eating variety. Mysore bananas have also been spread to tropical and subtropical regions worldwide and are known by many names, including but not limited to Pisang Ceylon, Poovan, Pisang Keling, Champa, Embul, and Kluai Kai Ferang. Growers favor the variety for its vigorous nature, large plant size, disease and drought tolerance, and strong root system, allowing the plants and fruits to survive weather and wind. Mysore banana plants are also high yielding, leading the variety to be one of the most commercially grown in Southern India. Mysore bananas are primarily consumed as a dessert banana, savored for their sweet and tangy taste, and the fruits are also incorporated into a wide array of sweet preparations.


Nutritional Value

Mysore bananas have not been extensively studied for their nutritional properties. Like other dessert banana cultivars, the fruits are a source of potassium to balance fluid levels within the body, fiber to regulate the digestive tract, and vitamin A to maintain healthy organ functioning. The fruits also provide calcium to build strong bones and teeth, vitamin C to strengthen the immune system while reducing inflammation, and other nutrients, including B vitamins, copper, vitamin D, and manganese.


Applications

Mysore bananas have a sweet and tangy taste suited for fresh and cooked preparations. The variety is traditionally consumed straight out of hand and is valued as a snack or healthy dessert. Mysore bananas can be peeled and eaten when ripe, and the firm and creamy flesh can be sliced into fruit bowls, used as a topping over parfaits and other breakfast dishes, or sliced and layered over toast. Mysore bananas have a subtly acidic taste that adds complexity to smoothies, or they can be pureed and frozen into sorbets and ice cream. The fruits can also be mixed into puddings, baked into bread, cakes, and muffins, or simmered in spices, butter, or sugar to create a caramelized dessert. In Southern India, Mysore bananas are made into puris, a type of fried puffed bread, or they are sliced and served with puttu, a combination of steamed rice and coconut packed together into the shape of a log. Mysore bananas pair well with spices such as cinnamon, cardamom, nutmeg, and ginger, vanilla, maple syrup, brown sugar, cream, and other fruits, including strawberries, pineapple, coconut, papaya, and mango. Whole Mysore bananas should be stored at room temperature in a cool, dark place away from direct sunlight to ripen. It can take several days for the bananas to mature, and once ripe, the fruits will retain a firm consistency for 1 to 2 weeks after ripening. Mysore bananas can also be frozen or dried for extended use.


Ethnic/Cultural Info

In Tamil Nadu, a state in Southern India, bananas are part of a sacred trio known as Mukkani or Mukkanikal. The name Mukkani roughly translates to mean "three fruits," and bananas are combined with jackfruits and mangos to create the trifecta. The three fruits, when paired together, are considered the best fruits of the Tamil Nadu region and were historically served to kings and the gods as offerings. Over time, the practice has descended to presenting the fruits to important guests visiting houses and meetings. Serving mangos, bananas, and jackfruits together to guests is considered a high honor throughout Tamil Nadu and is a sign of respect. The fruits are also often given as gifts to the gods, placed in front of shrines, altars, and other locations to appease the celestial protectors. Mukkani is traditionally served during the early summer when the three fruits are in peak season, and it is used in an annual practice to celebrate Puthandu or the Tamil New Year. Puthandu usually occurs sometime in April and marks the start of the new year, according to the Tamil calendar. During the festivities, Mukkani is placed as an offering in front of a mirror. On the morning of the new year, the mirror is used to show reflections, symbolizing that the gods are within humanity, and the three fruits of Mukkani represent happiness and the sweet things that are to come in the new year. Mukkani is also customarily served in payasam, a summer dessert comprised of mashed, chilled fruits with thickened milk, nuts, and spices.


Geography/History

Mysore bananas are native to India and have been growing wild since ancient times. The variety's center of origin is thought to be in Southern India, and the fruits are commercially cultivated, grown in home gardens, and foraged from wild plants throughout Kerala, Karnataka, and Tamil Nadu. Mysore bananas were named after a city within Karnataka, once known as Mysore, now Mysuru. Tamil Nadu is the leading producer of the variety, and Mysore bananas account for around 70% of the total banana crop produced in India. The variety is also cultivated for the banana leaf industry, commercially grown for its sturdy nature and large, flat leaves. Throughout history, Mysore bananas have been carried with migrating peoples and merchants to tropical and subtropical regions worldwide. The variety is planted on a small scale in other regions of Southeast Asia, including Myanmar, Malaysia, Sri Lanka, and Thailand, and it has also been established as a shade crop for other commercial goods, such as cacao in the Caribbean, Central America, and South America. In North America, Mysore bananas are primarily grown in Hawaii and Florida. Today Mysore bananas are widely available in India and are sold through fresh markets, roadside stands, and select grocers. Outside of India, the variety is rare and is commercially grown in limited quantities as a specialty banana.