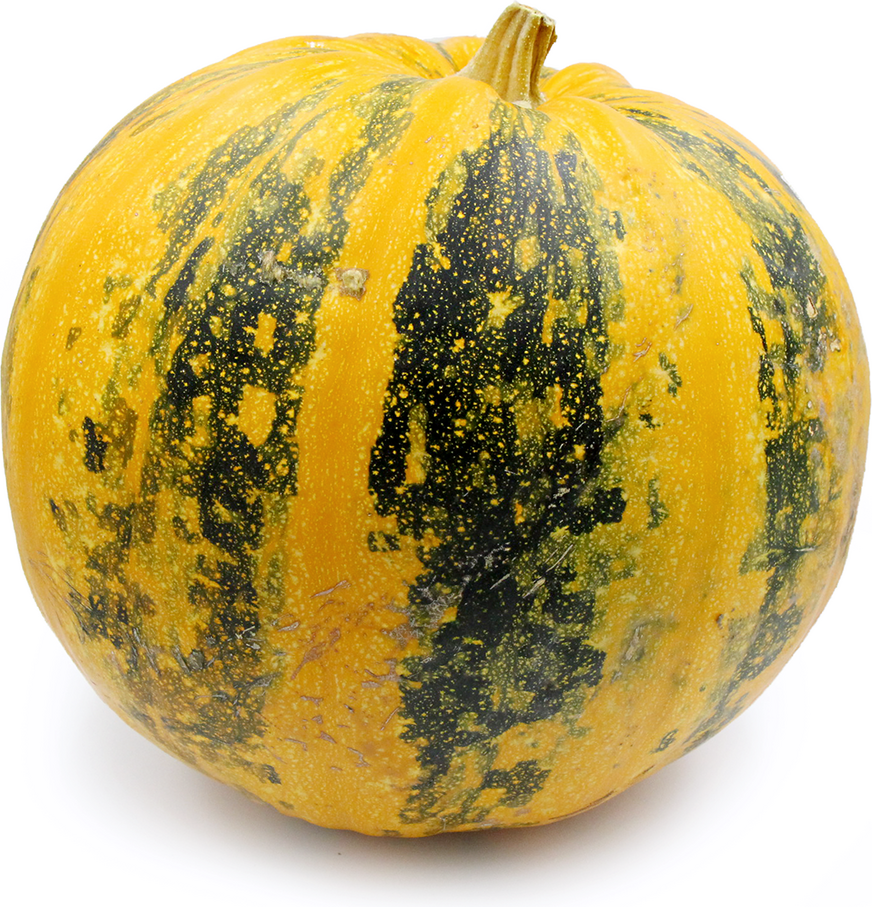 Styrian Pumpkins
Inventory, lb : 0
Description/Taste

Styrian pumpkins are a medium to large varietal, averaging 25 to 30 centimeters in diameter and weighing 6 to 10 pounds, and are round in shape. The rind is fairly smooth with shallow ribbing, ranging in hues of pale yellow to golden orange, and showcases distinct, mottled dark green striping that extends the length of the pumpkin from stem to blossom end. The pale-yellow flesh encases a cavity filled with dark green, hull-less teardrop-shaped seeds enmeshed by a stringy orange pulp. Styrian pumpkins are prized for these seeds, which have an earthy and nutty flavor mixed with bitter and smoky undertones. The flesh of the pumpkin is slightly sweet, earthy, and nutty.


Seasons/Availability

Styrian pumpkins are available in the fall.


Current Facts

Styrian pumpkins, botanically classified as Cucurbita pepo L. Styriaca, grow on annual sprawling vines and belong to the Cucurbitaceae family along with squash and gourds. Styrian pumpkins are not often used for their flesh but are instead highly prized for their seeds, which have a richer flavor and higher nutritional content due to the fertile growing conditions and characteristics of the pumpkin's parent varieties. Styrian pumpkins were discovered as a natural mutation of the Cucurbita pepo, or field pumpkin, in 1934, which resulted in hull-less seeds. This discovery revolutionized the pumpkin seed and oil industry by vastly reducing the time needed to harvest and process the seeds for oil because the seeds were no longer required to be hulled before they were processed. The pumpkins are passed through a combine that separates the seeds from the rest of the pumpkin as soon as they are picked. The seeds are then cleaned, crushed, and pressed, often directly on the farm or at a nearby mill. Due to the high protein content of the seeds, they can be pressed three times before they no longer produce viable oil. The highest quality oil is labeled GGA, which stands for Geschützte Geografische Angabe, indicating that the oil has been created in Styria with Styrian pumpkins and comes from the first press. The leftover pumpkin and paste from oil pressing are often used as animal feed. The oil itself is used in a variety of cosmetics and holistic and medicinal treatments.


Nutritional Value

The flesh of Styrian pumpkins is rich in beta-carotene, a pigment contained in orange fruits and vegetables that supports healthy eyesight, brain function, and bone and cell development. Pumpkin seeds are a rich source of complete plant protein, containing all nine essential amino acids, as well as a variety of vitamins and minerals, including vitamin A, vitamin B, vitamin C, zinc, magnesium, iron, phosphorus, potassium, copper, and selenium. Styrian pumpkin seeds contain high levels of both fat-soluble and water-soluble antioxidants, which help fight free radicals in the body and reduce inflammation.


Applications

Most commercially grown Styrian pumpkins are processed for their seeds, which are sold as pepitas or processed for oil; however, the pumpkin's flesh can be roasted and pureed for pumpkin soup, diced and added to stuffing, or roasted and served in a hearty green salad. The pumpkins seeds can be roasted and used to top seasonal soups, bread, and salads. Styrian pumpkin seed oil has a deeply nutty and earthy flavor that can be used in various applications. A traditional Austrian dish features scarlet runner beans drizzled with apple cider vinegar and pumpkin seed oil, while another recipe mixes the flavorful oil with cream cheese and spices to create a spread. The oil can be drizzled over soft scrambled eggs to bring a bold nutty flavor with the tannin of red wine, or it can be even dripped over vanilla ice cream. Bake pumpkin seed oil into cakes, bread, and muffins for an earthy and rich nuttiness. Styrian pumpkin seed oil pairs well with roasted root vegetables like carrots, turnips, and sweet potatoes, aromatic herbs like sage, thyme, and savory, and creamy cheeses, including farmers cheese and chevre. Pumpkin seed oil should not be used to sauté with, as the flavor will turn bitter, instead, it should be used as a finishing oil, in raw applications, or baked in a recipe. An unopened Styrian pumpkin can stay fresh on the counter for 3 to 6 months. Once opened, the pumpkin should be refrigerated and used within two weeks for optimal freshness.


Ethnic/Cultural Info

Styrian pumpkins are native to Styria, the southeastern region of Austria known as the country's green heart. Pumpkins have been grown in this region for hundreds of years, but it wasn't until the 1930s that their namesake pumpkin was developed. A chance mutation on a classic orange field pumpkin resulted in seeds without the white hull. The mutated seeds were sent to the Gleisdorf Seed Breeding Institute in Austria, where plant breeders created the perfect oilseed pumpkin. With the absence of a seed coat, the pumpkins will naturally toughen their outer skin to protect the seeds in the cavity. This can result in a lower oil content, the opposite of what they hoped for with these seeds. The first oilseed Styrian pumpkin variety, the Gleisdorfer Okurbis, was developed in 1947, and by the 1950s, an even higher-yielding variety was developed by crossing the hull-less pumpkin with a short-shooted bush-type squash, resulting in easier field access and more seeds per fruit. This variety, which is still the most widespread vine in the country, revolutionized the pumpkin seed oil business, leading to a dramatic increase in the production of kernol, the deep green oil also known as "green gold," due to its superior color, flavor, and nutritional value compared to other pumpkin seed oils. Styrian pumpkin oil is now produced by sizeable commercial production companies and smaller, family-run kernol businesses where the seeds are roasted by hand over wood-burning stoves to deepen the toasted flavor of the oil. The Gleisdorf Seed Breeding Institute has continued to develop Styrian pumpkin varieties with higher oil content, resulting in six available types with oil content ranging from 46.1% to 48.5%.


Geography/History

Pumpkins are native to Central and North America, dating back to 7,000 BCE in Mexico, where they were a staple part of the diets of the Mayans, Incas, and Aztecs for thousands of years. The vegetables were discovered by Spanish explorers in the 15th century and were introduced to Europe shortly after. The field pumpkin, botanically Cucurbita pepo, was introduced to Styria, Austria, in the late 1800s. In the early 20th century, a spontaneous mutation was discovered in a pumpkin in one of these patches that resulted in hull-less seeds. This pumpkin was used to develop the first Styrian pumpkin, a hull-less oilseed pumpkin, in 1947. Today Styrian pumpkins are grown throughout Austria, as well as many parts of Eastern Europe, the Middle East, and Australia. It is rare to find Styrian pumpkins in the market as they are mainly processed for their seeds and oil production, although they may be available at farmer's markets in Eastern Europe and Australia. Styrian pumpkin seeds and oil can be found in international markets, health-food stores, and online purveyors.