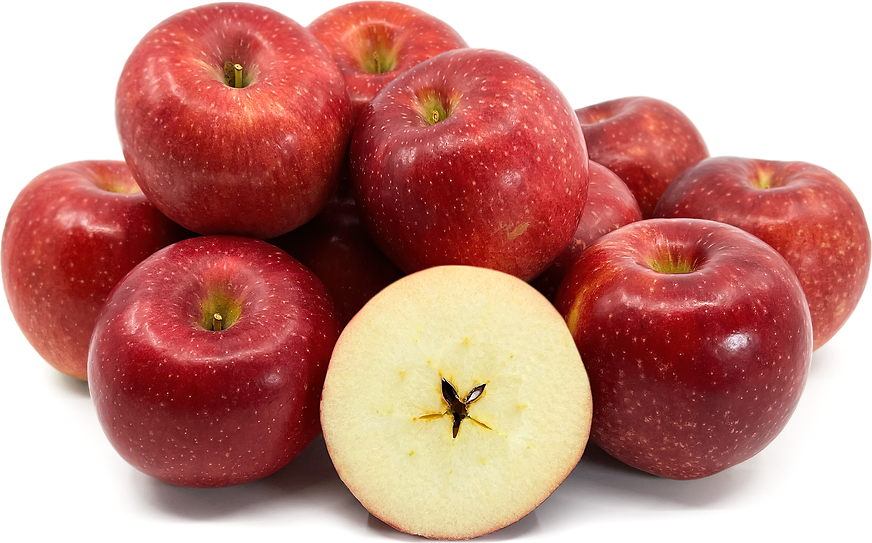 Beni Roman Apples
Inventory, lb : 0
Description/Taste

Beni Roman apples are a small to medium-sized varietal, averaging 280 to 300 grams in weight, and have a round, conical, to oblate shape with sloping shoulders, a broad, curved center, and a flat base. The green-brown stems are slender, pliable, and fibrous, set in a small, narrow cavity. The skin is semi-thin, smooth, and taut with a glossy sheen. The skin also ripens from green to yellow-green, almost entirely covered in a dark red, ruby blush. The blush is typically solid and saturated, showcasing many prominent white lenticels scattered across the surface. Underneath the skin, the cream-colored to ivory flesh is fine-grained, dense, firm, aqueous, and hard with a succulent, crunchy consistency. The flesh also encases a small central core filled with tiny black-brown seeds. Beni Roman apples should feel heavy for their size, an indication of juice content, and release a fragrant aroma when ripe. The variety has moderate sugar, ranging from 11 to 14 degrees Brix, mixed with acidity, creating a refreshing, honey-sweet, and tangy taste.


Seasons/Availability

Beni Roman apples are harvested in the late summer through fall in Japan.


Current Facts

Beni Roman apples, botanically classified as Malus domestica, are a Japanese variety belonging to the Rosaceae family. The rare cultivar is native to the Iwate Prefecture and was developed in the 20th century as an early-season commercial apple. Beni Roman apples arrive in late summer and fill a gap in the apple market as a flavorful dessert variety. The cultivar is easy to grow, disease-resistant, and an aesthetically attractive variety with a rich red hue, a trait highly desired in Japanese markets. Beni Roman can also be stored for several weeks, extending the apple's availability for increased commercial appeal. In the modern day, Beni Roman apples are only grown in limited quantities and are a seasonal delicacy favored for fresh eating.


Nutritional Value

Beni Roman apples are a source of magnesium to control nerve functions, vitamin E to reduce inflammation, vitamin A to maintain healthy organ functioning, and iron to produce the protein hemoglobin for oxygen transport through the bloodstream. The variety also provides copper to develop connective tissues, calcium to protect bones and teeth, vitamin C to boost the immune system, fiber to regulate the digestive tract, potassium to balance fluid levels within the body, and other nutrients, including boron, zinc, and vitamin K. The apple's pigmented skin contains anthocyanins, natural compounds with antioxidant-like properties that protect the cells against free radical damage.


Applications

Beni Roman apples have a sweet-tart taste suited for fresh preparations. The variety is primarily consumed fresh out of hand and is valued for its dense, crunchy flesh. One of the apple's defining characteristics is its ability to resist oxidization. After slicing, the flesh stays white for extended periods, lending itself well to raw preparations. Beni Roman apples are popularly sliced and layered in parfaits, incorporated into fresh spring rolls, dipped into caramel and chocolate, or added to sandwiches for added crunch. The variety is chopped into green salads, mixed into potato salads, used as a topping over oatmeal, or mixed into grain bowls. While less common, Beni Roman apples are sometimes simmered into jams, jellies, and compotes. They can also be cooked into sauces and served as a side dish for savory dishes or used as fillings for baked goods. Beni Roman apples pair well with celery, radish, ginger, wasabi, miso, other fruits such as strawberries, mandarins, peaches, and coconut, spices including cinnamon, cloves, and nutmeg, maple syrup, caramel, and brown sugar. Whole, unwashed Beni Roman apples will keep up to one month when wrapped in plastic and stored in the refrigerator's crisper drawer. It is recommended to consume the variety soon after harvest for the best quality and flavor.


Ethnic/Cultural Info

The name Beni Roman is a marketing moniker developed to increase consumer appeal surrounding the variety. Beni translates from Japanese to mean "Red," while Roman roughly alludes to the word "Romance," a whimsical name accentuating the apple's signature ruby red coloring and sweet flavor. Beni Roman apples are also part of a larger line of apples known as the Roman Ringo or Roman Apple series. The apple line was developed by breeder Mr. Takuro Takano in Japan, and other varieties a part of this line include Fujiwara Roman, Gold Roman, and Michinoku Roman. Mr. Takano created the apple line by hybridizing seedlings using natural crossbreeding techniques.


Geography/History

Beni Roman apples are native to Japan and were developed by Mr. Takuro Takano near the Esashi Ward in Oshu City in the Iwate Prefecture. Mr. Takano was an advisor to the Iwate Prefecture Fruit Tree Association and had a passion for breeding apples. The variety was bred from a traditional cross of Shinano Red apples and Sansa apples and was selected for its early ripening nature, sweet taste, and saturated coloring. Beni Roman apples were officially registered in 2011 and were branded and promoted by Japan Agricultural Esashi, also known as JA Esashi. The cultivar was initially labeled as Takano 1-Go apples, but over time, they were branded under Beni Roman for retail markets. Beni Roman apples were first auctioned in the Iwate Prefecture in 2015, and the variety became known as a specialty, early-season cultivar. Today, Beni Roman apples have expanded outside of JA Esashi and are planted in limited quantities through other growers within the Iwate Prefecture. When in season, Beni Roman apples are sold through select distributors and growers in Japan.