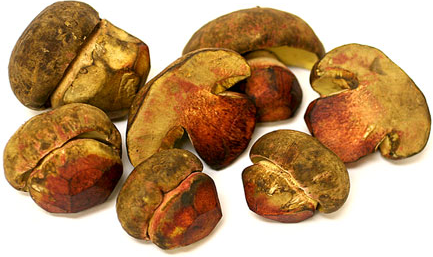 Butter Boletes Mushrooms
Inventory, lb : 0
Description/Taste
Butter bolete mushrooms are medium to large in size and are short and stout in shape with a thick stem or stipe and a bulbous, slightly rounded, convex cap. The surface of the cap is smooth, averaging 7-14 centimeters in diameter, and is firm and covered in cream-colored, brown, yellow, red, to tan hues that darken with age. Under the cap, there are many pores that are spongy and act as tiny tubes to release spores into the air. The thick stem averages 5-9 centimeters in length and 3-6 centimeters in diameter, and is also cream-colored to yellow, covered in a red tint and light netting near the base of the cap. When the flesh is initially cut, it is snow white, eventually giving way to oxidization and creating stains similar in color to its outer surface. Some Butter bolete mushrooms also bruise blue when handled. When consumed, Butter bolete mushrooms have a somewhat slippery consistency and a mild, earthy flavor.
Seasons/Availability
Butter bolete mushrooms are available in the late summer through early autumn.
Current Facts
Butter bolete mushrooms, botanically classified as Butyriboletus persolidus, is a general descriptor used to refer to many different varieties of wild mushrooms that are found across the Northern hemisphere. Considered a rare and somewhat new species among the bolete species, Butter bolete mushrooms are difficult to find in large quantities and earned their name from their thick, golden yellow flesh. Butter bolete mushrooms are favored for their dense, meaty texture and can be used in a variety of cooked, culinary applications.
Nutritional Value
Butter bolete mushrooms contain antioxidants, magnesium, fiber, folate, and vitamins such as copper.
Applications
Butter bolete mushrooms are best suited for cooked applications such as grilling, roasting, sautéing, boiling, and frying. These mushrooms have a sturdy, meaty texture that complements cream-based sauces, gravies, soups, and stews. Butter bolete mushrooms can be sautéed or braised in olive oil, butter, or garlic to accompany roasted poultry or beef as a side dish, mixed into pasta, sliced into potatoes, stuffed with vegetables and grains, or baked into zucchini bread. They can also be sliced and deep fried to layer over rice or mashed potatoes. Butter bolete mushrooms pair well with root vegetables, tomatoes, shallots, green onions, garlic, caramelized onions, meats such as steak, fish, poultry, roast turkey, smoked ham, and prosciutto, eggs, rosemary, parsley, thyme, basil, nutmeg, Parmesan cheese, Romano cheese, and white wine. Butter bolete mushrooms have a short shelf life and should be used immediately when fresh. For extended use, they can be dried and frozen up to six months or pickled for a tangy flavor.
Ethnic/Cultural Info
In 2014 the new genus, Butyriboletus was established to include fourteen different species of Butter boletes mushrooms. These species are found across the Northern hemisphere, and one species is cultivated on a massive scale in Yunnan, China, as Butter bolete mushroom production has a symbiotic, or mutual relationship with the timber industry because the variety favors growing on trees.
Geography/History
Butter boletes mushrooms are native to the northern hemisphere and can be found growing in hardwood forests under oak trees. They were renamed into a new genus in 2014, and today Butter boletes are a rare commodity that can be found at local markets in Asia, Europe, Northern Africa, and North America.
Podcast