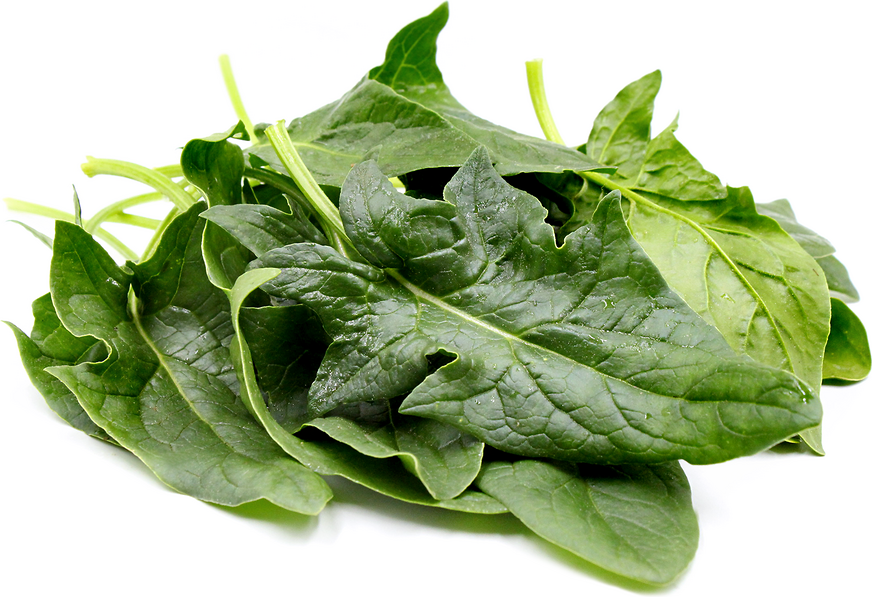 Flamingo Spinach
Inventory, lb : 0
Description/Taste

Flamingo spinach is a low-growing varietal that forms in bunches of small to medium-sized, multi-lobed leaves reaching up to thirty centimeters in height, attached to upright stems. The dark green leaves are uniform in appearance, showcasing even edges tapering to distinct points with 3 to 4 deep serrations at the base. The leaves are also smooth, thick, broad, and pliable, showcasing a dark green hue with deep veining across the surface. The stems are pale green, long, straight, and narrow with a firm nature. The stems also occasionally feature a faint maroon hue at the base of the plant. Flamingo spinach has a crisp, subtly chewy, and succulent consistency. The stems are also edible and have a crunchy and lightly fibrous texture. Flamingo spinach has a mild, vegetal, and earthy flavor when raw and develops a tender, soft mouthfeel with nutty nuances when cooked.


Seasons/Availability

Flamingo spinach is available year-round, with a peak season in the spring through fall.


Current Facts

Flamingo spinach, botanically classified as Spinacia oleracea, is a modern variety belonging to the Amaranthaceae family. The specialty spinach is a type of Asian leaf or Oriental Leaf spinach and is a fast-growing variety favored for its mild flavor and pointed appearance. Flamingo spinach can be grown as a baby green or harvested at maturity, and the greens are typically gathered 25 to 40 days after sowing. The pointed greens are thicker than other spinach cultivars and are valued for their tolerance to hot and cold temperatures, slow-bolting nature, disease resistance, mild flavor, and multiple harvests. Flamingo spinach is rumored to have been named for the leaf's similarity in shape to a flamingo's foot and the faint maroon coloring that sometimes appears at the base of the long stems. The variety is a versatile spinach utilized in an array of fresh and cooked preparations.


Nutritional Value

Flamingo spinach is a source of vitamin C to strengthen the immune system while reducing inflammation, potassium to balance fluid levels within the body, and iron to develop the protein hemoglobin for oxygen transport through the bloodstream. The greens are also a source of calcium to build strong bones and teeth, vitamin A to maintain healthy organ functioning, folate to produce healthy red blood cells, vitamin K to assist in faster wound healing, and other nutrients including copper, phosphorus, zinc, B vitamins, manganese, fiber, and magnesium.


Applications

Flamingo spinach has a mild, earthy, and subtly nutty taste suited for fresh and cooked preparations. The greens should be washed, dried, and tossed into salads, shredded into dips, or layered into sandwiches. Flamingo spinach is favored for its pointed, unique appearance and can be used as a bed of greens for appetizers, seafood, and roasted meats. The leaves can also be rolled into wraps, blended into smoothies, finely chopped and stirred into pasta, mixed into grain bowls, or added to any recipe calling for common spinach. In addition to fresh preparations, Flamingo spinach has a chewy consistency that holds up to light cooking methods. The greens can be sauteed and served as a simple side dish, simmered into soups, curries, and stews, or wilted into casseroles and pasta. Flamingo spinach can also be used as a pizza topping, cooked into egg rolls and dumplings, incorporated into egg-based dishes, or tossed into stir-fries. Flamingo spinach pairs well with herbs such as cilantro, basil, mint, and parsley, aromatics including garlic, ginger, shallots, and onions, cheeses such as cheddar, parmesan, and feta, and nuts such as walnuts, hazelnuts, and pine. Whole, unwashed Flamingo spinach leaves will keep for 5 to 10 days when stored in a perforated bag between layers of paper towels. The leaves can also be blanched and frozen for six months.


Ethnic/Cultural Info

Flamingo spinach was one of eight leafy greens tested by NASA for possible cultivation on the International Space Station. The study was known as the "Pick-and-Eat Diet," conducted at the Kennedy Space Center, and seeds were germinated in a controlled environment chamber under conditions similar to the Veggie plant growth chamber on the International Space Station. Eight species of leafy greens were selected for the study, including Flamingo spinach, Bull's Blood beets, Tokyo Bekana Chinese cabbage, Tyee spinach, Mizuna, Waldmann's dark green lettuce, Rhubarb Swiss chard, and Red Romaine lettuce. The greens were tested for their nutritional value, growth characteristics, and overall reaction to unusual environments. At the conclusion of the study in 2015, it was determined that Chinese cabbage, Mizuna, and Swiss chard were the most promising leafy greens for cultivation in the Veggie chamber on the International Space Station for journeys longer than six months or more.


Geography/History

Flamingo spinach is a modern arrowhead-type spinach developed in the United States in the early 21st century. Arrowhead spinach varieties are descendants of ancient cultivars native to areas of ancient Persia, now known as modern-day Iran. The edible, domesticated greens were thought to have developed through selective breeding of wild, leafy species, but much of the history of spinach is unknown. Many Arrowhead spinach varieties were later created in China and Japan and were sold for commercial cultivation and home garden use. They were also bred in the United States, such as Flamingo spinach, and were selectively cultivated as a variety that could withstand extreme temperatures without bolting. Today Flamingo spinach is grown worldwide and is produced on a smaller scale than other spinach cultivars. The fresh greens are offered through farmer's markets, specialty retailers, and select grocers.