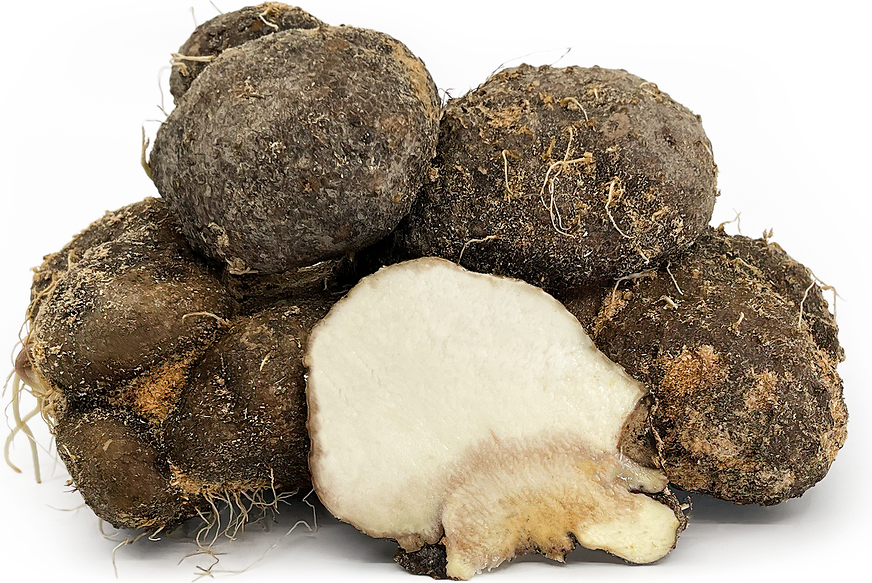 Tsukune Imo
Inventory, lb : 0
Description/Taste

Tsukune Imo is a medium to large tuber, averaging 250 to 350 grams in weight, sometimes reaching as much as 500 grams, depending on cultivation, and has an irregular, round, to lumpy shape. The tubers are generally spherical, about the size of a closed fist, and have a bumpy, gnarled appearance, covered in a thin, rough, and scaly skin. The skin showcases black-brown variegated hues and is frequently sold in markets with soil masking the surface, giving the roots a pale brown-grey hue. Underneath the skin, the white flesh is dense, solid, and slippery with a springy, elastic, crisp, and chewy consistency. When selecting tubers for culinary use, look for Tsukune Imo that feels heavy for its size, has a somewhat uniform nature, and is absent of scratches, external scars, and markings. Tsukune Imo can be consumed raw or cooked and has a mild, neutral, starchy, and earthy flavor with subtly sweet and nutty nuances.


Seasons/Availability

Tsukune Imo is available in the late fall through early spring.


Current Facts

Tsukune Imo, botanically classified as Dioscorea polystachya, is a starchy, edible root belonging to the Dioscoreaceae family. The dense, rounded tubers are traditionally categorized as a type of Chinese yam typically found in Asia. There are three main groupings of edible roots found in cultivation in Japan under the Chinese yam name, including Naga Imo, or the long yam, Tsukune Imo, and Icho Imo, or the ginkgo-leaf yam. Tsukune Imo is also known as Yamato Imo, Japanese Yam, Mountain Yam, and Yama Imo, but Yama Imo describes multiple varieties in commercial markets, leading to some confusion. Tsukune Imo is easily identified between the various types of Yama Imo due to its round, lumpy shape. The underground tubers develop beneath a leafy, perennial vine and are commercially produced in small quantities throughout Japan for use in sweet and savory preparations. Tsukune Imo is notoriously difficult to cultivate, as it is sensitive to soil moisture, air dryness, and temperature, leading it to be sold as a premium ingredient in fresh markets. In the modern day, there are several varieties of Tsukune Imo cultivated across Japan, such as Kagamaru Imo in the Ishikawa Prefecture, Tamba Imo in the Hyogo Prefecture, Ise Imo in the Mie and Aichi Prefecture, and varieties developed through selective breeding, including Hiroki, Aoyama, Kisa No. 1, and Takashiro. Tsukune Imo is valued by chefs for its starchy, sticky nature and is popularly sold to high-end restaurants as an elevated ingredient, acting as a binder, paste, or root vegetable in dishes.


Nutritional Value

Tsukune Imo is a source of fiber to regulate the digestive tract, vitamin C to strengthen the immune system while reducing inflammation, and calcium to build strong bones and teeth. The tubers also provide potassium to balance fluid levels within the body, magnesium to control optimal nerve functioning, and other nutrients, including B vitamins, phosphorus, vitamin A, zinc, and iron. Tsukune Imo may contain several amino acids, including lysine, leucine, and tryptophan and are rich in diastase, a digestive enzyme that breaks down carbohydrates, making them easier to digest. It is important to note that Tsukune Imo may irritate the skin when handled raw due to the presence of calcium oxalate. Wearing gloves will prevent irritation, but if irritation occurs, try soaking your hands in vinegar for relief. Tsukune Imo and other Japanese yam varieties have been used for medicinal purposes for centuries. During the Edo Period, the roots were grated into bath water for vitality. It was also believed that regularly eating the roots would increase physical strength. During the summer, Tsukune Imo was consumed to fight against natsubate, the tiredness experienced during long, hot summers.


Applications

Tsukune Imo has a neutral, mild, and subtly sweet taste suited for raw or cooked preparations. The roots should be scrubbed and washed thoroughly before use, and the skin is typically peeled, placing the flesh in a bowl of cold water with vinegar to neutralize the oxalates. Once prepped, Tsukune Imo can be grated into rice to showcase the root's sticky nature. Tsukune Imo rice is often mixed with grated daikon and a touch of dashi for added flavor. Tsukune Imo can also be used as a binder for miso-based soups, cut into pieces and fried in oil, grated into noodle dishes, or molded and simmered into soup dumplings. Try slicing Tsukune Imo into steak-like pieces and roasting as a meat alternative or stir-frying with other vegetables as a healthy side. Tsukune Imo can also be incorporated into nimono, a dish cooked in shiru stock with soy sauce, sake, and sweetener, grated into manju, which is a sweet bun, sliced thin into chips and fried, cooked into okonomiyaki, a savory pancake, or pan-fried and used to make a type of fish-cake known as isobe age. Tsukune Imo pairs well with mushrooms, sweet potatoes, bell peppers, carrots, aromatics such as garlic, onions, shallots, and ginger, flavorings including oyster sauces, soy sauce, mirin, and sake, and herbs such as parsley, cilantro, and mizuna. Whole, unwashed Tsukune Imo will keep for several weeks to months when stored in a cool, dry, and dark place. It is advised to keep the tubers in newspaper to help prevent moisture build-up. The roots will have the best quality and flavor when immediately consumed after harvest. Store Tsukune Imo roots coated in soil, if possible, to act as another layer of protection to prevent the flesh from drying out. The roots can also be parboiled and frozen for extended use.


Ethnic/Cultural Info

Tsukune is derived from the name of a Japanese chicken meatball commonly served in yakitori-style restaurants. The edible tubers acquired this moniker from their round and slightly lumpy shape, similar in appearance to the well-known chicken meatball. The tuber's round nature is also valued as a celebratory gift, symbolizing eternity, harmony, and infinity. In the Mie Prefecture, Ise Imo, a rarer variety of Tsukune Imo, is nicknamed "Hatake no unagi," meaning "eel of the fields," a descriptor given for the root's nutritional density. The tuber grows along the banks of the Kushida River and has been cultivated for over 300 years in the prefecture. Ise Imo is a traditional vegetable of the Mie Prefecture and is customarily given as a wedding gift as a symbol of unbroken and everlasting love.


Geography/History

Tsukune Imo is native to temperate regions of East Asia, specifically Taiwan, China, and Korea, and has been growing wild since ancient times. The rounded, starchy tubers were eventually introduced to Japan, where they were planted for commercial production as a culinary and medicinal ingredient. The exact history of when Tsukune Imo was carried to Japan is unknown, but some of the main cultivated varieties in the present day were recorded in production as far back as the Edo Period, spanning 1603 to 1868. Tsukune Imo thrives in a warm and dry climate with moist topsoil, and in China, most Chinese yams are cultivated in the Henan Province. In Japan, Tsukune Imo is grown in Hiroshima, Mie, Aomori, and in the Kansai region, an area on Honshu island covering over six prefectures, including Nara, Shiga, Kyoto, Wakayama, and more. In the late 20th century, Japanese scientists began breeding improved cultivars with increased resistance to diseases for commercial release. Today Tsukune Imo is grown in commercial fields and home gardens throughout East Asia. When the tubers are harvested, they are offered direct from growers, at farmer's markets, or through select specialty distributors.