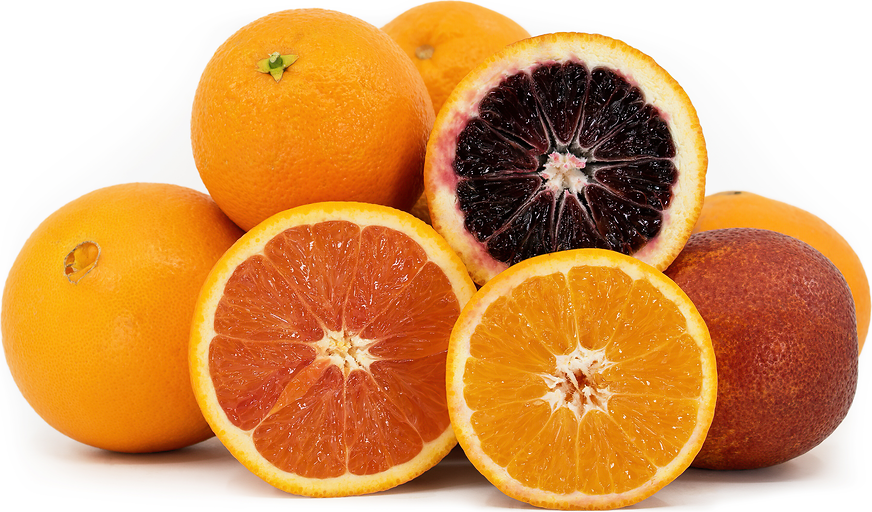 Oranges
Inventory, lb : 0
Description/Taste
Oranges are small to medium in size, averaging 5-10 centimeters in diameter, and are globular, oblate, or oval in shape. The rind ranges in color from orange, yellow, to green and is smooth with a leathery texture, dotted with many small oil glands across the surface that produce fragrant essential oil. Underneath the rind, there is a thin layer of white pith that is bitter and spongy. The flesh is juicy, also ranges in color from red, orange, to yellow, is filled with tightly packed pulp and juice sacs, and is divided into 10-14 segments by thin membranes. The flesh, depending on the variety, may also contain a few cream-colored seeds. Oranges are aromatic, juicy, and vary in flavor from sweet, acidic, tart, to sour.
Seasons/Availability
Oranges are available year-round, with peak season in the winter through summer.
Current Facts
Oranges, botanically a part of the Rutaceae or citrus family, are colorful fruits that grow in subtropical climates on evergreen trees that can reach up to fifteen meters in height. Recognized as one of the most popular cultivated fruit trees in the world, Oranges are not one of the original citrus species that occur in the wild and are a cultivated hybrid of pomelos and mandarins. There are over six hundred varieties of Oranges that can be divided into three main types including the sweet orange, mandarin orange, and sour orange. Some of the more commercially-important varieties include Washington navel, Valencia, Satsuma, and Seville. Despite the popular belief that they earned their name from the color of their skin, Oranges earned their name from the Sanskrit word naranga, meaning fragrant. This word was then known as narang in Arabic and was incorporated into the English language from the French word orenge. Oranges are favored by chefs, home cooks, and gardeners for their aromatic oils, bright zest, and sweet-tart juice and are incorporated into both sweet and savory applications.
Nutritional Value
Oranges are an excellent source of vitamin C, fiber, potassium, and have anti-inflammatory properties. They also contain some calcium, vitamin A, manganese, iron, copper, and magnesium.
Applications
Oranges are best suited for both raw and cooked applications but are showcased when used fresh, out of hand. The fruit can easily be peeled, segmented, and served as a stand-alone snack, or it can be tossed into green salads, fruit salads, and fruit cups. The juice is also commonly used and can be consumed fresh in smoothies, cocktails, soups, and gelatins. In addition to savory preparations, Orange juice can be used to flavor cakes, muffins, cookies, granola, soft-drinks, and candy. The zest of the Orange can be used to add flavor to meats, fish, and stir-fries. In South America, Oranges are boiled in sweetened water and poured over toast to create a unique soup. Oranges pair well with strawberries, pineapple, grapes, walnuts, pecans, light balsamic, kale, carrot, fennel, beets, potatoes, winter squash, cinnamon, cumin, ginger, onions, garlic, fish such as salmon, tuna, and mahi-mahi, and meat such as poultry, beef, and pork. The fruits will keep up to two weeks when stored in a cool and dark place and can be stored in the refrigerator, loosely wrapped in plastic.
Ethnic/Cultural Info
Oranges have been used and celebrated throughout history for their fresh flavor and aromatic oils. Considered a symbol of chastity in Japan, fertility in the Middle East, and good fortune in China, Oranges were often given as gifts during Christmas and New Years and were largely considered a dessert fruit. The Orange's popularity continued as technology advanced and created new uses including juicing and extracting oils for household cleaners, perfumes, cosmetics, and bath products. Today there is even an annual citrus parade in Florida that celebrates the Orange and uses over 100,000 pieces of fruit to create the floats. The parade also features marching bands and celebrity guest appearances and is one of central Florida's longest running traditions.
Geography/History
Oranges are native to Asia, specifically southern China, India, and Southeast Asia, and are a hybrid variety that was developed around 2500 BCE. These fruits are not found growing wild and were spread to the Mediterranean in the 1400s via traders returning from voyages to Asia. In the 1500s, Spanish explorers introduced Oranges to South America and Mexico, and the fruits were spread up into North America with French explorers. Today Oranges are found across almost every continent and are cultivated in Brazil, Argentina, Mexico, Spain, Italy, India, Japan, Egypt, and the United States. They are also produced on a smaller scale in Puerto Rico, Central America, New Zealand, West Africa, the Philippines, and China.
Recipe Ideas
Recipes that include Oranges. One

is easiest, three is harder.
the other 157...
| | | |
| --- | --- | --- |
| Lemons for Lulu | | Orange Poppyseed Almond Flour Cake |
| Mom On Time Out | | Cranberry Orange Shortbread Cookies |
| Community Table | | Tuna & Kale Tacos with Citrus salsa |
| Where is my Spoon | | Moist Polenta Orange Cake Malai Dulce |
| Hapa Nom Nom | | Swedish Mulled Wine |
| Kevin and Amanda | | Crock-Pot Orange Sweet Rolls |
| Reluctant Entertainer | | Sunshine Lemon Bread |
| Food Faith Fitness | | Creamsicle Vegan Cheesecake Bars |
| Know Your Produce | | Orange Honey Butter |
| Kitchen Sanctuary | | Carrot and Orange Tray Bake with Orange Infused Raisins |
| Sugar and Charm | | Orange Rum Cake with Meringue Buttercream |
| Cooking Maniac | | Orange Cumin Roast Chicken |
| Tangerine Zest | | Shrimp and Tomato Confit Risotto |
| No. 2 Pencil | | Orange Sweet Roll Pancakes |
| Pop Sugar | | Slow-Cooker Chili-Orange Beef |
| A Beautiful Plate | | Rhubarb Galette with Orange Frangipane |
| An Italian in My Kitchen | | Homemade Orange Lemon Syrup Drink |
| A Beautiful Mess | | Smoky Cauliflower Steaks with Orange and Herb Quinoa |
| Making Thyme for Health | | Fresh Orange Creamsicle Smoothie |
| A Calculated Whisk | | Grain-Free Cranberry Orange Bread |
| Rock Recipes | | Orange Five Spice Glazed Salmon |
| Amy''s Healthy Baking | | Healthy Fudgy Dark Chocolate Orange Brownies |
| Lemons for Lulu | | Mimosa Bundt Cake |
| Garlic & Zest | | Tropical Fruit Salad with Sweet 'n Spicy Dressing |
| Garlic & Zest | | Cranberry Orange Pistachio Tea Cookies |
| The Recipe Critic | | Orange Pomegranate Salad |
| Add a Pinch | | Orange Salmon |
| Tori Avey | | Sweet Citrus Rosemary Medley |
| Community Table | | Orange Sunshine Biscuits |
| Inside Bru Crew Life | | Orange Bluberry Muffins |
| A Family Feast | | Orange Zucchini Cookies |
| Whitney Bond | | Grilled Fruit Sangria |
| Roti & Rice | | Orange Coconut Cake with Orange Frosting |
| Drizzle & Dip | | Orange & Campari Cale |
| Tangerine Zest | | Red Beet Salad, Cereals and Orange |
| Carlsbad Cravings | | Easy Orange Syrup |
| A Calculated Whisk | | Orange-Glazed Brussels Sprouts |
| Garlic & Zest | | Oven Roasted Asparagus Oranges and Pecans |
| Garlic & Zest | | Spatchcocked Citrus Chicken |
| Shugary Sweets | | Cranberry Orange Zucchini Muffins |
| Garlic & Zest | | Citrusy Hearts of Palm Salad |
| Barefeet in the Kitchen | | Dark Chocolate Orange Ice Cream |
| Reluctant Entertainer | | Carrot Pineapple Zucchini Bread |
| The Fitchen | | Easy Orange Salad Dressing |
| Foodess | | Portuguese Orange Cake |
| Roti & Rice | | Orange Blueberry Steusel Muffins |
| Whitney Bond | | Healthy Asian Chicken Rice Bowls |
| Where is my Spoon | | Orange Mustard Salmon with Dill and Orange Rice |
| Leite's Culinaria | | Chocolate-Dipped Candied Citrus Peel |
| A Wicked Whisk | | Blueberry Orange Muffins |
| Paleo Newbie | | Paleo Orangesicle Fizz Drink |
| A Cookie Named Desire | | Orange and Chocolate Brioche Rolls |
| Mostly Homemade Mom | | Chocolate Orange Zucchini Cake |
| Fashionable Foods | | Orange Poppy Seed Muffins (with Orange Yogurt Glaze) |
| Yummy Healthy Easy | | Healthy Chinese Chicken Salad |
| Mom On Time Out | | Skinny Orange Muffins |
| Tangerine Zest | | Gilthead Baked Citrus |
| A Cozy Kitchen | | Crispy Plantain Chips with Mojo Sauce |
| The Salty Marshamallow | | Orange Brownies |
| A Saucy Kitchen | | Arugula Fennel & Smoked Salmon Salad |
| Yummily Yours | | Orange Cauliflower |
| The Rustic Willow | | Brown Sugar Shrimp with Orange Butter Sauce |
| Just a Little Bit of Bacon | | Shaved Asparagus And Orange Salad |
| Drizzle & Dip | | Roast Chicken with Orange & Ginger |
| Garlic & Zest | | Summer Sipper Sangria |
| Brooklyn Homemaker | | Citrus Herb Roasted Turkey |
| Leite's Culinaria | | Catalina Citrus Sun Tea |
| Good Food | | Chocolate Fondant Cake with Grand Marnier Poached Oranges |
| i am baker | | Orange Bars |
| A Family Feast | | Pork and Apple Skewers with Orange Balsamic Glaze |
| Where is my Spoon | | Homemade Orange Mustard with Coriander and Apple Vinager |
| Turnip the Oven | | Vegan Carrot Orange Sherbet |
| Sugar and Charm | | Greyhound Cocktail Popsicles |
| Garlic & Zest | | Pistachio Cake with Orange Segments |
| Yin & Yolk | | Chocolate Orange Challah Bread |
| A Family Feast | | Wheatberry Salad with Cranberries, Feta and Orange Citonette |
| Pastry Affair | | Cranberry Orange Muffins |
| Glorious Treats | | Orange Zest Sugar Cookies |
| Sprinkle Some Sugar | | Fresh Orange Scones |
| Cooking Classy | | Orange-Rosemary Glazed Salmon |
| A Kitchen Addiction | | Sweet and Spicy Chicken Over Rice |
| Scrummy Lane | | Chocolate Orange Cake |
| Oh, Sweet Basil | | Sweet and Spicy Orange Salmon |
| My Baking Addiction | | Cranberry Orange Mini Bundts |
| Cannelle et Vanille | | Citrus Cake for Winter Blues |
| A Saucy Kitchen | | Grain Free Orange Cake |
| Drizzle & Dip | | Baked Yoghurt with Spicy Brandy Oranges |
| Roti & Rice | | Orange Blossom Panna Cotta with Orange Sauce |
| Fashionable Foods | | Berry, Ginger, and Orange Smoothie |
| Tastes of Lizzy | | Orange Walnut Stuffed Dates |
| Just a Taste | | Skinny Margarita Popsicles |
| The Green Creator | | Carrot Fries |
| Whitney Bond | | Immunity Boosting Orange Berry Smoothie |
| Taste of Home | | Orange-Glazed Pork with Sweet Potatoes |
| A Calculated Whisk | | Orange Peach Raspberry Smoothie |
| Drizzle & Dip | | Sweet Potato Noodles with Chorizo and Orange |
| Yasmeen Health Nut | | Orange Tian with Kumquat Marmalade and Saffron Citrus Sauce |
| Boys Ahoy | | Winter Pomegranate Citrus Smoothie |
| Vegan Richa | | Crispy Orange Cauliflower |
| The Harvest Kitchen | | Grilled Salmon with Citrus Salsa |
| Eat Good 4 LIfe | | Avocado Orange Salad with Orange Honey Vinaigrette |
| Kate Moving Forward | | Orange Vanilla Greek Yogurt Pancakes |
| The Honour System | | Creamy Orange Avocado Smoothie |
| Tickling Palates | | Orange Muffins With Orange Glaze |
| Cilantro & Citronella | | Hidden Veggie Vegan Chocolate Pudding |
| Little Bits Of | | Orange Vanilla Energy Balls |
| Good Food | | Green Punch |
| The Endless Meal | | Tropical Summer Coconut Oatmeal |
| Budget Bytes | | Slow Cooker Spiced Cranberry Apple Cider |
| I Bake, He Shoots | | Orange Chocolate Chip Shortbread |
| A Beautiful Plate | | Shaved Fennel, Orange, & Pecorino Salad |
| Food Faith Fitness | | Paleo Orange Chicken |
| Breakaway Cook | | Crispy Tangy Tofu |
| Getty Stewart | | Orange Fennel Salad |
| Kitchen At Hoskins | | Orange Walnut Cake |
| A baJillian Recipes | | Orange Creamsicle Cupcakes |
| Food Doodles | | Chocolate Orange Avocado Pudding |
| Garlic & Zest | | Mandarin Quinoa and Kale Bowl |
| Earth Eats | | Pea Pods In Orange Reduction |
| Eat the Love | | Glazed Little Orange Cookies with Cinnamon and Cloves |
| Fox and Briar | | Cranberry Orange Cosmo |
| Vegan Heaven | | Fruit Spring Rolls |
| Community Table | | Fresh Tomato Orange Soup |
| Drizzle & Dip | | Mussel Steamed in Orange & Fennel |
| Shugary Sweets | | Orange Bread |
| Fake Ginger | | Cranberry Orange Cookies |
| Where is my Spoon | | Skillet Chicken Breast with Velvety Orange Sauce |
| Garlic & Zest | | Simple Citrus Almond Salad |
| Tangerine Zest | | Puffed Black Rice and Basmati Rice |
| Scaling Back | | Orange Spiced Cauliflower and Squash Bowl |
| Crazy Vegan Kitchen | | Pan-Fried Orange Tofu |
| The Girl on Bloor | | Kalbi Beef Tacos with Citrus Slaw |
| The Wanderlust Kitchen | | Sesame Orange Tofu Stir Fry |
| Whole and Heavenly Oven | | Sticky Orange Gingerbread Muffins |
| Hummingbird High | | Orange Sugar Danish Pastries |
| A Cozy Kitchen | | Orange Cardamon Sweet Rolls with Pistachios |
| Zoe Bakes | | Rhubarb-Orange Jam |
| Tangerine Zest | | Osso Bucco of Veal with Orange |
| Drizzle & Dip | | Oven Roasted Sweet Potato Fries with Orange Salt |
| Jen Reviews | | Seafood Salad With Orange and Honey Dressing |
| Where is my Spoon | | Orange Tiramisu with Mascarpone Cream-Cheese and Yogurt |
| A Calculated Whisk | | Pan-Seared Chicken, Orange, & Walnut Salad |
| Farmer Jones Farm | | Cranberry Relish with Hibiscus and Fennel |
| Cooking on the Weekends | | Honey Jalapeno Citrus Salad |
| Love Grows Wild | | Citrus Doodle Cookies |
| Yup, It's Vegan | | Orange Tofu |
| The Harvest Kitchen | | Orange Teriyaki Glazed Salmon |
| Brooklyn Homemaker | | Winter Salad with Spiced Pork Chops |
| The Comfort of Cooking | | Herb and Citrus Oven Roasted Chicken |
| Major Hoff Takes a Wife | | Cranberry Orange Pull Apart Bread |
| Giraffes Can Bake | | Chocolate Orange Eclairs |
| Rhubarbarians | | Almond Milk Chai with Whiskey and Orange |
| Super Healthy Kids | | Homemade Creamsicle Ice cream |
| The Merchant Baker | | Orange Olive Oil Cake |
| Giraffes Can Bake | | Fig and Orange Kugelhopf |
| A Beautiful Mess | | Orange Creamsicle Jello Shots |
| I Knead to Eat | | Easy Glazed Orange Bundt Cake |