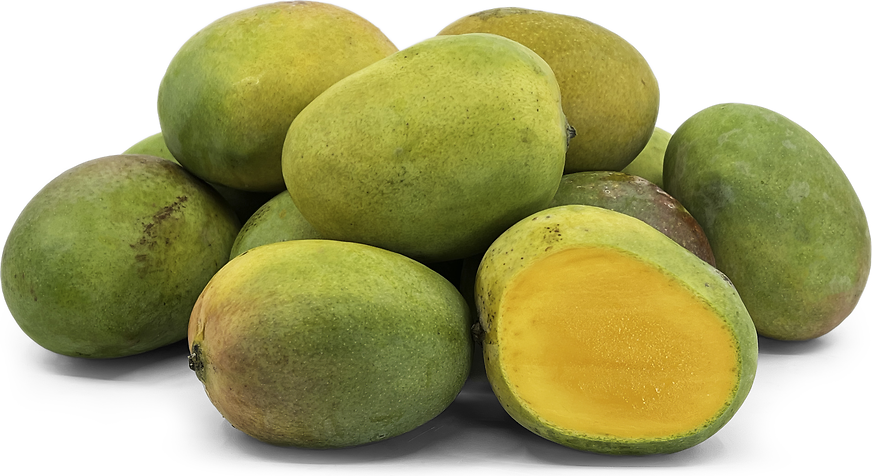 Sindhura Mangoes
Inventory, lb : 0
Description/Taste

Sindhura mangoes are a small to medium-sized variety, averaging 150 to 300 grams in weight, and have a uniform, round to oval shape with blunt, curved ends. The mangoes have thin, smooth, and taut skin, showcasing variegated golden yellow, red, and bright green hues. The skin may also exhibit white to dark brown spots. It is characteristic of the variety to display a saturated red coloring on the shoulders of the fruit, and some ripe mangoes, depending on sun exposure, may be entirely yellow-orange beneath the red blush. Underneath the surface, the pale orange flesh is dense, creamy, slightly fibrous, and aqueous with a tender, succulent, and melting consistency. The flesh also encases a small, inedible seed that should be discarded. Sindhura mangoes release a subtle, fruity, and sweet aroma reminiscent of apricots and honey. Sindura mangoes are typically consumed ripe and have a sweet and acidic taste with tangy, honeyed, and spice-filled nuances. The sweet, aromatic flavor lingers on the palate and has a pleasant finish.


Seasons/Availability

Sindhura mangoes are available in the summer in India, with a peak season from mid-April through June.


Current Facts

Sindhura mangoes, botanically classified as Mangifera indica, are an Indian variety belonging to the Anacardiaceae family. The early-season mangoes are a popular variety in Southern India and are a native cultivar sold for fresh and cooked preparations. Sindhura mangoes are harvested 80 to 90 days after flowering, and growers favor the variety's ability to survive and tolerate extreme weather conditions, especially heat and humidity. Throughout Southern India, Sindura mangoes are commercially grown on a small scale and are known by several regional names, including Lalbagh, Sindhoora, Rajgira, Senthoora, Senthura, Sendura, Lalpari, and Senthuram. When in season, Sindhura mangoes are a prized summer delicacy and are sold as a specialty mango in local markets. Sindhura mangoes are versatile, and their sweet and tangy taste can be used in a wide array of sweet or savory preparations.


Nutritional Value

Sindhura mangoes are a source of potassium to balance fluid levels within the body, magnesium to control nerve functioning, and iron to develop the protein hemoglobin for oxygen transport through the bloodstream. The variety also provides fiber to regulate the digestive tract, vitamin C to build strong bones and teeth, vitamin A to maintain healthy organs, and other nutrients, including folate, vitamin K, calcium, vitamin E, and B vitamins. In India, Sindhura mangoes are often incorporated into drinks and milkshakes to replenish and refresh the body from sweltering summer temperatures. Mangoes are also believed to assist with digestion and detoxifying the body.


Applications

Sindhura mangoes have a sweet and acidic taste suited for fresh and cooked preparations. The variety is traditionally consumed ripe and eaten straight out of hand, discarding the skin and seed. The soft, melting flesh can be slightly chilled before serving and is viewed as a refreshing reprieve on warm summer days. Sindhura mangoes are also blended into shakes, smoothies, and fruit juices, and these beverages are commonly sold in markets throughout Southern India. Try slicing Sindhura mangoes into fruit salads, chopping them into salsas, or tossing them with fresh herbs as a side dish. Sindhura mangoes can also be simmered into chutney, jams, and other preserves. The variety's sweet taste complements desserts such as ice cream, cakes, puddings, custards, and panna cotta. The fruits are also popularly used to flavor shrikhand, a yogurt-based Indian dish served with potatoes or puri, fried bread. Beyond sweet dishes, Sindhura mangoes can be added to curries and served over rice, stuffed with a mixture of sugar, dried fruits, spices, and evaporated milk solids, or fermented into pickles as a tangy condiment. Sindhura mangoes pair well with spices such as cardamom, cinnamon, curry powder, and turmeric, meats such as poultry, pork, and beef, and other fruits, including bananas, peaches, coconut, and pineapples. Whole, unwashed Sindhura mangoes must be ripened at room temperature and can take 4 to 8 days to mature. Once ripe, the mangoes should be immediately consumed for the best quality and flavor. The variety has a short shelf life and will not keep for extended periods.


Ethnic/Cultural Info

Sindhura mangoes are named for their distinct, bright red coloring. The name Sindhura is thought to be derived from sindoor, a saturated, pigmented powder worn by Indian women as a symbol of marriage. The powder's red coloring is also known as vermilion, and the pigment within the powder is similar in color to the red hues of the mango. Sindoor is customarily applied to the forehead and hairline of a central part of a married woman, and the powder is ceremoniously placed for the first time by her husband on their wedding day in a sindoor daanam ceremony. It is up to the woman whether she wears the powder daily or only for special occasions, but historically, the pigment is applied daily as a symbol of devotion to her marriage and husband. The tradition of using a sindoor dates back to ancient times, and the practice is mentioned in several Hindu texts. Sindoor is placed on the forehead and part to match the location of the Third Eye Chakra, or Ajna Chakra. This placement is said to harness the woman's mental energy to help her focus on her husband and stimulate blood flow. The powder is also thrown into the air during Holi, the festival of light, and the red coloring is a sign of prosperity. In some regions of Southern India, the red and green coloring of Sindhura mangoes symbolizes the Sindhura flower, a local bloom with a red hue. Brides also wear red and green bangles on their wedding day in Southern India to pay homage to Sindhura mangoes, representing life and energy.


Geography/History

Sindhura mangoes are native to India and have been cultivated since ancient times. Much of the history of the variety is unknown, with experts pointing to Andhra Pradesh as its site of origin, while other experts say Tamil Nadu may be its native state. Mangoes were mentioned in Sanskrit texts as early as the 4th century, and the fruits thrive in tropical to subtropical, hot, and humid climates. Sindhura mangoes are primarily grown in Central and Southern India and were selected for cultivation for their flavor, appearance, and aroma. Today, Sindhura mangoes are sold in fresh markets, directly from growers, and at roadside stalls during the summer. The variety is also grown in Pakistan. In India, Sindhura mangoes are grown in Tamil Nadu, Telangana, Karnataka, Andhra Pradesh, and Kerala. During the season, Sindhura mangoes typically appear in Kerala markets first, followed by Karnataka, Andhra Pradesh, Tamil Nadu, and Telangana, with some overlap. The Sindhura mangoes featured in the photograph above were sourced through Spar market in Chennai, India.