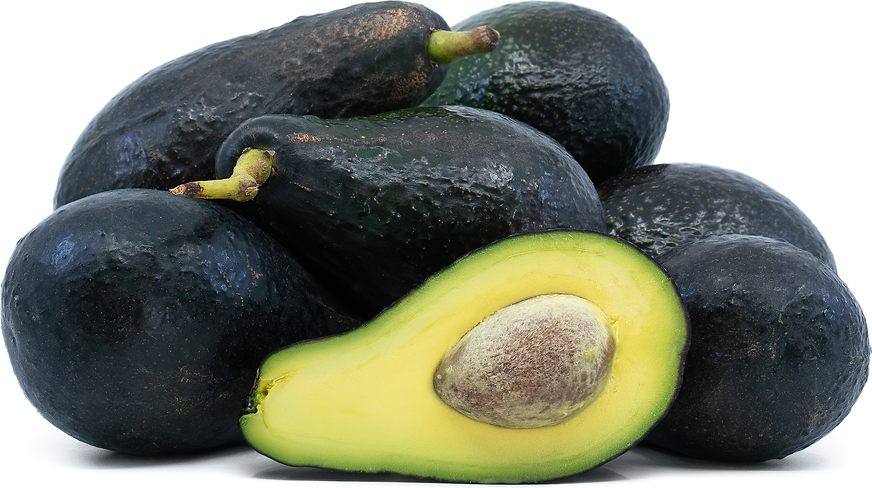 Pinkerton Avocados
Inventory, ea : 0
Description/Taste
Pinkerton avocados have an elongated pear shape with green, slightly pebbled, medium thick, and easy-to-peel skin. The large fruits vary greatly in size, ranging from 8 to 18 ounces. Their flesh is smooth and creamy, high in oil content, and houses a very small seed, and their flavor is nutty and rich. The medium-sized spreading Pinkerton avocado tree is known to be a heavy and early producer, and unlike most fruits, the avocado does not ripen on the tree and can actually be stored on the tree for several months before harvesting.
Seasons/Availability
Pinkerton avocados are available early winter through summer, or even early fall.
Current Facts
Like all avocados, Pinkerton avocados are botanically classified as a berry. They are scientifically named Persea Americana, and they belong to the Lauraceae, commonly known as laurel, family, which also includes camphor, cinnamon, sassafras, and the California laurel. Avocado varieties are further identified as being either Type A or Type B, depending on the flowers' opening times. Although several plants contain flowers with both male and female organs, the avocado is unique in that its flowers open as female one day, close and reopen as male the next day. Pinkerton avocados are type A, and furthermore, they are classified as being of the Guatemalan race, which tend to be less frost-tolerant than Mexican varieties but more capable of withstanding post-harvest handling.
Nutritional Value
Avocados act as a nutrient booster, enabling the body to absorb more fat-soluble nutrients in other foods that are eaten alongside it. They also have a reputation as being high in fat, and are in fact second only to olives among fruits in oil content. However, their oil is high in monounsaturated fatty acids, which are relatively healthy and tend to reduce blood cholesterol. Hence, avocados provide "good" fats, as well as nearly twenty different essential nutrients, including fiber, potassium, Vitamin E, B-vitamins, Vitamin C, and folic acid.
Applications
Avocados are best used raw, and can simply be cut in half and topped with a squeeze of lemon juice or seasoned with salt and pepper, and they also go well in sandwiches and salads. Avocado is also, of course, the key ingredient in guacamole, one of the most popular dishes of Mexico, made by pureeing avocados with onions, spices, lime juice and more, depending on the recipe. Ripe avocadoes can be stored at room temperature for 2-3 days. To ripen an avocado faster, place it in a sealed plastic bag with a ripe banana at room temperature. Only fully ripe avocados should be refrigerated to slow the process of decay. To store a cut avocado, preserve its color by spraying or brushing the exposed surfaces with lemon juice, cover with plastic wrap to seal out exposure to air, and refrigerate.
Ethnic/Cultural Info
Pinkerton avocados were first grown on the Pinkerton Ranch in Saticoy California around 1970, owned by brothers Wesley and John Pinkerton. Prior to that, around 1956, story tells that Wesley grew rincon avocado seedlings of unknown pollen parents, and dumped surplus seedlings into a wash to help control erosion. A year or two later, the ranch foreman, Mr. Holloway, noticed that one of the discarded seedlings had emerged from the surplus pile with surprising vitality. Later still, when the tree set fruit, Mr. Holloway found the avocados to have excellent qualities, and so pointed it out to John Pinkerton. They kept their eye on this new fruit, and found it to be not only heavy bearing, but also deliciously flavorful. They called it the Pinkerton avocado, and because of its morphology and perhaps other observations, it was thought to be parented by rincon and hass avocados. John continued to make observations for about ten years, eventually patenting Pinkerton in 1975.
Geography/History
The Pinkerton avocado was believed to have been a cross between a rincon and a hass avocado. It was first cultivated on the Pinkerton Ranch in Saticoy California around 1970 and was patented in 1975. All original Pinkerton avocado trees were propagated out of Brokaw Nursery in Saticoy, CA, which obtained exclusive rights to the cultivar in 1977. The Pinkerton avocado has reportedly done well near the coast as well as inland, and is hardy until 30 degrees F. Guatemalan avocado varieties like Pinkerton often have a markedly longer harvesting season than others.
Recipe Ideas
Recipes that include Pinkerton Avocados. One

is easiest, three is harder.
Podcast