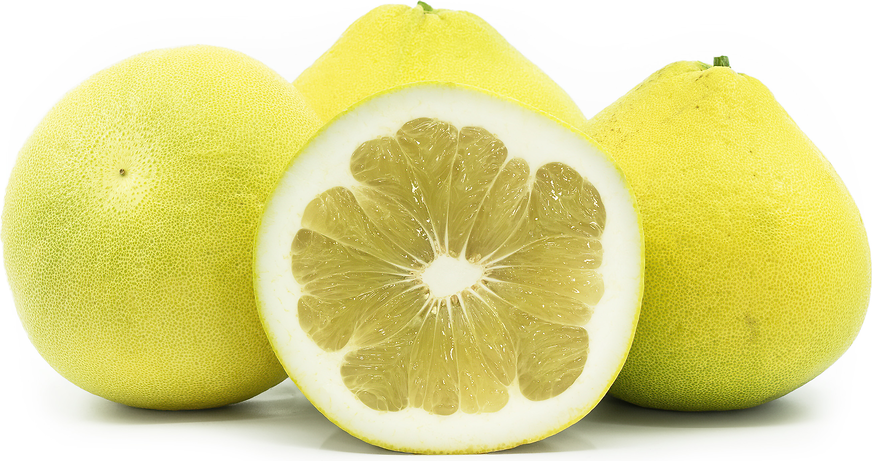 Tahitian Pomelos
Inventory, lb : 0
Description/Taste
Tahitian pomelos are a medium to large varietal, averaging anywhere from 10 to 30 centimeters in diameter, and have a round, slightly flattened shape. The pomelo's surface ranges in color from pale yellow-green to yellow as it ripens, and the rind is smooth, taut, and covered in prominent oil glands, creating a pebbled texture. Underneath the rind, there is a layer of dry, white, cotton-like pith thinner than other pomelos. The pith encases several pulpy segments of flesh divided by white fibrous membranes. The pale yellow to green flesh is tender, aqueous, soft, and chewy, releasing a floral aroma. The flesh may also contain many to a few seeds, depending on if the flowers were pollinated by another pomelo variety. Tahitian pomelos are known for their high sugar content and moderate acidity, creating a fruity, floral, and sweet flavor with tangy, tart nuances and notes of melon, lime, and grapefruit.
Seasons/Availability
Tahitian pomelos are available in the mid-winter through early spring.
Current Facts
Tahitian pomelos, botanically classified as Citrus maxima, are aromatic fruits that grow on evergreen trees belonging to the Rutaceae family. The mid-season variety is native to Southeast Asia and was valued for its large size, unusual coloring, and sweet, subtly tart flavor. Tahitian pomelos are also known as Sarawak pomelos, Tahitian Green grapefruit, Moanalua, and Anani Popa'a, and are a specialty variety grown throughout Southeast Asia, Polynesia, and California. The pomelos are highly valued among pomelo enthusiasts for their sweet floral flavor, but the fruits are often seedy, preventing them from becoming a widespread commercial cultivar. In California, growers place nets over the trees when the flowers are blooming to prevent bees from pollinating the flowers using pollen from another cultivar. This helps produce lower seed counts in the flavorful fruits. Tahitian pomelos are sold through local markets and distributors and are primarily consumed as a fresh fruit.
Nutritional Value
Tahitian pomelos are an excellent source of vitamin C, an antioxidant that strengthens the immune system, reduces inflammation, and protects the body against free radicals. The pomelos are also a good source of copper to maintain a healthy nervous system, potassium to balance fluid levels within the body and provide lower amounts of B vitamins, phosphorus, fiber, and calcium.
Applications
Tahitian pomelos have a sweet, subtly tart flavor well suited for fresh and cooked preparations. The pomelos are most commonly consumed straight, out of hand, and the bitter rind, pith, and membranes are removed, only eating the pulpy flesh. The fruits can also be halved, and the flesh can be scooped from the rind with a spoon, similar to how a grapefruit would be eaten. Once segmented and prepped, Tahitian pomelos can be tossed into salads, chopped into ceviche, or served with other citrus as a bright accompaniment to grilled meats. The flesh can also be sprinkled with salt, chile pepper powder, sugar, or other spices, blended into smoothies, cocktails, and other beverages, or drizzled in chocolate and served as a dessert. In addition to fresh preparations, Tahitian pomelos can be simmered into jams and jellies, incorporated into a mousse and panna cotta or the fruit's juice can be used to flavor cheesecakes, sorbet, tarts, bars, and scones. In Tahiti, the pomelos are broiled with thyme and honey as a savory-sweet dish, stuffed with seafood, or slices of the flesh are mixed into rice vermicelli. The fruits can also be used in a variation of poisson cru, a dish comprised of coconut, cucumber, lime, tomatoes, and onion, served with cooked fish to create a flavorful meal. Beyond the flesh, the pomelo's rind can be boiled in sugar and candied as a treat. Tahitian pomelos pair well with seafood such as crab, prawns, and fish, meats including pork, poultry, and turkey, nuts such as almonds, pistachios, and peanuts, fruits including bananas, citrus, apples, pomegranate seeds, and kiwi, and herbs such as cilantro, mint, and thyme. Whole, unwashed Tahitian pomelos will keep for one week at room temperature and for 1 to 2 weeks when stored in the refrigerator's crisper drawer.
Ethnic/Cultural Info
Tahitian pomelos were introduced to Tahiti through a tale of exploration, a quest for the exotic, and hair clippers. Harrison W. Smith was an American professor of physical science at MIT in Boston in the early 19th century and had a passion for travel. Before his career as a professor, Smith went on a world tour in 1903, visiting Tahiti as one of his stops. World War I forced Smith to join the battle as a first aid and ambulance driver, an experience that autobiographical authors claimed to have deeply affected him. After the war, Smith decided to move to Tahiti to escape memories of the war and purchased small plots of land in Papeari. Smith dedicated his life in Tahiti to planting exotic plants, and in 1919, Smith ventured to Borneo on a paddle steamer. While onboard, Captain Eel Hadj Jeman noticed that Smith carried a high-end hair clipper and asked to borrow it. Smith offered to cut the captain's hair, and as a gift for the service, the captain gave Smith several large green pomelos. Smith sent the seeds to a friend in the British consul in Tahiti and eventually planted seedlings from the seeds in his garden in 1921. Ten years later, in 1931, the trees produced flavorful fruits, and Smith freely offered graftings of the trees to anyone who requested them, spreading Tahitian pomelos. Harrison W. Smith amassed over 130 hectares of land before his passing in 1947 and had planted 250 species of exotic plants. Smith's land was donated to create the Harrison Smith Botanical Garden, and Smith remains known as the "grandfather of the trees" among Tahitians.
Geography/History
Tahitian pomelos are native to Southeast Asia and have been growing wild since ancient times. The fruits were used among indigenous populations for centuries, but the variety was first recognized in 1921 when it was sourced from Borneo through explorer Harrison W. Smith. The pomelos were planted in Smith's garden in Tahiti, and in 1931, after the trees began bearing fruit, Smith donated graftings to growers throughout Tahiti, expanding the variety. Tahitian pomelos were planted in Hawaii in 1971 and were later trialed in California. Today Tahitian pomelos are found throughout Southeast Asia and Polynesia in commercial and home gardens. In California, the variety is grown by a few select farms and is also found in research orchards.
Podcast