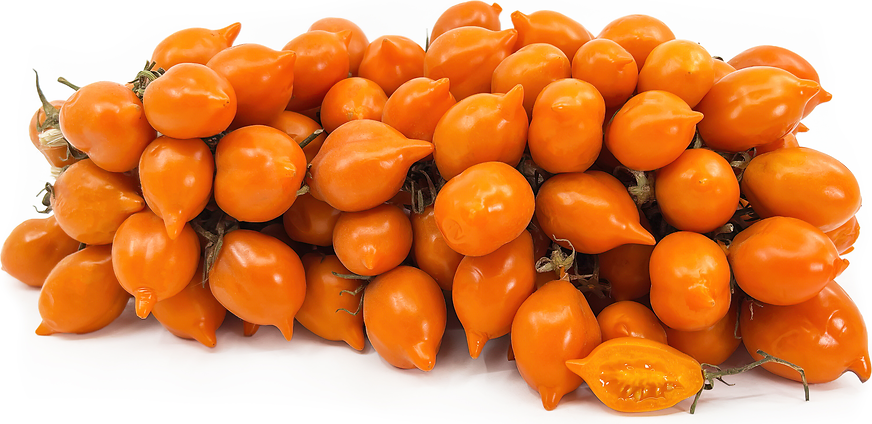 Yellow Piennolo Cherry Tomatoes
Inventory, lb : 0
Description/Taste

Yellow Piennolo cherry tomatoes are a small variety, averaging 1 to 2 ounces in weight, and have an elongated, oval to oblong, slightly tapered shape. The tomatoes bear a signature pointed tip on the non-stem end and showcase a vertical crease extending through the center of each tomato. The skin is thick, smooth, glossy, and taut, ripening to a vibrant golden yellow-orange. Underneath the surface, the yellow flesh has low water content, creating a dense, firm, and meaty consistency. The flesh also encases a small cavity filled with tiny seeds suspended in a gelatinous liquid. Yellow Piennolo cherry tomatoes emit a robust, sweet, and subtly fruity, vegetal aroma and contain a concentrated, sweet, and tangy flavor. The flesh has a balanced mixture of sugar and acidity, creating a savory, fruity, and slightly bitter taste with mineral-forward nuances. The tomatoes also develop umami-like undertones when cooked.


Seasons/Availability

Yellow Piennolo cherry tomatoes are harvested in the late summer. The tomatoes are traditionally stored for a few months before being offered in markets, and the preserved fruits are typically seen in the late fall through early winter.


Current Facts

Yellow Piennolo cherry tomatoes, botanically classified as Solanum lycopersicum, are an Italian heirloom belonging to the Solanaceae or nightshade family. The midseason variety was discovered growing as a natural mutation of red piennolo cherry tomatoes and is a unique variety that forms in clusters on compact vines. Yellow Piennolo cherry tomatoes are cultivated on small plots of land above sea level in the volcanic soils of Mount Vesuvius in the Campania region of Italy. The tomato's rich minerality is developed from its volcanic terroir, warm and sunny climate, and lack of irrigation. Piennolo farmers do not water the tomatoes and depend on natural rainfall to nourish the vines. This water restriction prevents the tomatoes from producing a lot of juice, leading the variety to develop concentrated flavors in dense, firm flesh. Yellow Piennolo cherry tomatoes are harvested by hand once the plants reach 80 centimeters in height, and approximately 70% of the tomatoes have ripened. The entire vine is cut from the plant, leaving the tomatoes in clustered groupings, and these bunches are hung in areas with ample air circulation to preserve the fruits for extended periods. In Italian markets, Yellow Piennolo cherry tomatoes are known as Piennolo Giallo, Piennolo Giallo del Vesuvio, Pomodorino Giallo del Piennolo, and Gold Vesuvius. Yellow Piennolo cherry tomatoes are highly prized for their unique coloring, vibrant flavoring, and firm flesh and are used as a specialty ingredient in fresh and cooked preparations.


Nutritional Value

Yellow Piennolo cherry tomatoes are a source of beta-carotene, a yellow-orange pigment found in the flesh that is converted into vitamin A in the body. Vitamin A maintains healthy organ functioning. The tomatoes also provide vitamin C to strengthen the immune system, phosphorus to build strong bones and teeth, folate to control mental health, and other nutrients, including copper, niacin, iron, calcium, potassium, and anthocyanins.


Applications

Yellow Piennolo cherry tomatoes have a rich, sweet, and subtly bitter flavor suited for fresh and cooked preparations. In Neapolitan cuisine, the tomatoes are viewed as a seasoning rather than a base ingredient to showcase their unique taste. Yellow Piennolo cherry tomatoes have a concentrated flavor and meaty consistency distinct from other tomato cultivars. The tomatoes can be incorporated into salads, chopped for bruschetta, or smashed onto toast and drizzled with salt and olive oil. The variety can also be incorporated into gazpacho or sliced fresh over summer dishes. In addition to raw preparations, Yellow Piennolo cherry tomatoes develop a savory, umami-like quality when cooked and can be utilized in soups, stews, and seafood entrees. They can also be stirred into pasta and have high pectin content, allowing them to thicken creams, pastes, and sauces. Yellow Piennolo cherry tomatoes are one of the approved tomato varieties for authentic Neapolitan pizzas, established by the Associazione Verace Pizza Napoletana, a group founded in 1984 to preserve the rich heritage of the fresh pizza. Yellow Piennolo cherry tomatoes pair well with anchovies, cheeses such as mozzarella, parmesan, and burrata, herbs including basil, parsley, and oregano, meats such as poultry, beef, and turkey, seafood, especially shrimp and fish, and nuts such as pine, walnuts, and almonds. The clustered tomatoes will keep 7 to 8 months when stored in a cool, dry, and dark place with ample air circulation lasting 1 to 2 years.


Ethnic/Cultural Info

Yellow Piennolo tomatoes have acquired several names throughout history, some of which stem from the legend of an Italian farmer discovering the tomatoes in his garden in Naples. The farmer is not named, but he found the golden yellow tomatoes growing among his red piennolo tomatoes as a surprise sighting. After his discovery, the farmer named the yellow tomatoes Giulia in honor of his granddaughter. Yellow Piennolo tomatoes are sometimes known as GiaGiu, Giallo di Giulia, Giallo Giulia, and Piennolo Giallo del Vesuvio in Italian markets. The variety also earned its piennolo moniker from its traditional storage methods. Yellow Piennolo tomatoes are hung by strings and are anchored to balconies and ceilings to dry and develop a concentrated flavor. This act of hanging the tomato bunches causes the tomatoes to occasionally sway in the wind, and Piennolo roughly translates from Italian to mean "pendulum" or "hanging." Beyond their names, Piennolo tomatoes are a popular Christmas gift given to friends and family in Naples. The tomatoes are an expensive variety as it is cultivated and harvested entirely by hand, and the distinct flavor provides families with bright, specialty ingredients during the Christmas season for holiday meals. Piennolo cherry tomatoes are also featured in Christmas creche, a hand-crafted Neapolitan nativity scene comprised of sculptures and figurines. The intricate scene depicts the Christmas story mixed with daily Neapolitan life, including hanging bunches of piennolo cherry tomatoes in bustling marketplaces.


Geography/History

Yellow Piennolo cherry tomatoes are a spontaneous, natural mutation of red piennolo cherry tomatoes, native to the Campania region of Italy. Tomatoes were thought to have been introduced into the Campania area sometime in the early 16th century, and red piennolo cherry tomatoes were first mentioned in written records in 1858. The first record was in a document written by Bruni known as "Degli ortaggi e loro coltivazione presso la città di Napoli." This document references tomatoes tied in garlands and describes how hanging contributes to the variety's unique flavor and preservation. It is unknown when Yellow Piennolo cherry tomatoes were discovered, but the natural mutation was rumored to have been found in a garden in Campania. Today Yellow Piennolo cherry tomatoes grow in open fields in 18 municipalities in the Campania region. The variety has a Protected Designation of Origin or PDO, and most of the municipalities are found within Vesuvius National Park, the land surrounding the famous volcano. Yellow Piennolo cherry tomatoes are localized to their native growing region, but due to their popularity, some farms are cultivating the variety in the other areas of Italy. Research should be done to ensure that the tomatoes being purchased are coming from reputable farms in the PDO region. Most PDO Yellow Piennolo cherry tomatoes will have a specialized label. When in season, the tomatoes are sold through local vendors in the Campania region, especially in Naples, and the tomatoes are sometimes exported through specialty distributors to high-end restaurants and chefs worldwide.