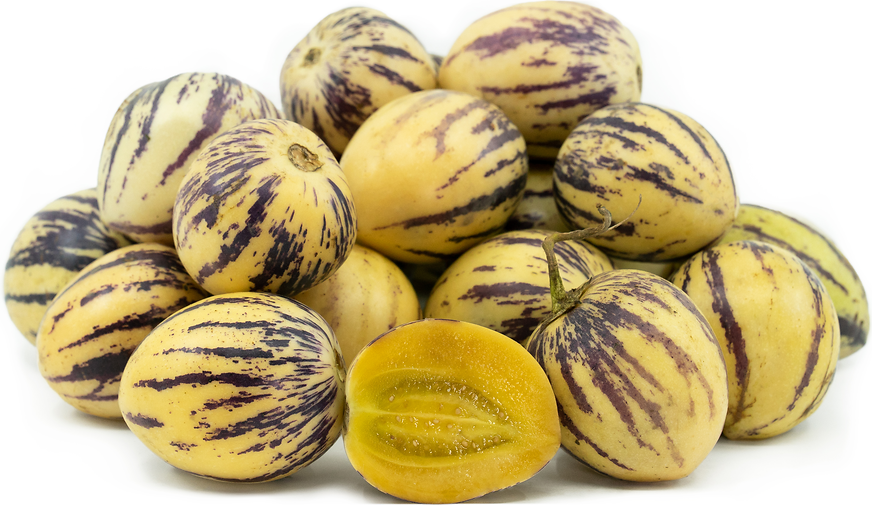 Pepinos
Inventory, 12 ct : 1.67
This item was last sold on : 11/12/23
Description/Taste
Pepinos are small to medium-sized fruits, averaging 5 to 9 centimeters in length, with some varieties growing up to 15 centimeters in length. The fruits are variable in size and shape, generally 300 to 500 grams in weight, and have a round, cordate, pear, to egg-like shape with blunt and tapered, curved ends. The fruit's skin ripens from green to pale yellow, golden yellow, yellow-orange, to solid purple, depending on the variety, and the skin sometimes exhibits purple striping. The skin is also smooth, taut, glossy, and firm, hardening into a tough, often unpalatable texture when mature. Despite this tough exterior, the surface is still easily bruised and damaged with handled roughly. Underneath the skin, the pale to golden yellow flesh is soft, tender, aqueous, succulent, and textured, similar to a pear. The flesh also encases a small central cavity filled with a few to many edible seeds. Pepinos are entirely edible and release a sweet, green scent reminiscent of honeydew, cucumber, vanilla, and honey when ripe. Select Pepinos that feel heavy for their size, have a noticeable fragrance, are yellow and not green, and give slightly to pressure around the stem end. Unripe Pepinos will have a vegetal, grassy taste, while ripe Pepinos contain a refreshing, mild, and light cantaloupe, pear, and cucumber flavor.
Seasons/Availability
Pepinos are available year-round in warmer climates, with a peak season from spring through fall.
Current Facts
Pepinos, botanically classified as Solanum muricatum, are an ancient South American species belonging to the Solanaceae or nightshade family. The small fruits grow on evergreen, perennial plants reaching 1 to 2 meters in height, and the plants are leafy, expressing a sprawling or climbing habit, trailing across the ground or attaching to structural support cages. Pepinos are an unusual species as they have been cultivated for centuries and are no longer found in the wild. Several varieties have been created over time through selective breeding, and some of the most popular cultivars include Ecuadorian Gold, Rio Bamba, Colossal, Temptation, Vista, El Camino, Toma, New Yorker, and Miski Prolific. In South America, Pepinos are known as Pepino Dulce as the word "pepino" translates to mean "cucumber," while "dulce" means "sweet." Pepino Dulce was given to the fruits to describe their subtly sweet, cucumber-melon-like flavor and distinguish them from true cucumber varieties sold in fresh markets. It is important to note that Pepinos are not melons or cucumbers and are a berry more closely related to a tomato or eggplant. The species has earned various monikers worldwide, such as Tree melon, Mellow fruit, Sweet cucumber, Pepino melon, Melon pear, and Melon shrub for its taste and aroma. Pepinos are grown as a secondary crop in South America and are primarily reserved for home gardens. The plants are self-fertile and fast-growing, maturing within six months of planting, producing ripe fruits approximately 30 to 80 days after pollination. Outside of South America, Pepinos are cultivated as a specialty fruit. Consumers favor the fruit's zero-waste nature as it is entirely edible and has a soft, mild taste. Pepinos can be used in fresh and cooked preparations. Due to the fruit's delicate nature, it is mainly sold near its growing regions in fresh markets worldwide.
Nutritional Value
Pepinos are a source of copper to develop connective tissues, potassium to balance fluid levels within the body, vitamin A to maintain healthy organ functioning, and fiber to regulate the digestive tract. The fruits also provide vitamin C to strengthen the immune system, calcium to build strong bones and teeth, manganese to assist in amino acid metabolism, and other nutrients, including vitamin K, iron, B vitamins, riboflavin, folate, niacin, and antioxidants with anti-inflammatory properties to reduce inflammation and lower stress in the body.
Applications
Pepinos have a mild, subtly sweet, and slightly vegetal taste suited for fresh or cooked preparations. The entire fruit is edible, including the skin, flesh, and soft seeds, but some consumers may choose to discard the seeds and skin, depending on preferences. Pepinos are popularly sliced into small pieces and eaten as a snack, and the flesh can be sprinkled with chili powder, lime juice, lemon juice, salt, or sugar for enhanced flavoring. The flesh can also be tossed into salads, chopped into melon ceviche, halved and filled with cottage cheese and nuts, or sliced and served over various breakfast dishes. Try blending Pepinos into smoothies and fresh juices, pureeing into gazpacho, sauces, and marinades, or freezing into sorbet and granita. Pepinos can also be wrapped in ham as a simple appetizer, served on charcuterie boards, added to salsas, or chopped and topped over goat cheese on bite-sized crostini. In addition to fresh preparations, Pepinos can be simmered into jellies, jams, and compotes, cooked into syrup, and used as a filling for pastries, or poached and poured over ice cream. The fruits can also be cooked into sauces and curries or grilled and drizzled with honey. Beyond utilizing ripe Pepinos, unripe green fruits are treated similarly to summer squash or cucumbers and are added to salads or thinly sliced and layered into wraps. Pepinos pair well with nuts such as macadamia, cashews, and pine, sesame seeds, fruits including blueberries, coconut, watermelon, oranges, lemons, limes, and avocados, herbs such as mint, basil, and tarragon, chile peppers, chayote, honey, and agave. Whole unwashed Pepinos can be kept on the counter at room temperature to mature. Once ripe, the fruits should be consumed immediately for the best quality and flavor or stored in a plastic bag in the refrigerator for 1 to 3 days. Sliced portions of the fruit should be covered in plastic wrap and placed in the fridge.
Ethnic/Cultural Info
Pepinos were depicted in ancient pottery created by the Moche civilization, also known as the Mochica. The early Andean people group resided along the northern coast and valleys of Peru from 100 CE to 800 CE. The Moche are famous for their artistic endeavors, and murals, pottery, jewelry, and other items have been unearthed from the civilization. These artifacts are often considered some of the most refined and detailed pieces from ancient South American people groups, and the relics depict scenes from the Moche's daily life. Pepinos are most famously seen on a water jug, with three of the fruits forming the base of the vessel. Drinking jugs were thought to have been created by crafted molds, and the jug was created in the style of Lambayeque. This art style was practiced by the Sican people who lived in the Lambayeque Valley, and some of the most well-preserved artifacts of the Moche people were specifically found in the Lambayeque Valley.
Geography/History
Pepinos are native to the Andean regions of Peru, Colombia, and Ecuador. Much of the history of the variety is unknown due to its fleshy, biodegradable nature, leaving little remnants behind for scientists to use for research. The most prominent record of the species is found through artwork left by indigenous people groups of the Moche Valley in Peru, a civilization existing from 100 CE to 800 CE. The fruits were featured on pre-Incan ceramics, amulets, and other serving vessels dating over 2,000 years ago, giving scientists insight into how Pepinos were being cultivated as a food source during that time. Pepinos are not found in the wild, but it is hypothesized that the fruits may have been derived from the crossing of several wild species that are extinct in the present day. Scientists claim the closest wild ancestors may be Solanum tabanoense and Solanum caripense. When the Spanish arrived in South America in the 16th century, early versions of Pepinos were being cultivated throughout the Incan Empire. Spanish explorers also carried the fruit into other regions of South America and Central America, spreading the species' range. Pepinos were introduced from the Americas to Europe in the 18th century and were planted in Spain, eventually reaching other regions throughout the Mediterranean. The species was also introduced to the United States and was planted in San Diego, California, sometime before 1889. Pepinos traveled up the California coast and were listed by horticulturist Francisco Franceschi in his writings in Santa Barbara in 1897. Pepinos thrive in temperate, low-lying forests with a generally warm and frost-free environment. They are also planted in subtropical regions worldwide. The species is studied through research programs for commercial production in Israel, New Zealand, and Spain and has been experimentally grown in Australia, Turkey, and the United States. Today Pepinos are planted on a small scale in home gardens and through select commercial growers in its native growing region of South America and are also found in Africa, Australia, New Zealand, Southeast Asia, Europe, and North America. When available, Pepinos are most commonly found direct from growers or sold at specialty distributors and select fresh markets.
Featured Restaurants
Restaurants currently purchasing this product as an ingredient for their menu.
| | | |
| --- | --- | --- |
| The Flavor Chef (Catering) | Vista CA | 619-295-3172 |
Recipe Ideas
Recipes that include Pepinos. One

is easiest, three is harder.