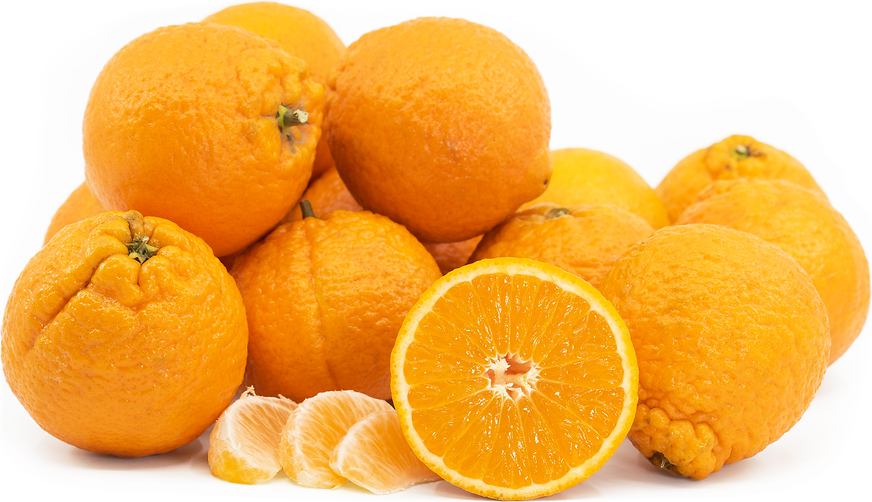 Super Nova Tangerine
Inventory, 25 lbs : 0
This item was last sold on : 10/11/23
Description/Taste

Super Nova tangerines are a small to medium-sized varietal, averaging 5 to 7 centimeters in diameter, and have a round shape, sometimes with a characteristic bump on the stem end. The tangerine's rind is semi-thin, easy to peel, and textured, covered in large oil glands giving the surface a dimpled appearance and a leathery feel. The dark orange rind also encases large amounts of oil within the surface glands, releasing an aromatic, bright, and refreshing scent when handled or sliced. Underneath the rind, there is a thin layer of white, spongy pith, enveloping bright orange flesh divided into 12 to 14 segments by delicate membranes. The flesh is also seedless, aqueous, tender, and pulpy, with a soft, succulent consistency. Super Nova tangerines contain high sugar, ranging between 13 to 15 Brix, and moderate levels of acidity, creating a rich and balanced, sweet, subtly tart flavor.


Seasons/Availability

Super Nova tangerines are available in the late fall through winter.


Current Facts

Super Nova tangerines, botanically classified as Citrus reticulata, are a hybrid variety belonging to the Rutaceae family. The tangerines grow on evergreen trees reaching 3 to 4 meters in height and are a slim, self-pollinating variety favored for home gardens. Super Nova tangerines were commercially released in 2016 and are known by several names, including Superna, USDA 88-2, Supernova, and Lee x Nova. Super Nova tangerines are an early-season variety with a short season, appearing in markets for around six weeks. The trees also produce a small crop, limiting the tangerine's availability. Citrus enthusiasts favor Super Nova tangerines for their vibrant taste, juicy nature, and easy-to-peel skin. The tangerines are a premium citrus variety in select markets, utilized for fresh eating, cooked preparations, and mixology.


Nutritional Value

Super Nova tangerines are a source of vitamin C to strengthen the immune system, potassium to balance fluid levels within the body, and fiber to regulate the digestive tract. The tangerines also provide vitamin A to maintain healthy organ functioning, calcium to build strong bones and teeth, iron to develop the protein hemoglobin for oxygen transport through the bloodstream, and other nutrients, including magnesium, riboflavin, folate, vitamin E, copper, and manganese.


Applications

Super Nova tangerines have a balanced, sweet, and subtly tart flavor suited for fresh and cooked preparations. The variety is primarily consumed straight out of hand, valued for its juicy nature, easy-to-peel rind, and bright flavoring. Super Nova tangerines can also be peeled, segmented, and tossed into salads, mixed into fruit bowls, chopped into salsas, or combined with grains as a side dish. The tangerine's high sugar and acidity allow them to be pressed into juice for marinades, dressings, and other sauces, and the flavoring especially complements fish dishes. Try whisking Super Nova tangerine juice into teriyaki sauces as a flavoring for ceviche or soy sauce as a bright addition. In addition to fresh preparations, Super Nova tangerine juice can be infused into fillings for baked goods or incorporated into pies, cookies, cakes, and muffins. They can also be simmered into jams, jellies, and marmalades, whipped into the frosting, or cooked into syrups. Beyond culinary dishes, Super Nova tangerines can be blended into smoothies, juiced and added to fruit punches, or stirred into cocktails. Super Nova tangerines pair well with herbs such as mint, basil, parsley, and cilantro, spices including cinnamon, nutmeg, ginger, and star anise, vanilla, honey, and chocolate. Unwashed Super Nova tangerines will keep up to one week when stored at room temperature and up to two weeks when kept in the refrigerator.


Ethnic/Cultural Info

Super Nova tangerines were named for their explosive, bright coloring and flavoring. The moniker is derived from a term used to describe a phenomenon in space. According to NASA, "a supernova is the biggest explosion humans have ever seen. Each blast is the extremely bright, super-powerful explosion of a star." Supernovas are generally caused by a giant star decreasing in temperature, causing pressure to drop. This pressure change alters the balance between the opposing forces of the star's gravity and the nuclear fuel being burned at the star's core, causing the star to collapse. The collapse can happen very quickly, and the explosion is so bright it can be seen by telescopes outside the star's galaxy. Supernovas are not common in space, and scientists believe only 2 to 3 may occur each century in galaxies. When LoBue Citrus first sampled USDA 88-2 tangerines at a university field station in Exeter, a city in the San Joaquin Valley in California, they were blown away by the fruit's bright, sweet, and tangy taste. Novaleena was initially selected as the variety's name, but eventually, LoBue Citrus felt that the name Super Nova was fitting, as the tangerine variety was created by chance, was rare, and had an explosion of flavor and color.


Geography/History

Super Nova tangerines were created by breeder and scientist Jack Hearn in 1966. Hearn worked for the United States Department of Agriculture and was studying pollination requirements among citrus varieties. Hearn selected Lee and Nova mandarins as parent varieties for a cross performed at a site in Orlando, Florida, and one of the seedlings from the experiment had a seedless nature and unique flavor. Seedless traits in mandarins were rare during this period, and the hybrid fruit was labeled as 6-13-44. Despite its seedless nature, 6-13-44 was not producing fruit, and USDA breeders spent over 20 years evaluating and studying the variety, trying to figure out how to make the trees bear fruit. In 1988, it was decided to send budwood to the citrus breeding program at UC Riverside to see if the variety would produce fruit in a different region. The budwood was sent from the Florida A.H. Whitmore Foundation Farm, and after the budwood planted fruit-bearing trees, the variety was named USDA 88-2. The grafted trees did eventually produce tangerines in California, and the fruits were celebrated for their sweet and tangy, zesty flavoring. In the early 21st century, mandarin production in the United States was dominated by two leading companies producing halos and cuties. USDA 88-2 tangerines were selected for commercial release to compete in the booming citrus industry and were first introduced by LoBue Citrus in 2010 under the name Super Nova. LoBue planted over 70 acres in Lindsay, a town southeast of Fresno in California. USDA 88-2 tangerines were also planted in small quantities in other orchards, sold under names including Superna and Lee x Nova, and were introduced into specialty markets around 2019. Today Super Nova tangerines are a somewhat rare variety offered for a short season in the United States. The cultivar is primarily grown in California, with most orchards in Northern California, and is found through farmer's markets, direct from growers, online retailers, and select distributors. The variety is also grown in some home gardens.