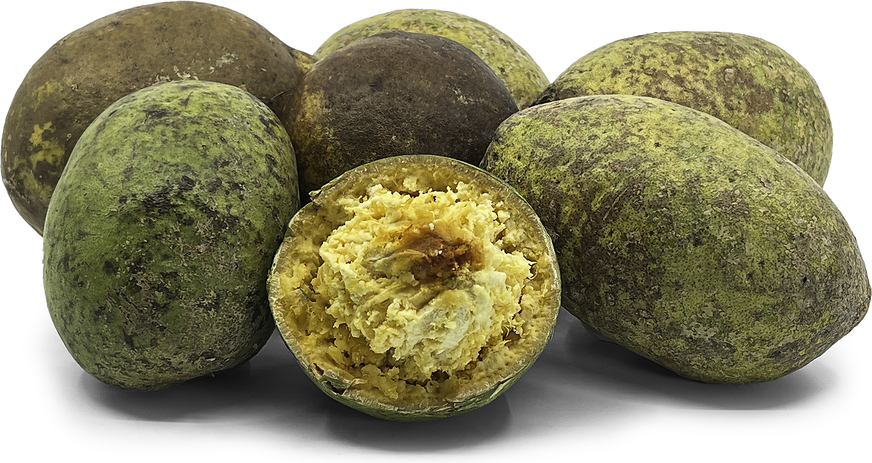 Bilva Fruit
Inventory, lb : 0
Description/Taste
Bilva fruits are small to medium in size, averaging 5 to 20 centimeters in diameter, and have a round, oval, to pyriform appearance. The fruit's surface is comprised of a thick, hard, and woody shell that ripens from green-grey, yellow to mottled brown with maturity. The shell is also covered in tiny oil glands and is challenging to open, requiring a machete, hammer, or stone. Underneath the surface, there are 8 to 20 triangular-like sections comprised of sticky, pasty, semi-aqueous, and fibrous pale orange pulp. The pulp encases 6 to 15 flat and oblong brown seeds that are generally one centimeter long. Each seed extends a few hairs and is enveloped in a thin layer of mucilage, surrounding a hard central core. When opened, Bilva fruits release a prominent floral and fruity aroma said to sometimes smell like roses. The flesh has a sweet, fruity, subtly woody, and astringent taste with caramel, passion fruit, tamarind, and citrus nuances.
Seasons/Availability
Bilva fruits are available year-round in tropical climates, with a peak season in the fall.
Current Facts
Bilva fruits, botanically classified as Aegle marmelos, are the fruits of a deciduous tree belonging to the Rutaceae family. The slow-growing trees are native to Asia and are commonly known as Bael trees, reaching 12 to 15 meters in height. It takes the trees approximately 11 months to produce ripened fruits, and in one season, the trees develop around 150 to 200 fruits, yielding up to 800. Bilva fruits are also famously known as Bael fruit and are called by many regional names worldwide, including Bilza Pazham, Bilwa, Bengal Quince, Bel, Maredu Phalam, Stone Apple, Bilak, and Marmelos. It is important to note that while Bilva fruits may be called Wood Apples in some markets, they should not be confused with a similar-looking fruit known as Elephant or Wood apples, scientifically known as Limonia acidissima. In Asia, Bilva fruits are primarily incorporated into natural medicines, valued for their nutritional properties. The fruits are also popularly served in refreshing beverages.
Nutritional Value
Bilva fruits are a source of vitamin C to strengthen the immune system while reducing inflammation, fiber to regulate the digestive tract, and vitamin A to maintain healthy organ functioning. The fruits also provide calcium to build strong bones and teeth, iron to develop the protein hemoglobin for oxygen transport through the bloodstream, potassium to balance fluid levels within the body, and other nutrients, including B vitamins, riboflavin, and niacin. In Ayurvedic medicine, Bilva fruits are incorporated into dashamoola, a concoction of herbs and other ingredients used as a medicinal remedy. The young fruits are also roasted, pureed with water and sugar, and consumed as a digestive aid and anti-inflammatory.
Applications
Bilva fruits have a sweet, sugary, and subtly astringent flavor suited for fresh, cooked, or dried preparations. The fruits can be broken and the flesh removed, sometimes sprinkled with palm sugar as a breakfast dish or blended into smoothies. Bilva fruits can also be simmered into syrup, jams, and marmalades, cooked into chutney, added to puddings or pickled for extended use. Beyond fresh and cooked preparations, Bilva fruits are most popularly pressed and strained into juice, used for refreshing cold beverages and tea. When made into juice, the drink has a light, sweet, and aromatic taste and is traditionally poured over ice. In India, Bilva fruit drinks are known as sherbet, Bael pana, or Bel ka sharbat, made from a mixture of pulp, citrus, water, and sugar or sugarcane. Bilva fruits are also commonly sliced and dried into thin circles, reconstituted in water for drinks, or ground into a powder and mixed into candy recipes. In addition to the fruits, the young leaves and shoots are occasionally used as salad greens in Southeast Asia. Bilva fruits pair well with fruits such as bananas, coconut, and mango, yogurt, ginger, and spices such as cardamom, curry leaves, and mustard seeds. Whole Bilva fruits will keep 1 to 2 weeks when stored in the refrigerator.
Ethnic/Cultural Info
Bilva fruits grow on trees deeply intertwined with the worship of Lord Shiva in Hinduism. The three-point leaves are believed to symbolize the trident that Shiva carries along with his third eye and the god's three main focuses- creation, destruction, and preservation. Bilva leaves are often adorned over temple altars and statues and are thought to help cleanse the body by forgiving sins. During offerings, a chant is spoken while the leaves are given as offerings. The chant, also known as Bilvashaktam Mantra, translates to say, "Born from the heart of Goddess Lakshmi, the Bilva tree is ever dear to Mahadeva. So I ask this tree to offer one Bilva leaf to Lord Shiva. Even if one sees the Bilva tree and touches it, he is surely free from sin. The most terrible karma is destroyed when a Bilva leaf is offered to Lord Shiva." In the Hindu religious text Brihad Dharma Purana, there is also the tale of how the Bilva tree was created. Legend has it that the goddess Lakshmi would offer Shiva 10,000 lotus flowers daily as a form of worship. One day, Lakshmi realized that she was short of her offering by two flowers. As an act of respect and honor, she decided to offer her breasts in place of the two missing flowers. She sliced one of her breasts off and presented it as an offering. As she was about to cut off the second one, Shiva appeared and stopped her, touched by her devotion. The cut breast was buried, eventually sprouting the Bilwa, Bilva, Bael, or Bel fruit tree, and the fruits have a round appearance in honor of Lakshmi's anatomical sacrifice.
Geography/History
Bilva fruits are believed to be native to Asia, specifically India, and have been mentioned in written records dating back to 800 BCE. The fruit trees thrive in subtropical to tropical climates and are typically found growing wild in forests, jungles, and along hillsides. Over time, Bilva trees were planted throughout Southeast Asia and were also carried to Egypt. The fruit trees were also thought to have been established in the Philippines by 1914. In 1909, Dr. Walter T Swingle introduced seeds for the tree from Lahore, Pakistan, to Florida. Since their introduction into Florida, a few trees have been planted at research stations, private collections, and home gardens. Today Bilva fruits have remained mainly localized to Asia. They are found wild and planted in home gardens throughout India, Thailand, Cambodia, Bangladesh, Vietnam, Sri Lanka, the Philippines, Nepal, and Fiji. When in season, Bilva fruits are sold through local markets in their growing regions.
Recipe Ideas
Recipes that include Bilva Fruit. One

is easiest, three is harder.