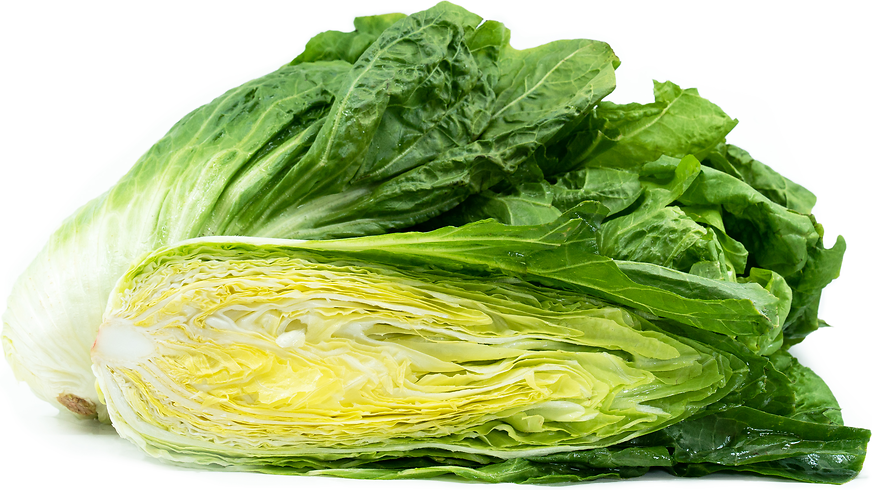 Sugarloaf Chicory
Inventory, lb : 0
Description/Taste
Sugarloaf chicory is a medium to large varietal, averaging 25 to 35 centimeters in length, and has a cylindrical to oblong shape with layers of tightly packed leaves. The dense heads are somewhat slender and grow upright, showcasing dark green and white leaves on the exterior, revealing pale green, yellow, and white shades in the center. Each leaf has a slightly curved, folded cup-like shape with pliable, soft edges and a thick central midrib. The leaves are also crinkled with prominent veining and have a distinctly crisp, crunchy, and succulent consistency. Sugarloaf chicory has a pungent vegetal bitterness when eaten raw with a hint of sweetness. The greens are popularly cooked to mellow their bitterness, and heat will soften both the flavor and texture into a mildly bitter, subtly sweet, and crisp but tender experience.
Seasons/Availability
Sugarloaf chicory is available in the fall through winter.
Current Facts
Sugarloaf chicory, botanically classified as Cichorium intybus, is an herbaceous perennial belonging to the Asteraceae family. The upright, tapered heads can reach up to 35 centimeters in height and are cultivated in home gardens as a hardy fall and winter crop. Sugarloaf chicory is grown worldwide and is known by several names, including Green radicchio or Radicchio Verde in the United States, Verde Pan di Zucchero and Bianca di Milano in Italian, Zukerhut in German, Pain de Sucre in French, and Groenlof in Dutch. There are also different varieties of Sugarloaf chicory, such as Virtus and Borca, generally classified under the Sugarloaf name in markets for ease of retail shopping. Sugarloaf chicory is mainly grown as a home garden cultivar and is favored for its dense heads. The tightly layered heads protect the chicory from rot, drought, and cold temperatures, and the plants are high yielding, maturing around 80 days after sowing. Sugarloaf chicory greens can be harvested by individual leaves, or the entire head can be removed, utilized in an array of fresh and cooked preparations.
Nutritional Value
Sugarloaf chicory greens are a source of fiber to regulate the digestive tract, vitamin A to maintain healthy organ functioning, and calcium to build strong bones and teeth. The greens also provide potassium to balance fluid levels within the body, magnesium to control optimal nerve functions, vitamin C to strengthen the immune system, and other nutrients, including vitamin K, phosphorus, iron, folate, niacin, and vitamin E.
Applications
Sugarloaf chicory has a bitter, vegetal flavor with a hint of sweetness suited for fresh and cooked preparations. The leaves can be washed and finely chopped into salads, mixed with other greens as a bed for roasted meats, or used as an edible cup or wrap. Sugarloaf chicory is also popularly cooked as its sturdy nature holds up well to heat and does not become slimy. The greens can be stirred into soups, stews, and curries, sauteed as a simple side dish, cooked into risotto and polenta, tossed into pasta, or braised and served with main meat dishes. Sugarloaf chicory can also be sliced thin and mixed into casseroles, frittatas, or dips, and the leaves can withstand poaching, roasting, boiling, or baking in recipes. Grilling and braising Sugarloaf chicory enhances their sweetness, and chefs often cut the heads in half and grill them in large pieces for a savory, charred flavor. Sugarloaf chicory shines when combined with fatty, salty, or tart ingredients. The greens pair well with herbs such as fennel, parsley, rosemary, tarragon, and leeks, nuts including walnuts, almonds, and pine, cheeses such as parmesan, mozzarella, and gorgonzola, fruits including apples, grapefruit, and pears, balsamic, miso, vinegar, and meats such as pork, poultry, and beef. Whole, unwashed Sugarloaf chicory will keep for 2 to 3 weeks when stored in a damp paper towel and wrapped in an open plastic bag in the refrigerator.
Ethnic/Cultural Info
Sugarloaf chicory is named for its similarity in shape to a popular method of storing sugar in Europe throughout the 15th to 19th centuries. Sugar loaves were pointed, conical forms created from sugarcane in a series of boiling and filtering processes to refine into white sugar. The loaves were initially developed in the Middle East, and the practice of condensing sugar into these cone-like shapes was introduced to Europe in the 15th century. Sugar loaves varied in size from as small as a few pounds to weighing up to 50 pounds, and the larger the cone, the lesser the sugar's quality. The most desired sugar loaves averaged 3 to 5 pounds and were wrapped in bright blue paper sealed with red wax. The blue paper was thought to enhance the sugar's white hues, and the cones were stored in wooden boxes or hung from the ceiling. Sugar was a precious commodity, and sugar loaves reached the height of their popularity in the 18th century in Europe. The cones were used as centerpieces for dessert tables, and sugar boxes were a staple decorative storage container in the kitchen for displaying status during dinner parties. Sugar loaves were carried to the New World with settling European colonists and remained a central element in the kitchen until the 19th century. To use the sugar loaves, the cones would be cut with sugar cutters, also known as sugar nips. This angled device allowed users to break off chunks of the cone in varying sizes and use the cone as needed throughout the year.
Geography/History
Sugarloaf chicory is thought to be native to Italy. Several sources point to the town of Casale Monferrato in the Piedmont region of Italy as its site of origination, but the detailed history of the chicory is unknown. Sugarloaf chicory is also grown in the Municipalities of Villanova, Frassineto Po, and Borgo San Martino within Piedmont in Italy. Today Sugarloaf chicory is grown worldwide and is cultivated on a small scale as a specialty green, favored for its bitter nature and subtly sweet taste. The chicory is less popular than other varieties in Italy, but it is found in limited quantities for its dense heads and green coloring. Sugarloaf chicory thrives in cool climates and can be grown in harsh conditions without compromising flavor or texture. The chicory is primarily found through online seed catalogs for home garden use and for sale fresh through local markets worldwide.
Recipe Ideas
Recipes that include Sugarloaf Chicory. One

is easiest, three is harder.