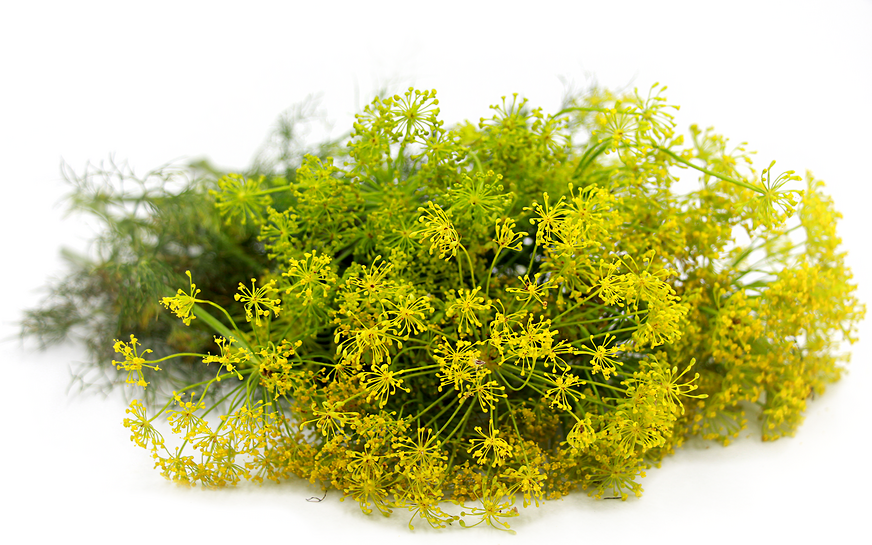 Dill Weed
Inventory, 12 ct : 0
Description/Taste
Dill is a delicate and fragrant herb averaging 90 centimeters tall, though it can reach up to 120 centimeters in height depending on the variety. It has slender stems with alternating green leaves that are soft and feathery with a fern-like appearance. When mature, the plant bears umbels, or umbrella-like clusters of edible tiny, lacy, yellow flowers, and produces edible flat, oval, light-brown seeds. Dill is highly aromatic with an anise and minty scent, and the leaves offer a sweet, grassy, licorice-like flavor, somewhat reminiscent of caraway or fennel, though milder and sweeter. The unique taste is often described as a blend of anise, parsley, and celery with a slight lemony finish.
Seasons/Availability
Dill is available year-round, with a peak season in the spring and early summer.
Current Facts
Dill is botanically classified as Anethum graveolens and is the sole species in the genus, belonging to Apiaceae or Umbelliferae family. Dill leaves are often more specifically referred to as Dill Weed or Dillweed to distinguish the herb from Dill seed, which is used as a spice. There are several varieties of Dill, such as Bouquet, a large variety typically the most popular, and Mammoth, considered the best type for pickling. The name "Dill" is derived from an old Norse word, dilla, meaning "to lull" or "to soothe," and it dates back to the ancient Egyptians, who referred to the herb as a "soothing medicine."
Nutritional Value
Dill is a great source of vitamins A and C and a good source of manganese, iron, and folate. Living up to its name, Dill has been used since ancient times to soothe babies with colic and calm digestive issues. Dill is also known to have antioxidant and antibacterial properties and has been used as a folk remedy for freshening breath and stimulating breastmilk.
Applications
Dill is best used as a fresh garnish or a flavoring herb in cooking. It is a particularly popular ingredient in eastern European, Russian, Scandinavian, Indian, and Mediterranean cuisines. Dill is the go-to herb for flavoring pickles and is also commonly used to flavor green or potato salads, soups like Ukrainian borscht, and dips, dressings, or sauces like the traditional Greek yogurt-based sauce, tzatziki, and classic buttermilk-based ranch dressing. Dill shines in seafood dishes, notably cold-water fish like salmon or herring, and is often used in couscous, quinoa, bulgur wheat, barley, egg, and cream-based dishes. Dill also pairs well with yogurt, cheese, cucumber, tomatoes, zucchini, summer squash, asparagus, spinach, mushrooms, potatoes, lentils, beans, poultry, and lamb. Dill can also be dried, though the flavor will be somewhat diminished. Adding Dill during the last few minutes of cooking is also best to preserve its flavor. Store fresh Dill in the refrigerator wrapped in plastic and use it within a couple of days, as it is delicate and quick to wilt. To prolong its shelf life by up to a week, place the Dill in a jar of water before covering it with plastic and store it in the fridge. While drying will lessen the flavor, Dill is known to freeze well for extended use.
Ethnic/Cultural Info
While Dill is best-known today as a culinary herb, it has a long history in medicine and magic. Ancient Egyptians used Dill to ward off witches, while the Romans considered it a symbol of good luck, and the Greeks associated the herb with wealth. Europeans have historically believed Dill to be soothing, true to the origin of its name, and have long used the herb as a digestive aid. Puritans and Quakers even kept Dill seeds in their bibles to chew on during long sermons as a means of soothing growling stomachs and suppressing appetite, especially for fidgety children.
Geography/History
Dill is native to the Mediterranean and Western Asia and has been growing wild for thousands of years. The first written record of Dill dates back to Ancient Egypt, where the herb was mentioned in medicinal texts as a "soothing medicine." It was rumored that the Babylonians cultivated the plant in home gardens around 3000 BCE. Dill was spread throughout Europe during the 1st century by Charlemagne, who often served Dill at his feasts to aid digestion. By the 17th century, settlers had carried the popular herb to the New World, where it quickly naturalized and thrived. Today, Dill can be found growing on almost every continent and is widely cultivated throughout Europe, India, and North America, with the bulk of the fresh herb being produced in India and Pakistan. Fresh Dill can be found at local farmers markets and common grocery stores.
Recipe Ideas
Recipes that include Dill Weed. One

is easiest, three is harder.