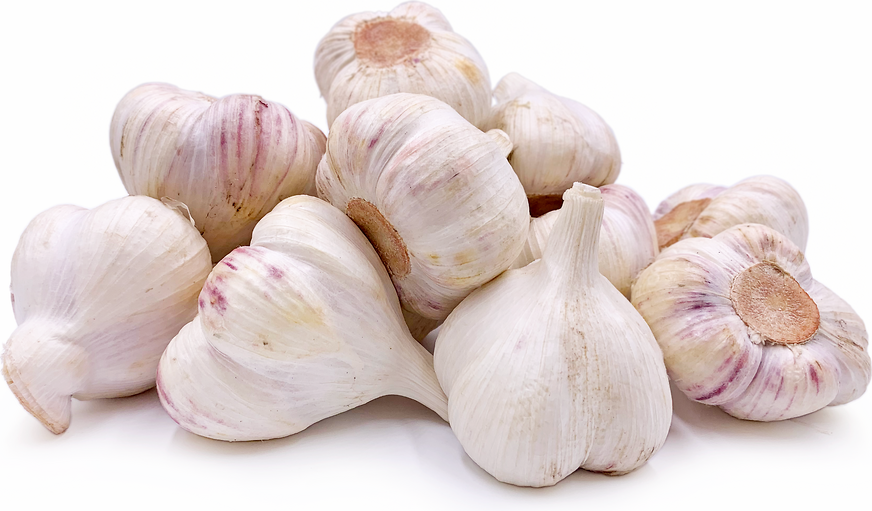 Aomori Wet Garlic
Inventory, lb : 0
Description/Taste

Aomori Wet garlic will vary in size, depending on the specific variety, but generally averages 5 to 7 centimeters in diameter with a bulbous, symmetrical shape. Each garlic bulb showcases large, tightly packed cloves wrapped in thin layers of protective skin, giving the bulbs a somewhat lumpy shape as the skin contours to the plump cloves. The skin is thin, delicate, and taut, ranging in color from a crisp, solid white to white with faint purple striping and striations. As the layers of skin are peeled back and removed, the bulbs cluster in groupings, and there are approximately six cloves per bulb. The translucent white cloves have an oval shape with tapered edges and are glossy with a crisp and succulent consistency. Aomori Wet garlic has a faint aroma and contains high water content, contributing to the garlic's mild, smooth, sweet, and subtly nutty flavor.


Seasons/Availability

In Japan, Aomori Wet garlic is available in the late spring through early summer.


Current Facts

Aomori Wet garlic, botanically a part of the Allium genus, is a descriptor for fresh bulbs of garlic that have not been dried before retail sale, belonging to the Amaryllidaceae family. Aomori is a Japanese prefecture known for its garlic production, growing around 70% of the garlic in Japan. The prefecture grows several varieties of garlic and offers each variety in various dried, fresh, frozen, and processed forms. The most famous cultivar grown in Aomori is Takko Ninniku, meaning "garlic from Takkomachi." This type of garlic was created from the Fukuchi White variety and is a specialty garlic grown in a small town within the Aomori Prefecture. Takko Ninniku is primarily sold dried, but in the late spring and early summer, growers offer the garlic in its fresh, undried state, also known as raw, wet, fresh, or non-dry garlic. Aomori Wet garlic has a milder, smoother flavor than dried garlic, and the bulbs have a delicate, crisp nature due to their high water content. Wet garlic is typically the first crop of the season, primarily sold locally, and is only available for a short amount of time. In Aomori, when the fresh bulbs are harvested, they are stored in the refrigerator where the skin develops light purple striations, a common physiological change that does not affect the garlic's flavor or texture. Aomori Wet garlic is a rare crop valued for its large clove size, mild scent, and distinct sweet and nutty, onion-like nuances.


Nutritional Value

Aomori Wet garlic is a source of manganese to develop connective tissue, phosphorus to protect bones and teeth, and vitamin C to strengthen the immune system while reducing inflammation. The garlic cloves also provide lower amounts of iron to develop the protein hemoglobin for oxygen transport through the bloodstream, zinc to maintain optimum metabolism, and calcium, B vitamins, potassium, and magnesium. In addition to vitamins and minerals, garlic contains allicin, an antioxidant that guards the cells against the damage caused by free radicals.


Applications

Aomori Wet garlic has a mild, sweet, and nutty flavor well suited for fresh and cooked preparations. The young garlic can be used interchangeably with dried garlic in any recipe and imparts a smoother, less pungent flavor. Wet garlic is favored for its succulent nature and is often thinly sliced and incorporated raw into salads and vegetable side dishes. It is also minced into garlic butter and used as a spread, stirred into miso as a flavoring for broths, seafood, and noodle dishes, or the cloves can be pickled in honey or soy sauce as a tangy addition. Beyond fresh preparations, Aomori Wet garlic develops a rich, sweet flavor when cooked and is popularly mixed into soups, rice dishes, and stir-fries. Wet garlic can also be sautéed as a side dish, cooked into omelets, roasted and spread on toast or baked potatoes, or blended into sauces such as pesto. In the Aomori Prefecture, fresh and dried garlic is used in variations of steak gohan, a dish comprised of garlic, rice, and steak. Wet garlic is also incorporated into ramen and hacinohe bakudan, a rice bowl with squid, egg yolks, soy sauce, and garlic. Aomori Wet garlic pairs well with meats such as beef, pork, and poultry, seafood including shrimp, crab, squid, and white fish, carrots, broccoli, peas, bell peppers, mushrooms, and leafy greens such as shiso, wasabi, mitsuba, and mustard. Wet garlic should be used immediately for the best quality and flavor but will keep for a few weeks when stored in the refrigerator.


Ethnic/Cultural Info

The town of Takkomachi in the Aomori Prefecture is known as the "home of garlic" in Japan. The town has received international recognition for its fresh, dried, and black garlic production and has centered its daily life around the pungent bulbs. Takkomachi is situated beside the Ou mountain range and is nestled among rolling hills of forest and farmland. The town was historically known for raising livestock, but in the mid-20th century, farmers began growing garlic as a supplementary crop. The garlic plants thrived in the town's snowy and seasonal climate, and in the spring, the fertile soil mixed with compost gathered from the livestock created large, flavorful garlic bulbs. Garlic production in Takkomachi became successful in the 1970s, selling to retailers across Japan, and the Takko townspeople began to create garlic-themed attractions for visiting tourists. In the town, there are garlic statues on top of streetlights, signs about garlic, and even garlic designs painted on buildings and utility boxes. There is also a Garlic Center, a store and restaurant centered around garlic. The store sells fresh and dried garlic along with novelty items such as garlic wine, garlic soda, garlic chips, and garlic ice cream. The restaurant features a four-course menu of garlic-themed appetizers, drinks, and barbequed meats that can be coated in fresh garlic, garlic sauce, or grilled garlic. Takkomachi also developed a relationship with the California garlic-centric city of Gilroy. In 1986, Takkomachi officials visited Gilroy after seeing the city on a tv program. The mayor of Gilroy later visited Takkomachi the following year, and in 1988, the cities signed an agreement making them sister cities for garlic-related business.


Geography/History

Aomori Wet garlic is native to the Aomori Prefecture on the northern end of Honshu Island in Japan. Experts believe garlic's center of origin stems from Central Asia, and the ancient bulbs were spread across trade routes with migrating peoples into East Asia and Europe in the early ages. Garlic was first documented as a cultivated crop in Japan around the 10th century, and over time, many new varieties of garlic were created through continued breeding practices. Aomori Wet garlic is traditionally produced from the Fukuchi White variety, which is mainly labeled as Takko Ninniku in the Aomori Prefecture. The prefecture has been growing garlic for several centuries, and the most concentrated center of production within the prefecture is based in the town of Takkomachi. Today Aomori Wet garlic is a seasonal delicacy sold through local growers, markets, and grocers throughout Japan.