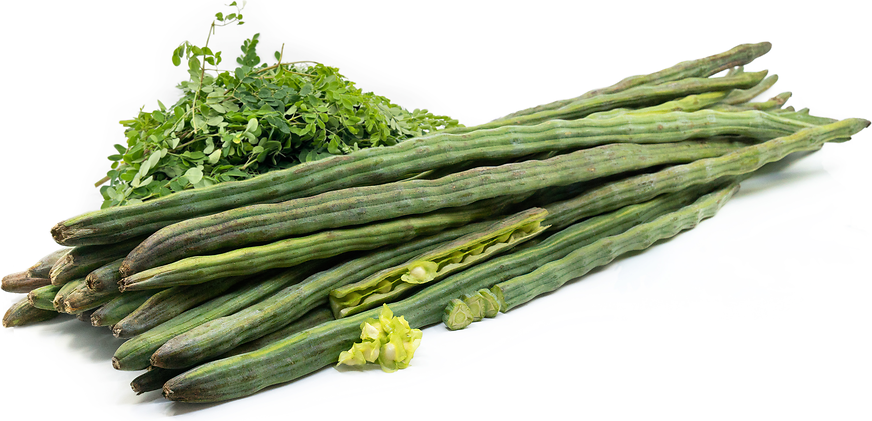 Malunggay
Inventory, lb : 0
Description/Taste
Malunggay leaves are small in size, bearing clusters of leaflets averaging 1 to 2 centimeters in length and .5 to 1 centimeter in diameter, and each leaflet has an oval, obovate, to tear-drop shape with even, curved edges. The vibrant green feathery leaflets are smooth, thick, and firm, and grow in a tripinnate structure. Malunggay leaves offer a slightly bitter flavor with grass-like undertones and can often have a horseradish-like heat. During the cooking process, they release a distinct grassy aroma. In addition to the leaves, Malunggay trees produce slender, hanging pods that extend 20 to 45 centimeters in length. The straight to cylindrical pods have an angular, knobbed appearance with three distinct sides, and young pods are favored for culinary use. The pods can be peeled apart and split open, revealing a fleshy layer encasing round to oval seeds. Each seed is around one centimeter in diameter and is enveloped in a thin, paper-like hull that showcases three points, almost resembling tiny wings or edges of a wonton wrapper. The flesh and seeds of the pods are the edible portions, and once cooked, the flesh softens and can be easily scraped from the pod. The seeds retain a slightly chewy, dense consistency. Malunggay pods have a grassy and vegetal flavor combined with sweet and bitter undertones. The flesh and seeds are often likened to the taste of green beans and asparagus.
Seasons/Availability
Malunggay is available year-round in tropical climates worldwide.
Current Facts
Malunggay, botanically classified as Moringa oleifera, is a Southeast Asian name for the Moringa tree, an ancient, medicinal plant belonging to the Moringaceae family. Malunggay is native to Asia and has been used for its healing properties for thousands of years, often called the "miracle tree." All parts of the tree, including the roots, fruits, flowers, and leaves, are utilized in various medicinal and culinary preparations, and in the modern-day, Malunggay is being extensively planted and studied as a source of nutrition for regions of the world struggling with poverty, malnutrition, and hunger. Moringa trees are known by over four hundred names worldwide, and Malunggay is a descriptor often used for the tree in the Philippines. Malunggay is valued for its versatility, ease of cultivation, and prolific nature.
Nutritional Value
Malunggay pods and leaves are a source of vitamin C to strengthen the immune system and boost collagen production, fiber to regulate the digestive tract, and calcium to build strong bones and teeth. The pods and leaves also provide copper to produce red blood cells, iron to develop the protein hemoglobin for oxygen transport through the bloodstream, magnesium to regulate optimal nerve functioning, and other nutrients, including potassium, phosphorus, zinc, manganese, and folate.
Applications
The flowers, leaves, and elongated pods of Malunggay are edible raw or cooked. The leaves are traditionally used similarly to spinach and can be incorporated into curries, stews, dals, sambars, chutneys, and clear broth-based soups. Moringa leaves can also be sliced or chopped in salads or sprinkled as a garnish. In the Philippines, Malunggay leaves are boiled with lemongrass to make a detoxifying, healing tea. Malunggay pods are traditionally sliced into 2 to 5-centimeter pieces and are boiled, steamed, fried, or stir-fried to develop a soft and tender consistency. It is important to note that the pod's exterior is too fibrous, even when young, for consumption and is discarded after the flesh and seeds are removed. The flesh is extracted from the pod by scraping with the teeth, similar to an artichoke leaf, or by chewing and sucking out the flesh. The seeds are also edible and are a favored portion of the pod, giving dishes added flavor and texture. Malunggay pods are used as an everyday vegetable throughout Southeast Asia and are most commonly used in Indian cooking. While less common than the pods and leaves, Malunggay flowers are frequently stir-fried into thoran, an Indian side dish blending chile peppers, spices, and onions into a paste and using it to flavor the flowers.
Geography/History
Malunggay, more commonly known worldwide as the Moringa tree, is a species native to Asia that has been growing wild since ancient times. The trees thrive in tropical to subtropical climates and favor warm, frost-free environments. Experts theorize that Moringa trees may have originated in the foothills of the Himalayas in India and were cultivated as early as 2000 BCE. The tree was revered throughout India for its nutritional properties, and all parts of the tree were incorporated into various medicinal remedies, often used among aristocracy and royalty. Over time, Moringa seeds were spread across trade routes, and the seeds were planted in ancient Egypt, Greece, and Rome, cultivated for health-focused practices. The Romans are credited with spreading the species throughout Europe, and the British introduced the tree to its colony in Jamaica in 1817, as well as several other port cities worldwide. Today the Moringa tree is utilized for medicinal and culinary practices worldwide. The pods, leaves, and flowers can be found through fresh markets, select grocers, and specialty distributors.
Recipe Ideas
Recipes that include Malunggay. One

is easiest, three is harder.