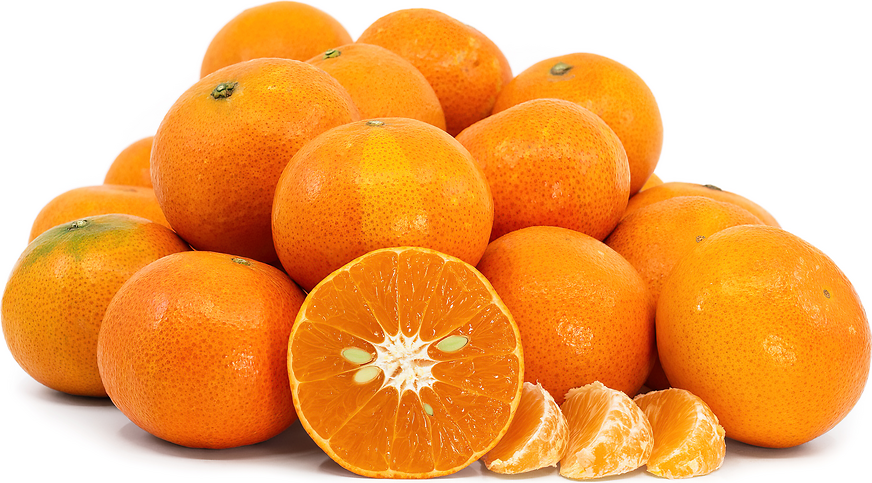 Lee Tangerines
Inventory, lb : 0
Description/Taste

Lee tangerines are a small to medium-sized varietal, averaging 5 to 7 centimeters in diameter, and have a round to oblate appearance with curved, even edges and a flat to lightly pointed stem-end. Some Lee tangerines will exhibit furrowed lines around the stem, giving it a folded or creased look at the top. The tangerine's skin is thin, smooth, sometimes leathery, and glossy, covered in tiny oil glands that contribute to the fruit's pocked-like, spotted surface. The rind also ripens from pale orange to bright orange, blushed with red undertones, but it is important to note that some tangerines may be ripe before the color changes. The thin rind is adhered tightly to the flesh, making the variety challenging to peel, and the saturated orange flesh is divided into 9 to 10 segments by thin membranes. The flesh is tender, aqueous, and soft with a melting, succulent consistency. The flesh also encases anywhere from 1 to 25 ivory-tapered seeds, depending on pollination during cultivation. Lee tangerines are intensely aromatic and secrete volatile oils through the pores in the rind, releasing a sweet and bright scent with notes of grapefruit. Lee tangerines have high sugar and low acidity, creating a rich, sweet, fruity, and subtly tangy flavor.


Seasons/Availability

Lee tangerines are available in the winter through early spring.


Current Facts

Lee tangerines, botanically classified as Citrus reticulata, are a hybrid variety belonging to the Rutaceae family. The tangerines were developed in the mid-20th century in Orlando, Florida, and were seedlings selected from an intentional cross of citrus varieties to create a tangerine with improved sweetness, size, and coloring. Lee tangerines grow on evergreen trees reaching 3 to 4 meters in height and are an early to mid-season cultivar favored for their aromatic nature and sweet taste. The variety is not commercially grown due to its slow-color maturation, seedy flesh, and difficult-to-peel nature. The peel of Lee tangerines is slow to transition from light to dark orange, and this transformation sometimes only happens after the fruit is overly ripe. Growers tried degreening the variety, which removes chlorophyll from the fruit's skin, using ethylene gas treatment to remedy this coloring problem. Unfortunately, the tangerines did not respond well to the degreening process, leading growers to deem the variety too challenging to cultivate commercially. Despite its lack of presence in commercial markets, Lee tangerines are planted by citrus enthusiasts in private orchards and home garden landscapes. The variety is regarded as a specialty fruit, and the trees are relatively cold-hardy, prolific in nature, nearly thornless, easy to grow, and self-fertile but produce more fruits with an additional pollinator. The trees also have showy, fragrant flowers in the spring, and the fruits hold well on the tree, showcasing pops of bright orange hues between the dark green and glossy, evergreen leaves. Lee tangerines can be planted in the ground or containers, and when the fruits are ripe, they are primarily eaten fresh or infused into culinary dishes and beverages.


Nutritional Value

Lee tangerines are a source of potassium to balance fluid levels within the body, vitamin A to maintain healthy organ functioning, and fiber to regulate the digestive tract. The tangerines also provide vitamin C to strengthen the immune system while reducing inflammation, calcium to build strong bones and teeth, folate to develop DNA, antioxidants to protect the cells against caused by free radicals, and other nutrients, including magnesium, B vitamins, and iron.


Applications

Lee tangerines have a sweet-tart flavor suited for fresh and cooked preparations. The variety is typically consumed fresh out of hand and enjoyed for its rich and aromatic flavor. Lee tangerines can also be chopped into salsa, relishes, or dips, or they can be tossed into salads, added to rice bowls, and used as a fresh topping over parfaits and granola. Try pressing Lee tangerines into juice and adding the juice to dressings, marinades, and glazes. The juice and zest can also be whipped into cream, folded into soft cheeses, or blended into mousse and pudding for added flavor. In addition to fresh preparations, Lee tangerines can be simmered into marmalades, jams, jellies, and curds, infused into syrup or cooked into a filling for pastries. The tangerines can also be baked into cheesecakes, muffins, cupcakes, macaroons, cookies, and cakes, or the rinds can be candied and served as a sugary topping or chewy snack. Frozen flesh pieces can be blended into a sorbet or smoothie, and the tangerine juice is often used in mixology to make classic cocktails, non-alcoholic drinks, and sparkling beverages. Beyond sweet preparations, Lee tangerines complement savory dishes and can be used in any recipe calling for tangerines. Lee tangerines pair well with other fruits such as cranberries, pomegranates, coconut, and lemons, spices including ginger, cinnamon, cardamom, and cloves, herbs such as cilantro, mint, and rosemary, white chocolate, and dark chocolate. Whole, unwashed and unpeeled tangerines will keep for a few days at room temperature and up to one week when stored in the refrigerator.


Ethnic/Cultural Info

Lee tangerines were one of the few citrus varieties to have survived the Florida citrus freeze of the 1980s. Three record-breaking freezes hit the Florida citrus belt, an area in central and southern Florida that was once known for its vast acres of citrus groves and orchards. The first damaging freeze hit in 1983, followed by the second in 1985, and the third in 1989. In the last freeze, the citrus belt experienced freezing wind gusts up to twenty-five miles per hour while the temperature dropped into the upper teens. Experts estimated that over ninety percent of the state's commercial citrus trees were destroyed in the freezes, and the damages were calculated to have been around two billion dollars. Before the 1980s, the last lethal freeze occurred about one hundred years prior. The freezes throughout the 1980s caused many Florida citrus growers to sell their land to developers, as it was too costly to reinvest in the groves. Growers also could not wait for at least five years before the trees would reach fruit-bearing years. Developers eventually used the land to build planned communities for a growing population, further reducing the famous citrus belt. Since the freezes, there has been some interest in Lee tangerines for their hardiness as several trees survived the record-breaking temperatures. Home gardeners, breeders, and growers are also turning to the variety as it is a tangerine that can be harvested early before the risk of frost, along with the ability to survive in short periods of freezing temperatures.


Geography/History

Lee tangerines were developed at the United States Department of Agriculture's, or USDA, Laboratory in Orlando, Florida. The variety was one in over three hundred seedlings created from a cross between Clementine mandarins and Orlando tangelos. USDA scientists began systemic citrus breeding in 1942, and scientist and breeder John M. Bellows crossed varieties to create a loose-skinned tangerine. John M. Bellows and Frank E. Gardner were the lead breeders during the Orlando and Clementine crosses, and most of the potential hybrid seedlings they created closely resembled tangerines. Lee tangerines were released for commercial production around 1959, and two other sister varieties created from the same parent cross, Robinson and Osceola, were also introduced. Lee tangerines were planted in California and Florida, but the variety never achieved widespread commercial success. Today Lee tangerines are a specialty variety primarily grown through select orchards and home gardeners. When in season, Lee tangerines are found in farmer's markets, distributors, and in home landscapes.