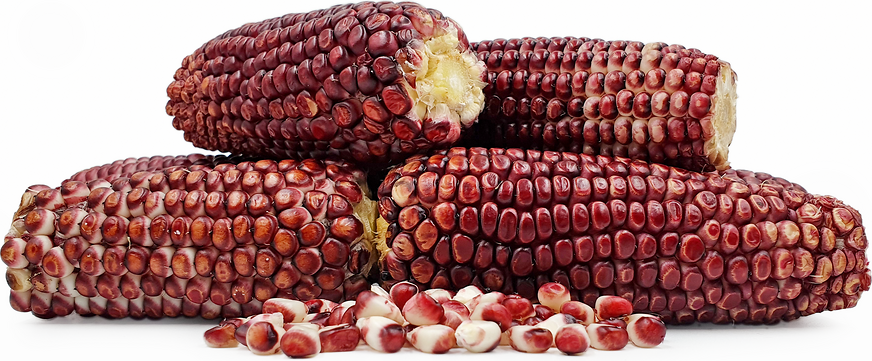 Jagung Manis Merah Corn
Inventory, lb : 0
Description/Taste

Jagung Manis Merah consists of small to medium-sized cobs, averaging 16 to 19 centimeters in length, and have an elongated, cylindrical shape with blunt, curved ends. The cobs are covered in 14 to 16 rows of small oval to oblong kernels that are firm, dense, and crisp. The kernels also display variegated hues of dark red, crimson, and maroon, transitioning into shades of white where the kernel connects to the cob. Each kernel is known for containing low starch levels and high sugar content, often averaging around 14% on the BRIX scale, which is a measurement for sugar. Jagung Manis Merah is typically harvested immature when the kernels are crisp and aqueous, bearing a sweet and mild flavor. Once cooked, the flavor will deepen, and the texture will soften, developing subtle nutty undertones.


Seasons/Availability

Jagung Manis Merah is available year-round.


Current Facts

Jagung Manis Merah, botanically classified as Zea mays, is a term used for varieties of red sweet corn belonging to the Poaceae or grass family. The name Jagung Manis Merah translates from Indonesian to mean "red sweet corn" and is a general descriptor used to encompass many different cultivars of red sweet corn grown in Indonesia and Malaysia. Sweet corn is a widely cultivated crop as it is easy-to-grow, has a low production cost, short growing season, and is typically harvested when young for fresh eating. It is also a common crop to earn farmer's extra income and is sown in rotation with other popular crops, including pineapples, bananas, and sweet potatoes. Red sweet corn varieties are considered rare in Indonesia and Malaysia and are sold at almost double the price of regular white and yellow sweet corn cultivars. The pigmented kernels are favored for their sweet flavor, tender and crisp texture, and novel coloring and are primarily used fresh in culinary applications.


Nutritional Value

Jagung Manis Merah is an excellent source of folate, a B vitamin that helps produce genetic material and is a good source of fiber to stimulate the digestive tract and vitamin C to strengthen the immune system while reducing inflammation. The pigmented kernels also provide minerals such as potassium to balance fluid levels within the body, magnesium to regulate blood pressure, and phosphorus to help build bones and teeth. The corn's red coloring is developed from anthocyanins, pigments that contain antioxidant-like properties to protect the cells against external environmental damage.


Applications

Jagung Manis Merah has a sweet flavor and tender, crisp consistency best suited for both raw and cooked applications, including grilling, steaming, stir-frying, blanching, pureeing, and roasting. The pigmented corn can be used as a substitute in any recipe calling for white sweet corn, and the kernels can be shaved off of the cob and tossed into salads, chopped into salsa, or minced and blended into sauces. Jagung Manis Merah can also be served in soups and stews, steamed and coated in spices, or fried into patties. Beyond savory dishes, Jagung Manis Merah is frequently combined with sweet ingredients to make dessert puddings, ice cream, custards, and porridges. The red kernels can also be baked into bread, cakes, and biscuits. Jagung Manis Merah pairs well with aromatics such as lemongrass, garlic, onions, shallots, and galangal, spinach, celery, bell pepper, carrots, cauliflower, avocado, coconut, and a sweet soy sauce known as kecap manis. Sweet corn has a shorter shelf life than other corn varieties as the sugars are often converted into starches, losing the corn's sweet taste. If the kernels are still on the cob, they should be stored with the husks intact in the refrigerator. Kernels removed from the cob should be kept in a sealed container and stored in the refrigerator for up to a week. When frozen, kernels will keep 3 to 6 months.


Ethnic/Cultural Info

Jagung manis, translating to "sweet corn" in English, is a popular street food served as an afternoon snack throughout Indonesia. Sweet corn is a versatile ingredient that can be paired with both sweet and savory ingredients to create varying dishes. One of the most popular street snack foods is bakwan jagung, or corn fritters. The small, crispy pancake-like snacks are traditionally mixed with sweet corn, garlic, and some sort of vegetable like bell pepper or celery to create a flavorful batter that is then fried. The fritters are traditionally served with vinegar dips or chili sauce and can be easily carried on the go. Sweet corn is also frequently coated in butter and served in small cups. These snack cups can be topped with coconut milk, cheese, barbeque sauce, or any other sauce the vendor may carry. In addition to savory street food, sweet corn is blended to make sweet corn ice cream, a favorite cooling snack for children on hot days.


Geography/History

Jagung Manis Merah cultivars are descendants of ancient corn varieties created from hybridizing native species from South America, specifically Peru, with other grass family crops found wild in Central America. Over time, these species were selectively bred to exhibit desired characteristics and were introduced into North America. Native American tribes further expanded cultivation, discovering a sweet mutation in the fields, and developed multiple types of sweet corn and field corn. Corn was later spread worldwide through European explorers and was believed to have been introduced into Malaysia and other regions of Southeast Asia during the 16th century through Dutch and Portuguese colonists. Once sweet corn became a favored type of corn for fresh eating and canning worldwide, many new hybrid varieties were created, including red sweet corn, to showcase improved flavor, appearance, and growth characteristics. Jagung Manis Merah is a general descriptor of multiple red sweet corn varieties grown throughout Malaysia and Indonesia. Many of these varieties were imported via seeds from the United States, but some red sweet corn varieties were selectively bred through research programs in Southeast Asia in the 19th and 20th centuries to cultivate crops better suited for the region's humid, tropical climate. Today Jagung Manis Merah can be found through local markets across Malaysia and Indonesia and are considered a rarer type of sweet corn compared to white sweet corn.