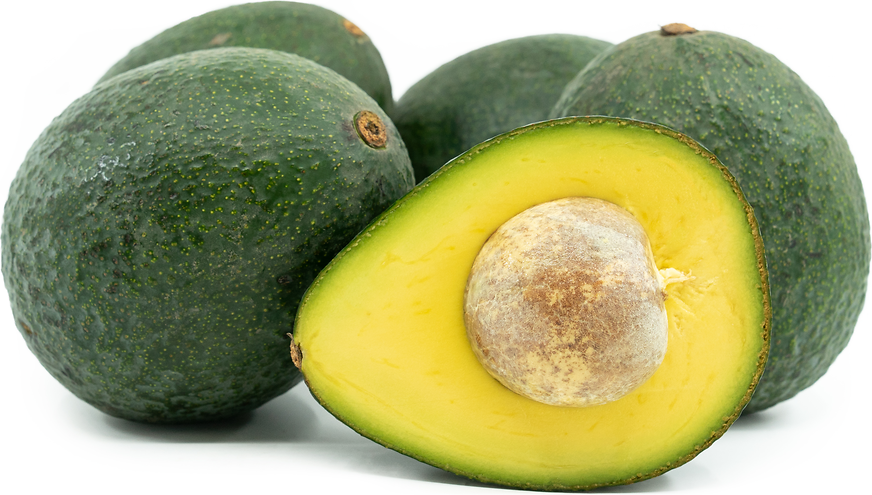 Reed Avocados
Inventory, ea : 0
Description/Taste
Reed avocados are a medium to large varietal, averaging 12 to 24 ounces in weight, but can sometimes become as heavy as 32 ounces. The variety has a round, oval, to obolid appearance and is typically larger and greener than the commercially popular Hass avocado. The skin remains a forest green, even when ripe, and is thick, leathery, and tough with a semi-smooth, pebbled, textured feel. The skin is also covered in tiny, pale green lenticels and retains a structured, shell-like nature, making it ideal as a serving container but challenging to peel. Underneath the surface, the yellow-green flesh is solid, dense, and firm, with a smooth, creamy, buttery, and less oily consistency. The flesh also encases a relatively large round, brown seed, but the seed size is not overly dominant as the fruit is much larger than standard avocados. The seed does not adhere to the flesh, and in some ripe fruits, the seeds will loosen and rattle when shaken. Reed avocados are ripe when they have a slight give to their surface. The skin's coloring will not change, and the flesh will only be lightly soft, as a very soft texture is a sign of over-ripeness. The stem button can also be popped off to reveal a portion of the flesh. If it is bright yellow-green, it is ripe. Reed avocados have a rich taste, considered more robust than most commercial cultivars, and have a nutty undertone, giving the flesh a bolder flavor.
Seasons/Availability
Reed avocadoes are generally available in the summer through early fall. Occasionally, they can also be found as early as the late spring and extend into the winter, depending on the year and growing environment.
Current Facts
Reed avocados, botanically classified as Persea americana, are a Californian variety belonging to the Lauraceae or laurel family. The hybrid cultivar was developed in San Diego County in the mid to late 20th century and is a type of Guatemalan avocado, one of the three subspecies of Persea americana known for producing large fruit with thick skins and rich, buttery flesh. Reed avocados are also a type A variety, a descriptor given for when the trees are receptive to pollen in the morning when flowering. Reed avocados grow on upright trees reaching 11 meters in height, and growers favor the trees for their consistent annual yields, resilience, easy-to-grow nature, and resistance to salt burn and frost damage. The fruits can also remain on the tree for extended periods after maturing and arrive in markets during the summer, a season when other commercial cultivars have faded from production. Reed avocados are not commercially produced, but they have become a popular specialty variety sold through farmer's markets and grown in home gardens. The green-skinned avocados are distinct from other varieties as they remain green, even when ripe, and are utilized by consumers in an array of fresh and cooked preparations.
Nutritional Value
Reed avocados have not been extensively studied for their nutritional properties. Like other avocados, the variety is a source of fiber to regulate the digestive tract, potassium to balance fluid levels within the body, and vitamin E to act as an antioxidant to protect the cells from damage caused by oxidative stress and free radicals. The avocados also provide magnesium to support optimal nerve functioning, vitamin K to assist in faster wound healing, and other nutrients, including folic acid, biotin, riboflavin, and thiamin.
Applications
Reed avocados have a rich and nutty taste suited for fresh and cooked preparations. The variety is favored for its creamy, dense, and smooth consistency and is traditionally consumed out of hand as a flavor enhancement. One of the unique characteristics of Reed avocados is their ability to be served in their skins. The variety's thick skin provides support to allow the flesh to be mixed in the shell with spices, sauces, or other ingredients, and the combined ingredients can be eaten straight from the shell as a snack. Reed avocados can also be used in any recipe calling for avocados. The variety is popularly mixed into guacamole, sprinkled with lemon juice and sea salt, added to creamy dips, or sliced and tossed into salads and grain bowls. Reed avocados can also be layered into wraps, smashed onto burgers, added to sushi, or incorporated into various savory breakfast dishes. Try blending Reed avocados into smoothies or pureeing the flesh and using it as a thickener in baked goods such as brownies, cakes, and bread. Reed avocados pair well with nuts such as pecans, almonds, and walnuts, fruits including strawberries, blueberries, pineapple, and oranges, tomatoes, aromatics such as garlic, onions, ginger, and shallots, and spices including cumin, paprika, and chili powder. Whole, unopened Reed avocados should be kept at room temperature until ripe. Once ripe, store the avocados in the refrigerator. Sliced avocados will keep for 1 to 2 days when wrapped in plastic and stored with the pit until it is used.
Ethnic/Cultural Info
Avocados are featured in a famous Aztec story about lost love and revenge. Legend has it that there lived a man named Seriokai who loved avocados. Seriokai was happily married and spent his days picking and eating avocados with his wife. One day, when Seriokai was searching for avocados, his wife encountered a tapir in their village, and the tapir cunningly made her fall in love with it. The next day, when Seriokai and his wife were out collecting avocados, she hit him over the head, leading him to fall and injure his leg. The wife left her husband for dead and took the basket of avocados with her to run away with the tapir. Seriokai was eventually rescued by a neighbor and was rehabilitated back to full health. Once recovered, Seriokai went in search of his wife, following the trail of avocado trees that sprouted from the discarded pits that were left by the wife and the tapir. Seriokai eventually found the couple at the end of the world, and in his rage, Seriokai shot an arrow at the taper, hitting it in the eye. The tapir writhed in pain and lept off the world's edge into the sky. In horror, the wife also lept off the edge after the tapir, and Seriokai followed, forever pursuing them in the sky. The three characters became constellations in the sky and can still be seen chasing each other through the night. According to the legend, the Aztecs believed that the Orion constellation was Seriokai, Hyades was the tapir, and Pleiades was the wife.
Geography/History
Reed avocados were discovered in an avocado grove owned by James S. Reed in Carlsbad, California, in the mid-20th century. Reed owned a ranch approximately two miles east of the coast, and the avocado grove was located at the intersection of Valley and Magnolia Street in Carlsbad, a city in San Diego County. The variety's parentage is unknown, but it is thought that it may be a hybrid between Anaheim and Nabal avocadoes, two Guatemalan types. The first seed was germinated in 1948 and was later propagated on Mexican, Nabal, Dickerson, and Fuerte seedling stock. Reed avocados were named after James S. Reed, and for a little over a decade, the variety was only grown by Reed himself on his property in Carlsbad. In 1960, Reed avocados were patented under US Plant Patent 1,967 and were the 18th avocado variety to be patented in the United States. The variety was also first mentioned to industry professionals in the 1967 edition of the California Avocado Society Yearbook. In the 1970s, San Diego growers learned of the new avocado variety and began planting experimental trees, expanding the cultivar's notoriety and popularity. Reed and other growers began discussing the possibility of commercially cultivating the variety, but due to its green coloring, even when ripe, Reed avocados were never produced on a large scale. Reed avocados were also overshadowed by the introduction of Hass avocados in commercial markets. Today Reed avocados are a specialty variety primarily planted in California. The variety is sold through select distributors, retailers, and direct through growers in farmer's markets. Beyond its limited distribution, Reed avocados are also a favored home garden variety grown by avocado enthusiasts worldwide.
Recipe Ideas
Recipes that include Reed Avocados. One

is easiest, three is harder.
Podcast