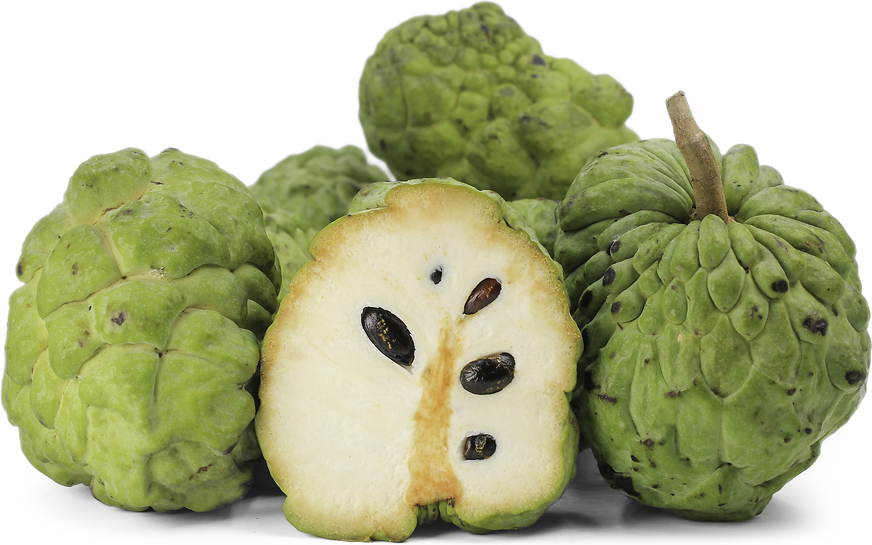 Atemoya Fruit
Inventory, lb : 0
Description/Taste

Atemoyas are round or heart-shaped, averaging from 8 to 12 inches long; some can weigh up to 5 pounds. Their skin is a pale bluish-green or pea-green, and turns more yellow as it gets riper. The skin is of medium thickness, which is composed of fused areoles that make the fruit look like a pinecone. The flesh is a snow-white color. Inside there are several large black seeds, which should not be eaten. Atemoyas tend to have fewer seeds that the Sugar Apple. The texture is similar to a firm custard, sometimes with some grittiness similar to a pear. The flavor most closely resembles a Cherimoya—pineapple, vanilla, cream, and subacidic notes.


Seasons/Availability

Atemoya is available in the winter.


Current Facts

The Atemoya is a botanical cross between Annon squamosal, the Sugar Apple, and Annona cherimola, the Cherimoya. The resulting fruits were given the name "Atemoya," a combination of "ate," an old Mexican name for sugar apple, and "moya" from cherimoya. Varieties of Atemoya include: Page, Bradley, Mammoth, Island Beauty, African Pride, Geffner, Malamud, Bernitski, Kabri, Malai, and Cherimata.


Nutritional Value

Atemoyas are very high in Vitamin C, with one average fruit containing around half the daily recommended value of the Vitamin. They are also a good source of dietary fiber, and contain some protein, calcium, and iron.


Applications

Atemoya is best eaten chilled and fresh directly out of the shell with a spoon. The flavor pairs well with other tropical fruits and fruit juices such as oranges and limes. Atemoya is also commonly scooped and added to fruit cups and salads, or other dessert recipes. Blend Atemoya pulp with fruit juice and cream, then freeze to make a quick and creative ice cream. This fruit stores well in the refrigerator for up to three weeks. The skin often darkens first, although the fruit inside may still be good.


Ethnic/Cultural Info

Atemoya trees are not prolific fruit producers. To help them along and get more fruit, home gardeners and commercial producers often hand pollinate them. Interestingly, Atemoya flowers are hermaphroditic, and turn from female to male over the course of a few hours, so any flower can pollinate any other.


Geography/History

The first known Atemoya was bred in 1908 by horticulturalist P.J. Wester at a USDA laboratory in Miami. Shortly after, the Atemoya was introduced to the Philippines. Since then, it has traveled all over the world, including South America, Hawaii, Israel, Australia, New Zealand, South Africa, and Egypt. They are commercially grown in a few tropical areas.