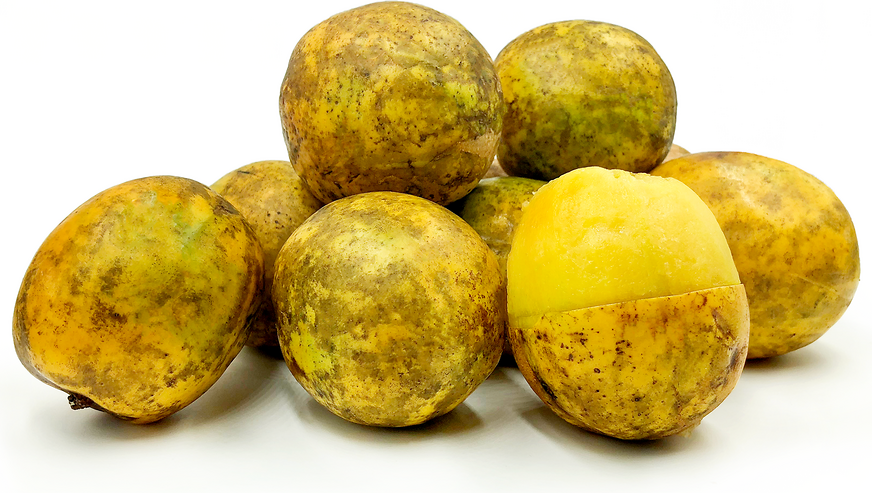 Vi Tauiti Fruit
Inventory, lb : 0
Description/Taste

Vi Tahiti fruits grow in dangling bunches and are small fruits, averaging 3 to 6 centimeters in diameter and 6 to 9 centimeters in length, with an oval to oblong shape. The skin is thin, tough, and semi-smooth with some russeting, ripening from green to golden yellow when mature. Underneath the surface, the flesh is firm, dense, crunchy, and pale green when unripe, developing an aqueous, softer consistency with a darker yellow hue when ripe. Vi Tahiti fruits also contain a central yellow pit with many elongated fibers that extend into the flesh, creating a fibrous texture. Vi Tahiti fruits have a sweet-tart flavor with subtle notes of musk, turpentine, mango, and pineapple.


Seasons/Availability

Vi Tahiti fruits are available in the fall through winter.


Current Facts

Vi Tahiti fruits, botanically classified as Spondias dulcis, grow on deciduous trees that belong to the Anacardiaceae family. The tropical fruits are naturalized in equatorial forests around the world and are known by many names, including Ambarella, June Plum, Kedondong, Buah Long Long, and Hog apples. In French Polynesia, Vi Tahiti fruits are considered to be somewhat rare and are harvested naturally as the fruits fall to the ground. Vi Tahiti fruits are primarily sold in their unripe, green stage as they are favored by locals for their crunchy flesh, neutral flavor, and extended storage capabilities. The fruits can sometimes be found in their mature, yellow state, but as it ripens, the flesh becomes more fibrous, and the flavor can develop an intense tartness.


Nutritional Value

Vi Tahiti fruits are an excellent source of vitamin C, which is an antioxidant that can boost the immune system, repair tissues within the skin, and increase collagen production. The fruits also contain vitamin A, iron, calcium, phosphorus, and fiber, which can help regulate the digestive tract.


Applications

Vi Tahiti fruits are best suited for both raw and cooked applications such as boiling and baking. The green, unripe fruits are the preferred stage for consumption as the flesh is crunchy and has a neutral flavor. When young, the flesh can be sprinkled with salt, shrimp paste, chile powder, or sugar and eaten raw, blended into smoothies, pressed into juice, sliced and added into green salads, or chopped and mixed into salsa. The fruits can also be pressed into an herbaceous juice that is popularly made into an alcoholic drink similar to cider. When ripe and golden yellow, the fruits can be coated in sugar and eaten for a sweet-tart snack. In addition to raw preparations, Vi Tahiti fruits can be cooked into jams, preserves, and jellies, tossed into soups, curries, and stews, pickled for extended use, or cooked in sugar water and mashed to create an applesauce-like consistency. They can also be baked into cakes, pies, and tarts, and the leaves are used in some countries as a salad green, lightly sautéed, or steamed. Vi Tahiti fruits pair well with other fruits such as grapefruit, pineapple, and passion fruit, ginger, spices such as cinnamon, cardamom, and vanilla, almonds, salted fish, seafood, coconut milk, and herbs such as parsley, mint, and coriander. The fruits continue to ripen after harvest and should mature at room temperature. Once ripe, they can be stored in the refrigerator for an additional five days. Vi Tahiti fruits can also be dehydrated or canned in syrup for extended use.


Ethnic/Cultural Info

In Tahiti, unripe Vi fruits are seen as a natural diuretic and are used in traditional medicine to help reduce gastrointestinal issues associated with food poisoning. The leaves are also steeped into boiling water and are used to reduce symptoms associated with chest pain and sore throats. Beyond the fruits, the Vi tree was historically used for its sticky sap and is a natural glue and sealant for ocean canoes. The wood of the tree was also used by early settlers to make the body of the canoes, and the buoyant vessels were used for nearby island exploration.


Geography/History

Vi Tahiti fruits are native to Polynesia and the region known as Melanesia, which includes islands such as Papua New Guinea, Solomon Islands, Fiji, and Vanuatu. The fruits were then introduced to Asia and Jamaica in 1782 and were spread throughout the Caribbean and into South America. Later in 1909, the fruit trees were planted in Florida and also become naturalized in Australia. Today Vi Tahiti fruits are widely found in tropical regions across the world, primarily known under the name Ambarella and are sold in fresh local markets in Asia, Southeast Asia, Polynesia, Melanesia, Australia, Africa, the Caribbean, and North, Central, and South America.