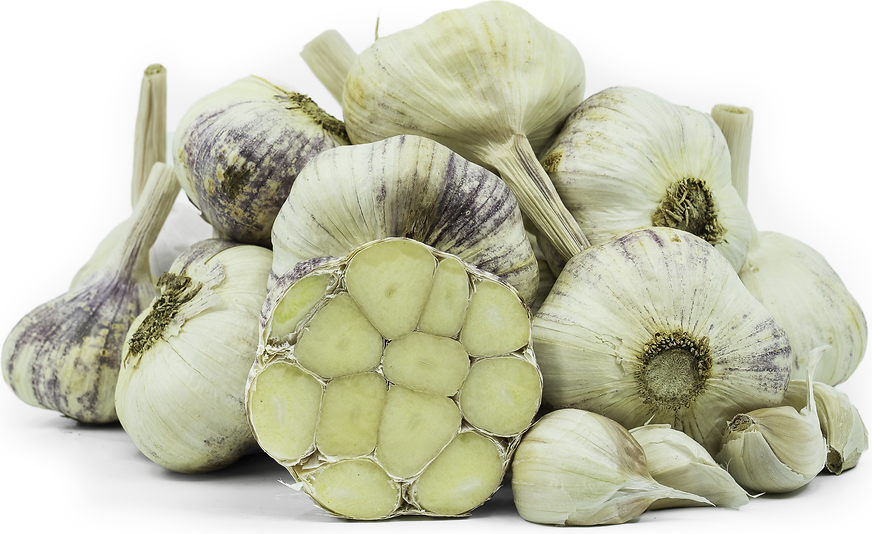 Italian Purple Garlic
Inventory, lb : 0
Description/Taste
Italian Purple garlic is comprised of medium to large bulbs, averaging 5 to 8 centimeters in diameter, and has a uniform, bulbous, curved base tapering to a slender, soft, and straight stalk. The bulbs may appear smaller in some markets, depending on their growing environment, and within a bulb, there can be small, medium, to large cloves. The largest cloves are generally found on the outside of the bulb, and each bulb can contain 7 to 20 cloves. The dry, papery, husk-like exterior layers showcase white to ivory hues, and small patches of prominent purple striping are scattered across the surface. As the outer layers are peeled away, the cloves are encased in thick, tightly adhered, easy-to-peel casings. When pressed, the cream-colored to ivory cloves have a smooth, taut, and springy feel, and most of the cloves bear a slightly curved, half-moon shape. Italian purple garlic can be consumed raw or cooked, and when raw, the cloves are initially sweet, earthy, and grassy, followed by a warm, brief pungency. When cooked, Italian Purple garlic develops a creamy consistency and becomes sweet, mild, and savory.
Seasons/Availability
Italian Purple garlic is harvested in the summer.
Current Facts
Italian Purple garlic, botanically classified as Allium sativum, is a specialty variety belonging to the Amaryllidaceae family. Several types of hardneck and softneck garlic are generally labeled in markets under the Italian Purple name, often creating confusion for consumers. The variety featured in the photograph above is a softneck variety of Italian Purple garlic, also known as Early Italian Purple garlic. This variety is primarily grown among specialty farms and home gardeners and is favored for its easy-to-cultivate nature. Italian Purple garlic produces large cloves with thick, easily peeled skin, and the variety is adaptable, able to grow in warm climates, and suitable for braided storage. In the modern day, Italian Purple garlic is a mild variety with a rich and smooth flavor. The cultivar is versatile in culinary preparations and can be used raw or cooked to enhance savory dishes.
Nutritional Value
Italian Purple garlic has not been extensively studied for its nutritional properties. Like other softneck garlic varieties, the cultivar is a source of manganese to develop connective tissues, vitamin C to boost the immune system, and fiber to regulate the digestive tract. Garlic also provides calcium to build strong bones and teeth, iron to develop the protein hemoglobin for oxygen transport through the bloodstream, magnesium to control nerve functioning, and other nutrients, including vitamin B6, zinc, iron, and phosphorus. Beyond vitamins and minerals, garlic is revered for its antibacterial and antiviral properties.
Applications
Italian Purple garlic has a rich, sweet, and mild flavor suited for raw and cooked preparations. The cloves should be peeled and then chopped, sliced, minced, or smashed to release the essential oils from the flesh. This process allows the flavor to become more pronounced in dishes than leaving the cloves whole. Italian Purple garlic can be sautéed or baked in any recipe that calls for conventional garlic and is favored among chefs for Mediterranean cuisine as it has a milder, less assertive nature. It can also be added to oils and butter to infuse a garlic flavor for cooking vegetables, seafood, or meats. Try roasting Italian Purple garlic and mashing the cooked cloves over crusty bread as a savory appetizer. Italian Purple garlic can also be incorporated into soups, salads, pasta, and roasted meat dishes, or it can be simmered into sauces for enhanced flavoring. The variety's milder taste complements salsas and salad dressings, and slices of the cloves can also be fried into thin, crisp chips as an edible topping. Italian Purple garlic pairs well with aromatics such as onions, shallots, and ginger, tomatoes, eggplant, bell peppers, zucchini, meats such as pork, poultry, lamb, and beef, seafood, and herbs including parsley, basil, and cilantro. Unpeeled Purple Italian garlic will keep for 6 to 10 months when stored in a cool, dry, and dark place. Whole bulbs are not recommended for refrigerator storage. Once the cloves are peeled, they should be immediately used for the best quality and flavor. Peeled cloves can also be kept in a sealed container for a few days in the fridge.
Ethnic/Cultural Info
Italian Purple garlic is a favored variety for garlic braids. The softneck stems can be easily woven, and the tradition of braiding garlic stems can be traced back to ancient times throughout Europe and Asia. Braiding garlic was initially a method of preservation, but over time, garlic became closely associated with magic and superstition, leading it to be a prominent subject in European folklore. In Greece, garlic was thought to ward off evil, especially the evil eye. Garlic braids were customarily hung over entryways, windows, and kitchens, and some households even placed garlic bulbs into their walls before putting up sheetrock or plaster in the belief that the bulbs would forever prevent evil from entering the home. Superstition required the household garlic braids to be replaced every year, and the braids were not typically consumed. Garlic's association with magic in Greece is also closely associated with Hecate, the Greek goddess of magic, witchcraft, and crossroads. Garlic is one of the symbols for Hecate, and in Ancient Greece, garlic bulbs were placed at corners along paths as an offering to Hecate. Greek folklore recounts that the garlic offerings were meant to distract Hecate and evil spirits from bothering travelers along the roads.
Geography/History
The history of Italian Purple garlic is mostly unknown. Garlic was introduced from Central Asia to Europe during the Middle Ages, and the bulbs were adopted into Southern Italian cuisine, where they became a favored base flavoring for culinary dishes. Garlic spread across Europe and was eventually carried to the New World by various explorers. Some garlic varieties were planted in North American settlements in the 18th century, but it wasn't until the early 20th century that the plant was established as an important culinary crop. Southern European immigrants, including Southern Italians, are credited with carrying cloves from their home regions and planting them in gardens throughout the United States. After their introduction to the United States, varieties such as Italian Purple garlic were spread to the west coast and were planted in central and northern California. Today Italian Purple garlic is a rare variety mainly produced by specialty growers in California. The cultivar is only grown in limited quantities compared to mass commercial production of other softneck types and is sold through farmer's markets, direct from growers, or through select distributors.
Recipe Ideas
Recipes that include Italian Purple Garlic. One

is easiest, three is harder.