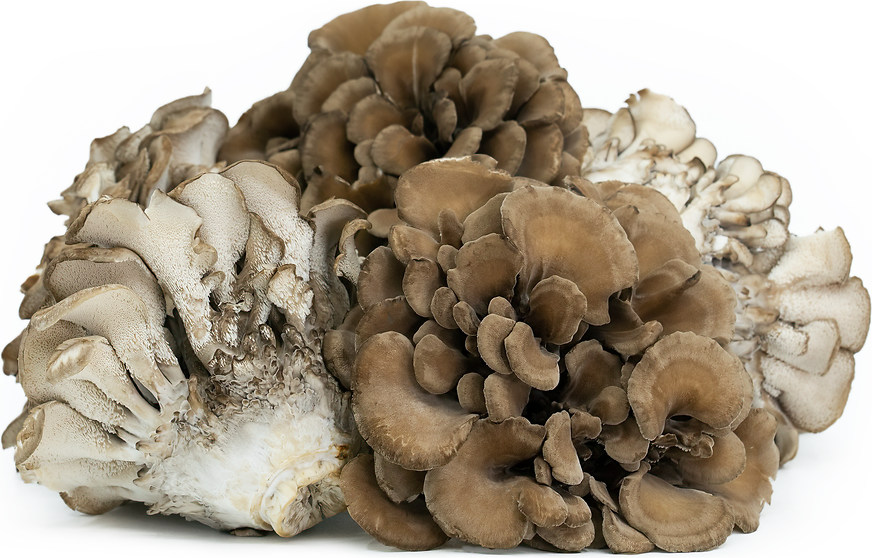 Maitake Mushrooms
Inventory, 12 ct : 0
Description/Taste
Maitake mushrooms widely range in size from small to large, depending on growing conditions and age, and average 1 to 6 kilograms but can weigh up to 45 kilograms. The fruiting body has an underground, inedible base that transitions into a single-branched stem with many clustered caps growing in a rosette-like shape. The fruiting body spans 15 to 50 centimeters in diameter, and the caps, known as fronds, are arranged in dense, overlapping layers. The fronds also have a curved, spoon-like shape, wavy edges, and a velvety to smooth taut surface. Maitake mushrooms range in color from white, tan, pale grey, to brown, and as the mushroom ages, it develops a yellow hue with dark edges. Underneath each frond, the mushroom is covered in smooth pores filled with spores, and the pores are light grey, eventually transitioning to white. The flesh is white, semi-firm, and plump with a chewy consistency. Maitake mushrooms emit a mild, earthy, and woodsy aroma. The mushrooms are consumed raw or cooked and have an earthy, nutty, peppery, woodsy, and subtly bitter taste.
Seasons/Availability
Wild Maitake mushrooms are available in the late summer through late fall, while cultivated versions are available year-round.
Current Facts
Maitake mushrooms, botanically classified as Grifola frondosa, are a valued species belonging to the Meripilaceae family. The mushrooms are native to temperate forests of the northern hemisphere and have been foraged as a culinary and medicinal ingredient since ancient times. Maitake mushrooms are a type of polypore mushroom, meaning they have no gills and release spores through tiny pores. The species is also a butt rot fungus, growing at the base of the tree above the root, feeding slowly off the tree. This slow, parasitic nature allows Maitake mushrooms to appear on the same tree for several years, and foragers benefit from this trait as they have a steady supply of mushrooms in the same location. Maitake mushrooms are harvested wild throughout Asia, Europe, and North America and are also commonly known as Hen of the Woods, a moniker derived from the mushroom's clustered, ruffled nature. Foragers gave the species this name as it resembles a roosting hen's feathers when growing in forests. Maitake mushrooms are also called Signorina, Ram's Head, Sheep's Head, Klapperschwamm, Laubporling, Polypore en Touffe, and Kumotake mushrooms. In the modern day, Maitake mushrooms have been successfully produced in commercial settings, expanding the species' availability. Maitake mushrooms are foraged and cultivated for culinary and medicinal uses, and the species is found fresh and dried.
Nutritional Value
Maitake mushrooms are a source of potassium to balance fluid levels within the body, fiber to regulate the digestive tract, copper to develop connective tissues, and antioxidants to protect the cells against the damage caused by free radicals. The mushrooms also provide vitamin C to strengthen the immune system while reducing inflammation, B vitamins to transport oxygen through the body, and vitamin D to assist in calcium absorption. One of the unique elements of the mushrooms is beta-glucans, a type of soluble fiber believed to help the immune system fight off bacteria. In traditional medicines of Japan, Maitake mushrooms are commonly steeped into a tea, taken in capsule form, or made into a tonic to strengthen the immune system and lower blood pressure.
Applications
Maitake mushrooms have an earthy and woodsy taste suited for fresh and cooked preparations. The mushrooms can be consumed raw and are occasionally crumbled and tossed into leafy green salads or sprinkled over soups. Despite their raw edibility, Maitake mushrooms are more popularly cooked as they develop a rich flavor and are favored for roasting, grilling, baking, frying, sautéing, and stir-frying. One of the simplest but most impactful recipes is to fry or sauté the mushrooms in oil or butter until crisp. Maitake mushrooms can replace button mushrooms in recipes, and the fronds add texture and flavor to rice dishes, casseroles, soups, and stews. In Japan, Maitake mushrooms are typically cooked and folded into eggs, tossed into stir-fries, mixed into dashi, or battered and fried into tempura. The mushrooms can also be cooked and served with vegetarian dishes as a meat substitute and are made into Maitake bacon as a topping for chowders, grain bowls, and salads. Maitake mushrooms add earthy nuances to pasta and pizza, and the mushrooms can be simmered in rich sauces for added complexity. The mushrooms are also traditionally added to steaks in North America and are served with potatoes as a side dish. Beyond fresh Maitake mushrooms, dried Maitake mushrooms can be ground into a powder and mixed with other mushroom varieties to season cream or tomato-based sauces, meatloaf, and savory main dishes. The mushrooms can also be used to flavor soup stocks or used in seasonings. Maitake mushrooms pair well with flavorings such as sesame oil, soy sauce, and tamari, leeks, tomatoes, potatoes, spices including curry powder, smoked paprika, and thyme, aromatics such as shallots, ginger, and garlic, meats such as poultry, beef, and pork, tofu, seafood, and cheeses such as parmesan, mozzarella, and gruyere. Whole, unwashed Maitake mushrooms will keep for 3 to 4 days when stored in a paper bag in the refrigerator. The mushrooms can also be frozen in a sealed container for extended use or dried and stored in a cool, dry, and dark place for at least one year.
Ethnic/Cultural Info
In Japan, Maitake roughly translates to the "dancing mushroom." There are several legends explaining the species' cheerful moniker, including one theory where the fronds were thought to resemble the waving kimono sleeves of dancing girls. Other theories say the fruiting bodies look like dancing butterflies or that the discovery of the rare mushroom in the wild leads foragers to dance in happiness. One of the famous explanations is the tale of the dancing nuns, written in the Konjaku Monogatari. This collection is comprised of multiple books containing more than 1,000 short stories, and Konjaku Monogatari was thought to have been written sometime around the 12th century. In the 28th book, a short tale is written about naming Maitake mushrooms. Legend has it that woodcutters from Kyoto were walking through the woods when they became lost. Attempting to find their way, the woodcutters discovered a group of mountain nuns dancing. This was unusual for nuns, and the woodcutters thought that the nuns might be a group of demons. They slowly approached the group and asked why they were dancing. The nuns replied that they had gotten lost and were hungry, so they ate these unusual mushrooms. The mushrooms tasted so good that they were dancing in happiness. After hearing their story, the woodcutters also realized they were starving and decided to try the mushrooms. Suddenly, the woodcutters began to dance uncontrollably, and the entire group laughed and danced for hours. Eventually, the group stopped dancing and returned to their villages, and it is said that this fateful meeting was the story behind the Maitake mushroom acquiring its dancing name.
Geography/History
Maitake mushrooms are native to the northern hemisphere and are found in damp, temperate forests in Asia, Europe, and North America. The species has been growing wild since ancient times and primarily grows at the base of hardwood trees, including elm, red and white oak, and maple. Throughout history, Maitake mushrooms were sometimes challenging to find in the wild and were once known as the Phantom mushroom in northeastern Japan for their rarity. The species also generally appears in the same location each year, leading foragers to fiercely protect their harvest sites as a valued source of revenue. Maitake mushrooms were traditionally harvested as a culinary and medicinal species, especially in Asia, and in the late 1980s, Japanese scientists extensively studied the mushroom for its nutritional properties. It was discovered that Maitake mushrooms had a positive impact on the immune system, and after this finding, growers began testing Maitake mushrooms for commercial cultivation. Maitake mushrooms were successfully produced in the late 20th century, and by the early 21st century, the species became known worldwide for its culinary and medicinal attributes. Today Maitake mushrooms are available through select fresh markets, specialty grocers, distributors, and health food stores in North America, Europe, and Asia.
Recipe Ideas
Recipes that include Maitake Mushrooms. One

is easiest, three is harder.
the other 13...
Podcast