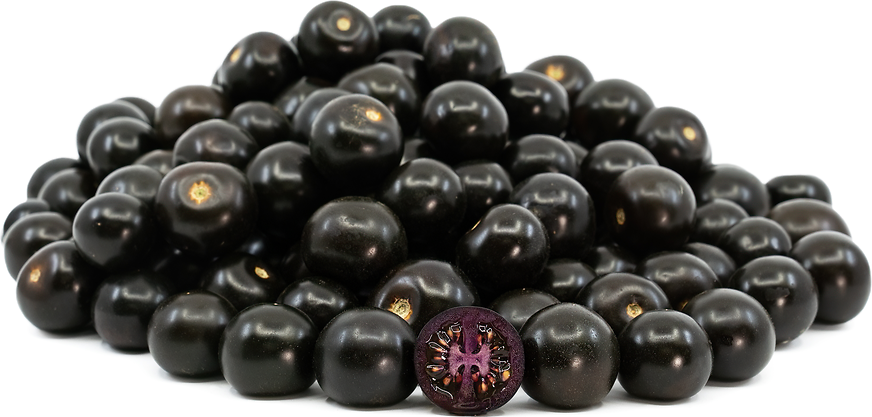 Norfolk Purple Tomatoes
Inventory, pint : 0
This item was last sold on : 08/24/23
Description/Taste

Norfolk Purple tomatoes are a small varietal, averaging 2 to 2.5 centimeters in diameter and around 20 grams in weight, and have a uniform, round to ovate shape. The tomato's skin is semi-thick, smooth, and glossy, ripening from green to a dark purple, almost black hue. The skin's taut nature creates a popping sensation when bitten, a highly valued textural quality found in cherry tomatoes. Underneath the surface, the saturated purple flesh is tender, aqueous, and succulent, encasing central chambers filled with tiny, edible yellow-brown seeds suspended in a gelatinous liquid. Norfolk Purple tomatoes can be consumed raw and have a sweet, savory, earthy, rich, and subtly herbal taste with low acidity, creating a balanced, umami-filled flavor experience.


Seasons/Availability

Norfolk Purple tomatoes are currently available in limited quantities in the spring through fall. In 2024, availability will expand to being almost year-round.


Current Facts

Norfolk Purple tomatoes are a proprietary cherry tomato from Norfolk Healthy Produce and belong to the Solanaceae or nightshade family. The pigmented variety was the first bioengineered tomato released in the 21st century and was created as a full-flavored, aesthetically beautiful, and nutritionally dense snacking tomato. Norfolk Purple tomatoes are distinct from other purple tomato varieties as the flesh and skin are concentrated in anthocyanins. Most other pigmented tomato cultivars only feature purple pigments in the skin, not the flesh. Norfolk Purple tomatoes are saturated throughout, and their signature coloring showcases aubergine, amethyst, and dark purple hues. Since their release in 2023, Norfolk Purple tomatoes have been favored by consumers for their extended shelf life, high nutritional content, savory flavor, and aesthetically attractive appearance. Norfolk Purple tomatoes can be consumed fresh or cooked and are utilized by chefs in a wide array of culinary applications.


Nutritional Value

Norfolk Purple tomatoes are known for their antioxidant content and are often nicknamed the "highest antioxidant cherry tomato." The variety was bioengineered with two added genes from Snapdragons to activate the fruit's ability to produce anthocyanins. These red, blue, and purple colored pigments are also a type of antioxidant that helps to protect the body from damage caused by free radicals and is being studied as a possible method to reduce the risk of some diseases. Increased anthocyanin production also makes tomatoes less susceptible to Botrytis cinerea, a fungus that often impacts the shelf life of tomatoes. Norfolk Purple tomatoes are known for lasting longer than other commercial varieties, allowing the variety to stay fresh with quality flavor for everyday use.


Applications

Norfolk Purple tomatoes have a rich, savory taste suited for fresh and cooked preparations. The variety is favored as a snacking tomato and can be consumed straight out of hand, popped entirely into the mouth, and enjoyed in one bite. This easy-to-eat characteristic also allows the tomatoes to be eaten on the go or sliced and tossed into salads. Norfolk Purple tomatoes can be sliced, sprinkled with salt, and used as a colorful variation of the classic caprese or mixed with yellow and red tomatoes into a savory, herb side dish. The pigmented tomatoes also shine in salsa, contributing a saturated hue, and can be blended into gazpacho for enhanced visual appeal. Try adding Norfolk Purple tomatoes to any recipe calling for standard cherry tomatoes. They can also be layered on crostini, tossed into grain bowls and pasta, used as a topping over tacos, or incorporated into purees for cocktails. Beyond raw uses, Norfolk Purple tomatoes can be used in various cooked preparations, but depending on the method, some coloring may be lost. Norfolk Purple tomatoes are sold ripe and ready to eat. It is recommended that the tomatoes are immediately consumed for the best quality and flavor. They can also be stored on the counter for several days to a few weeks.


Ethnic/Cultural Info

Norfolk Purple tomatoes are changing the conversation around bioengineering. Produce developed using biotechnology has been extensively discussed for several decades, and many public opinions surround the scientific process. Norfolk Healthy Produce is an advocate for biotechnology and understanding the science of how plants grow and develop. Biotechnology assists scientists in developing varieties with improved flavor, texture, disease resistance, and shelf life. In the case of Norfolk Purple tomatoes, two genes from Snapdragon flowers were added to the tomato's genetic makeup to activate anthocyanin production. Tomatoes naturally contain 30,000 to 35,000 genes, and many tomato varieties already naturally exhibit signs of anthocyanin production, but this pigment is mainly found in the stems or leaves. The two genes added to Norfolk Purple tomatoes allow the purple pigments to be activated throughout the tomatoes, not just in the stems and leaves. Bioengineered tomatoes are not new, but Norfolk Purple tomatoes symbolize a new way of thinking about biotechnology, as they promote sustainability through innovation. Bioengineered species typically have a longer shelf life, and some varieties are created to resist harmful diseases. This creates less waste during cultivation on farms, preventing diseases from wiping out crops, and allows consumers to consume the product longer, lowering consumer food waste.


Geography/History

Norfolk Purple tomatoes were developed by Norfolk Plant Sciences, a company established by scientists and professors Cathie Martin and Jonathan Jones in the early 21st century. Martin has a passion for nutrition, and in 2002, she began researching the antioxidant capacity of tomatoes. During her studies, Martin discovered two significant genes that contributed to the color of Snapdragon flowers, edible blooms familiar and used within the culinary scene. These two genes, known as Delila and Rosea1, were tested and found to help increase the production of anthocyanins in tomatoes. Martin sought to commercialize her research findings and partnered with Jones, who specialized in sustainability and researching plant disease resistance. Martin and Jones created Norfolk Plant Sciences in 2007, and in 2008, they revealed a new cherry tomato variety in a published paper that was bioengineered to incorporate Delila and Rosea1 genes from Snapdragons. The introduction of the two genes allowed the cherry tomato variety to produce higher levels of anthocyanins, leading the tomatoes to develop a rich and saturated purple flesh and skin coloring. The new cherry tomatoes were named Norfolk Purple tomatoes, and the proprietary variety is said to contain Moneymaker, Micro Tom, and heirloom yellow cherry tomatoes within their pedigree. In 2022, Norfolk Healthy Produce was created as a subsidiary of Norfolk Plant Sciences to market Norfolk Purple tomatoes in the United States. Norfolk Purple tomatoes completed the United States' Regulatory Path, approved by the USDA in September 2022 and the FDA in June 2023. The variety was soft-launched in June 2023 and is currently the only bioengineered tomato in commercial markets. Today, Norfolk Purple tomatoes are grown in protected culture production to ensure quality and consistency, and the company works closely with local growers, packers, and shippers in the United States. The variety is a licensed, proprietary tomato of Norfolk Plant Sciences and is being grown in limited quantities through partnerships in North Carolina, Missouri, and California. Norfolk Healthy Produce also plans to develop a portfolio of purple tomatoes of all sizes and tomato-centric products with increased visual appeal and health benefits to diversify commercial markets. Despite their limited availability, Norfolk Purple tomatoes are growing in notoriety as they are offered through farmer's markets and distributors in the United States. The pigmented tomatoes are also promoted through key partnerships with select chefs and restaurants. Norfolk Healthy Produce plans to increase production in 2024, aiming for year-round availability, and will achieve much broader expansion in 2025.