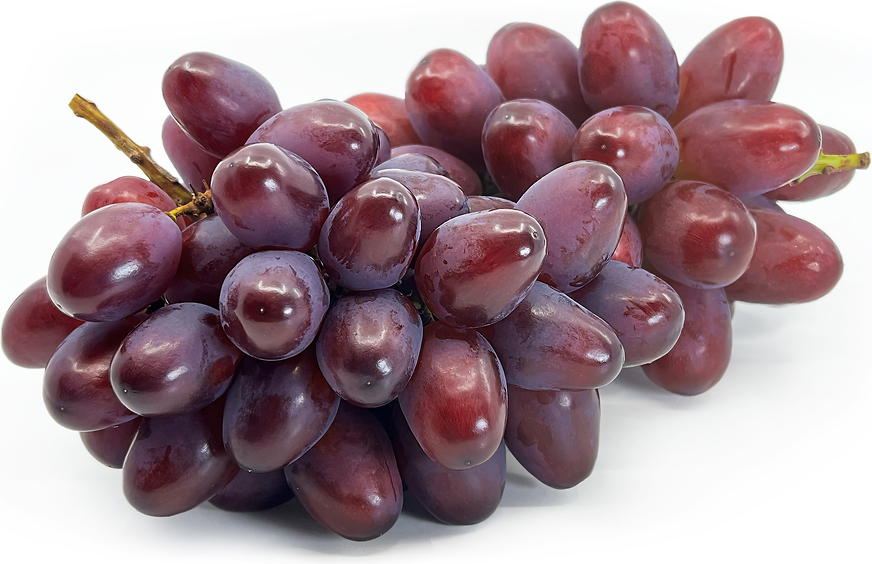 Queen Rouge® Grapes
Inventory, lb : 0
Description/Taste

Queen Rouge® grapes are a medium to large varietal with densely clustered bunches averaging 400 to 600 grams in weight. Each grape has an elongated, plump, oval shape with a broad center tapering to bluntly pointed ends. Individual grapes are also allowed to grow anywhere between 12 to 18 grams in weight and are attached to thick, fibrous stems. The stems range from green to brown, and green stems are preferred as they signify freshness. Queen Rouge® grapes have thin, smooth, and taut skin, creating an initially crisp mouthfeel. The skin has a red-purple to dark red hue, often covered in a light, powdery bloom. This bloom is edible and is easily removed. The skin is also tightly adhered to the flesh and cannot be easily peeled. Underneath the surface, the flesh showcases muted yellow, orange, or red tones with green accents and is aqueous, tender, and succulent with a soft consistency. Queen Rouge® grapes emit a refreshing, musky, berry-like aroma when ripe, and the bunches should be uniform in color and firm when selected for purchase. Ripe Queen Rouge® grapes are entirely edible, including their skin. The grapes have a high sugar content, typically around 22 to 23 Brix, and are mixed with low acidity, creating a rich, sweet, honeyed, floral, and subtly fruity flavor.


Seasons/Availability

Queen Rouge® grapes are available in the late summer through mid-fall in Japan, with the main harvest season between late September through October.


Current Facts

Queen Rouge® grapes, botanically a part of the Vitis genus, are a Japanese variety belonging to the Vitaceae family. The large, elongated grapes are a premium variety cultivated in the Nagano Prefecture and were commercially released in 2021. The Nagano Prefecture is known as the "Kingdom of Fruits" in Japan and has more households that grow produce than any other prefecture. The region is known for its extended hours of sunlight and temperature fluctuations between day and night, contributing to the sweetness found in Queen Rouge® grapes. Only growers that have signed contracts with the Japan Agricultural Cooperatives Group and reside in Nagano can produce Queen Rouge® grapes, and the variety is extensively examined and evaluated before it is sold. Queen Rouge® grapes are covered in transparent bags to allow ample sunlight while protecting the bunches from diseases and pests. The grapes are also only allowed to grow to 15 to 18 grams in weight. If the grapes expand to around 20 grams or more, they risk bursting open. Queen Rouge® grapes were named from a public survey where over 1,000 names were suggested. The name Queen Rouge was chosen for its regal imagery and is meant to convey to consumers that the variety is a luxury item. The variety is also known as Nagaka G11, Red Shine Muscat, and Hikotei®. In the present day, Queen Rouge® grapes are valued for their sweet taste, crisp nature, rarity, and premium reputation. The grapes are primarily consumed fresh and are often given as a high-end gift to friends, family, and business partners.


Nutritional Value

Queen Rouge® grapes have not been studied for their nutritional properties. Like other red grape varieties, the cultivar contains potassium to balance fluid levels within the body, vitamin C to strengthen the immune system, and calcium to build strong bones and teeth. Queen Rouge® grapes may also provide iron to develop the protein hemoglobin for oxygen transport through the bloodstream, vitamin A to maintain healthy organ functioning, fiber to regulate the digestive tract, and other nutrients, including vitamin K, manganese, B vitamins, folate, phosphorus, and magnesium.


Applications

Queen Rouge® grapes have a sweet taste suited for fresh preparations. The variety is typically consumed straight out of hand and is valued for its limited availability. Queen Rouge® grapes are seedless due to two treatments of gibberellin and streptomycin conducted on the vines before they flower, and the fruits are large, crisp, and juicy. The variety is often served as a refreshing snack or dessert and is displayed on appetizer and fruit platters. Chilling the fruits for about thirty minutes before serving is recommended to enhance the grape's natural flavor. Queen Rouge® grapes can also be sliced into salads, folded into whipped cream-based desserts, or used as edible decorations on cakes, tarts, and other desserts. In Japan, Queen Rouge® grapes are suspended in transparent jelly, added to parfaits, or layered into fruit sandwiches. The variety pairs well with vanilla, maple syrup, citrus, coconut, and chocolate. Queen Rouge® grapes should be washed just before use and stored in the refrigerator in a ventilated container. It is recommended to immediately consume the grapes for the best quality and flavor.


Ethnic/Cultural Info

Queen Rouge® grapes are often marketed in a trio of grapes known as the "Three Grape Sisters®." This registered trademark was created by JA Zen-noh Nagano, a prefectural branch of the Japan Agricultural Cooperatives Group, also known as JA Group. The "Three Grape Sisters®" was created in 2022, and the grouping is comprised of Queen Rouge® grapes, Shine Muscat grapes, and Nagano Purple grapes. Queen Rouge® grapes are the newest variety of the three, and each cultivar showcases a different coloring, allowing the grapes to be exhibited in colorful displays. The grapes have also been branded with marketing featuring animated characters embodying the color and spirit of each variety. Queen Rouge® grapes officially debuted at a launch at the Ota Market in Tokyo in September 2022. The event promoted the luxury grapes within the " Three Grape Sisters®," and Governor Abe of the Nagano Prefecture attended the event to promote interest and sales. The three grape cultivars were grouped in bunches and were displayed beside hand-carved apples, another fruit produced in the Nagano Prefecture. After the event, the varieties were well-received by the media, further establishing the grapes in consumer markets.


Geography/History

Queen Rouge® grapes are native to Japan and were developed by the Nagano Prefectural Fruit Tree Experiment Station in the Nagano Prefecture in Central Japan. The variety was bred in 2008 and was created from a cross of Unicorn and Shine Muscat grapes. Unicorn grapes were developed in the former Soviet Union and are red grapes named for their pointed, unicorn horn-like nature. This variety is rare, has an edible skin, and is challenging to grow. Shine Muscat grapes are a green Japanese cultivar developed in the early 21st century for their crisp flesh, sweet taste, and fragrant aroma. It took over ten years for Queen Rouge® grapes to be created, and in 2019, the variety was registered under the name Nagaka G11. Queen Rouge® grapes were released to growers in 2021, and only farms that have signed a contract with JA Group are allowed to cultivate the new grapes. Growers must also reside in the Nagano Prefecture, label their vines with serial numbers and certificates, and inspect their grape bunches before being sold in markets. Today Queen Rouge® grapes are primarily grown in Nakano City and Suzaka City in the Nagano Prefecture. The variety is cultivated in small quantities and is slowly increasing in production each year. Queen Rouge® grapes are sold as a premium variety throughout grocers and specialty markets in Japan. The cultivar is also exported to countries throughout Asia, including Singapore. The Queen Rouge® grapes featured in the photograph above were sourced from Isetan in Tokyo.