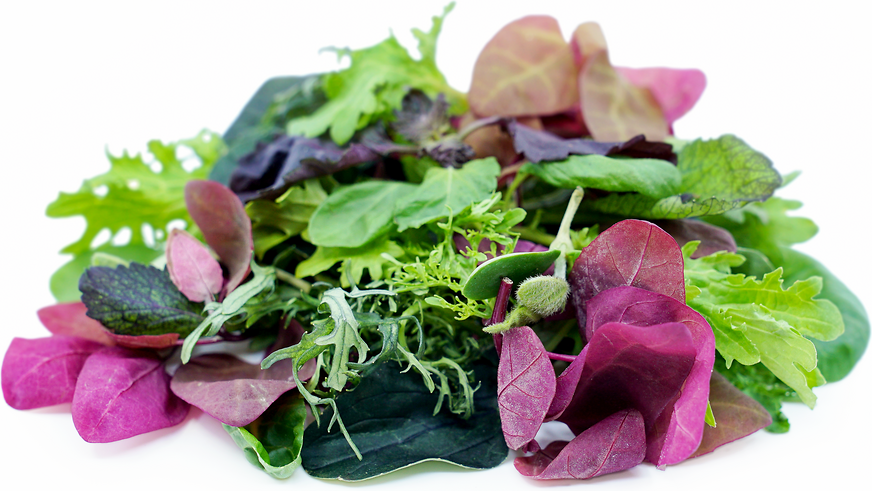 Petite® Asian Mix™
Inventory, 4 oz : 0
This item was last sold on : 06/23/22
Description/Taste

Petite® Asian Mix™ is comprised of a blend of several varieties of savory, herbal greens, averaging from 5 to 10 centimeters in length, and each green widely varies in appearance, texture, and flavor. The leaves range in shape from oval, lanceolate, to frilled, and the edges can be smooth and curved to deeply lobed, serrated, or lightly toothed. The greens also range in color from dark green, light green, fuchsia, dark purple to variegated purple-green hues and have a pliable nature with a generally smooth surface and prominent veining. In addition to the leaves, the greens bear slender, straight stems, creating a crisp consistency to complement the leave's tender and succulent texture. Petite® Asian Mix™ has a combination of earthy, peppery, mustardy, nutty, and herbaceous flavors.


Seasons/Availability

Petite® Asian Mix™ is available year-round.


Current Facts

Petite® Asian Mix™ is a part of a specialty line of boutique edible greens grown by Fresh Origins Farm in San Diego, California. Petite® Greens are more mature versions of microgreens, harvested approximately 4 to 6 weeks after sowing, and Fresh Origins currently curates over 25 mixes for chefs to incorporate into culinary preparations. Petite® Asian Mix™ is an innovative creation developed to capture foundational flavor such as peppery, savory, and herbal to complement a wide array of dishes commonly found in Asian cuisine. Chefs value Petite® Asian Mix™ for its ability to add color, flavor, and texture to dishes, and some of the greens within the mix include pak choy, tatsoi, mizuna, shisho, mitsuba, and others. The blend of greens may vary depending on seasonality and availability, but in general, the greens are compact, tender, and fresh, providing a modern twist on the classic garnish. The greens are also versatile, able to be used in fusion dishes, other global cuisines, and custom culinary creations.


Nutritional Value

Petite® Asian Mix™ has not been studied for its nutritional properties. Several greens in the mix are a source of vitamin C to strengthen the immune system and reduce inflammation, vitamin K to assist in faster wound healing, and vitamin A to maintain healthy organ functioning. The greens also provide minerals such as calcium and phosphorus to protect bones and teeth, magnesium to support nerve functioning, and other amounts of iron, zinc, folic acid, potassium, and fiber. The purple and fuchsia coloring found within the leaves contribute anthocyanins, pigments that contain antioxidant-like properties to guard the cells against free radical damage from external environmental aggressors.


Applications

Petite® Asian Mix™ contains a blend of dynamic flavors to enhance a wide array of fresh and cooked culinary preparations. The Petite® Greens should be added at the end of the plating process to prevent wilting, and they can be tossed into green salads, sprinkled over stir-fries, piled delicately over seafood and roasted meats, or floated on top of soups, curries, and stews. A handful of the greens can be lightly tossed in dressing and placed as a bed of greens under main dishes, or individual leaves can be hand-selected and strategically placed in artistic arrangements. Petite® Asian Mix™ is an easy-to-use blend that can quickly enhance noodle and rice dishes or be stuffed into sandwiches and spring rolls. The greens can also be used in roasted vegetable dishes, blended into an herbal sauce or dip, or utilized in other savory preparations beyond Asian recipes. Petite® Asian Mix™ pairs well with mushrooms, bell peppers, bok choy, zucchini, green beans, squash, tomatoes, carrots, meats including lamb, pork, poultry, duck, and beef, aromatics such as garlic, ginger, shallots, and onions, and spices including allspice, cinnamon, cardamom, cumin, and paprika. Petite® Greens will generally keep up to seven days when stored unwashed, dry, and in a container in the refrigerator. It is recommended to use Petite® Asian Mix™ immediately for the best quality and flavor.


Ethnic/Cultural Info

In Asia, incorporating fresh herbs into culinary preparations is an ancient practice that promotes overall health and improves the dining experience. Traditional Chinese Medicine recognizes five primary flavors to create a balanced meal. Integrating the five flavors, sour, bitter, sweet, salty, and spicy, brings "he" or harmony to dishes and is believed to equalize various parts of the body to maintain health and prevent sickness. This principle of different tastes is also seen throughout Asia with slight variations. Thai cuisine is distinct from Chinese cuisine, but many chefs still follow the basic rule of mixing spicy, salty, sour, and sweet flavors. In India, Ayurveda states six tastes, including astringent, bitter, sweet, sour, pungent, and salty. These flavors balance the spirit and help to equalize good and evil forces within the body. This theory of balancing multiple flavors within dishes has been brought with chefs into the United States as Asian cuisine is increasing in popularity. Petite® Asian Mix™ provides chefs with a unique blend of different flavors to quickly create layered, complex preparations. The fresh greens and herbs can balance spicy, sweet, or salty flavors within a dish, and Petite® Greens are a modern garnish to enhance the flavor and visual nature of the dining experience. Petite® Asian Mix™ is also capable of enhancing flavors in other cuisine styles such as American, California Coastal, and fusion dishes.


Geography/History

Petite® Asian Mix™ was developed at Fresh Origins Farm in San Diego, California, the leading American producer of naturally grown microgreens and Petite® Greens since the mid-1990s. Fresh Origins has been using the mild Southern California climate year-round to produce robust, healthy, and flavorful Petite® Greens, and the farm closely partners with chefs to create innovative varieties with unique flavorings. Fresh Origins also has the highest level third-party-audited food safety program and is a certified member of the California Leafy Greens Marketing Agreement, which follows science-based food safety practices to promote transparency and honesty in production. Today Petite® Asian Mix™ can be found through select distribution partners of Fresh Origins across the United States, including Specialty Produce, and are also found through partners in Canada.