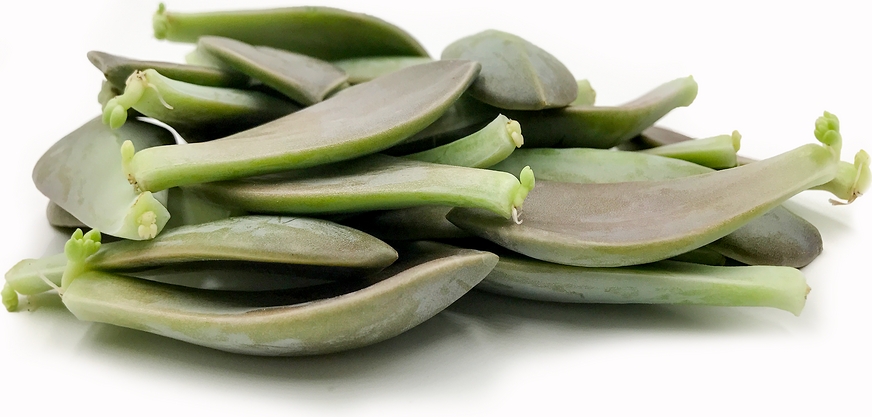 Ghost Plant
Inventory, lb : 0
Description/Taste

Ghost plants are comprised of fleshy leaves that grow in a compact spiral rosette. Each harvested leaf for culinary use is approximately 5 to 6 centimeters in length or larger and has a 9 to 10-centimeter diameter with an oblong, slightly tapered shape. Ghost plant leaves may bear a blunt to pointed tip with a broad, spoon-like curve in the center, and the surface is smooth, thin, and delicate, ranging in color from gray-green to pale pink, depending on climate. There is also a powdery-white coating that gives the leaves a dusty, soft nature. Underneath the surface, the leaves are bright green, thick, fleshy, and aqueous, containing a tender, succulent consistency. Ghost plants are crisp and juicy with a subtly sweet, vegetal flavor mixed with a distinct tanginess reminiscent of a green apple. The leaves also contain some acidity, contributing a refreshingly sour aftertaste with cucumber and asparagus nuances.


Seasons/Availability

Ghost plants are available year-round.


Current Facts

Ghost plants, botanically classified as Graptopetalum paraguayense, are a type of succulent belonging to the Crassulaceae family. The low-growing plants reach approximately 15 to 31 centimeters in height and form rosettes of leaves in dense, sprawling clumps. Ghost plants received their unusual moniker from the powdery coating that envelopes the leaves, also known as pruinose. This covering gives the leaves a pale or "ghostly" appearance. Ghost plants were historically used as a landscape ornamental and natural medicine in Mexico. In the 20th century, succulents were introduced into Japan, where they were selectively bred to become a new and unique culinary item. Ghost plants are fast-growing, and a single leaf removed from the plant will grow young buds, even outside of soil. In some commercial packaging, it is common to find a Ghost plant leaf developing a new young bud, and the leaves and buds are both edible. Ghost plants are still a relatively new culinary ingredient and are primarily found in Japan and neighboring countries such as Taiwan. The fleshy leaves can be served raw or cooked, and the crisp, juicy nature and mild flavor of the leaves provide a versatile ingredient for desserts, appetizers, dips, roasted meats, and soups.


Nutritional Value

Ghost plants are an excellent source of calcium to strengthen bones and teeth and magnesium to maintain optimum nerve and muscle functioning. The fleshy leaves also contain a high-water content and malic acid, a natural acid commonly found in some fruits and vegetables. Malic acid is used to promote energy production within the body and increase endurance.


Applications

Ghost plants have a sweet and sour flavor well suited for both raw and lightly cooked preparations. The leaves can be washed and tossed into salads, shredded and mixed into slaws, blended into smoothies and juices, or pureed into salad dressings. The leaves can also be dipped into chocolate as a healthy dessert, topped with minced meat and miso as a bite-sized appetizer, or drizzled with honey. In addition to serving the leaves as standalone snacks, Ghost plant leaves can be dipped into yogurt, mixed into colorful vegetable salads, chopped into salsa, blended into vegan ice cream, served with roasted meats or incorporated into curries and soups. In Taipei, the leaves are a specialty hot pot ingredient. Try combining Ghost plant leaves with savory vegetables into a cream-based soup for a unique blend. Ghost plants pair well with cauliflower, sugar peas, tomatoes, radish, carrots, fruits such as oranges, bananas, and coconuts, maple syrup, honey, dark chocolate, spices including cardamom, nutmeg, and cinnamon, and meats such as ham, beef, and poultry. Whole, unwashed Ghost plant leaves should be stored in a sealed container in the refrigerator, where they will keep for 10 to 14 days.


Ethnic/Cultural Info

In Japan, Ghost plants cultivated for culinary use are known as Gurapara Leaf and Ha-Ringo. Over two tons of the succulent are produced annually in Japan, and the plants are grown in high-tech greenhouses that measure temperature, sunlight exposure, and water levels. The succulents are also tested and examined every three months at the Japan Food Research Laboratories to ensure that the leaves contain ample amounts of vitamins and minerals. Ghost plants leaves are sold in packages and are favored by restaurants, hotels, and health food stores throughout Tokyo. In addition to culinary use, Ghost plants are traditionally planted in home gardens throughout Japan as a unique groundcover, often labeled as Oborozuki. The succulents have also become a favored container or wall plant, as the rosettes will grow over the edges, creating a cascading appearance.


Geography/History

Ghost plants are a succulent native to Tamaulipas, Northeastern Mexico, and have been growing wild since ancient times. The fleshy plants were historically cultivated as ornamentals in home gardens and were also incorporated into some natural medicines. Over time, Ghost plants were introduced into neighboring regions around Tamaulipas, including Texas, and the succulents thrived in warm, dry climates. During the Showa Era, spanning from 1926 to 1989, Ghost plants were brought to Japan and were selectively bred to become an edible species with improved flavor. Agri-Assist Japan Co. was the primary company to develop improved, edible Ghost plants. Today there is one main farm in Japan in Kashiwa City in the Chiba Prefecture dedicated to producing the succulents. Ghost plants were registered in Japan in 2009 and are still mostly grown in the Kanto Region, specifically the Chiba Prefecture, Akita Prefecture, and Aichi Prefecture.